For the Record

Leader of the (gowned) pack
President Hugo F. Sonnenschein selected Lorna P. Straus, X'53, SM'60, PhD'62, professor of organismal biology & anatomy, to succeed Robert L. Ashenhurst as University Marshal, a position established in 1895. The marshal is the ceremonial officer of the University. Ashenhurst, professor emeritus in the GSB, served for 32 years, the longest term of any U of C marshal.
Human Development evolves
Established in 1938 as a freestanding, degree-granting committee, the Committee on Human Development--providing a home for researchers studying life-course development, cultural psychology, and mental health--has operated within the psychology department since 1973. Now it has once again become an autonomous unit with its own faculty members and the mandate to hire faculty and set its own agenda. Chaired by professor Susan Goldin-Meadow, the committee focuses on people as socially situated, cultural beings.
Seats of honor
A trio of professors recently received distinguished service professorships: Shakespeare scholar David M. Bevington, the Phyllis Fay Horton distinguished service professor; Richard H. Helmholz, the Ruth Wyatt Rosenson distinguished service professor of law; and classicist James M. Redfield, AB'54, PhD'61, the Edward Olson distinguished service professor. In addition, James K. Chandler, AM'72, PhD'78, has been named the George M. Pullman professor in English language & literature; Bruce K. Lincoln, AM'73, PhD'76, is now the Caroline E. Haskell professor in the Divinity School; and Michael J. Murrin is the David B. and Clara E. Stern professor in the humanities.
Make space on your shelves
Two of the 20 books cited by Ad Astra, the magazine of the National Space Society, as the greatest space books of the 20th century have U of C ties: Preservation of Near-Earth Space for Future Generations, edited by physics professor John A. Simpson, and Cosmos, written by the late Carl Sagan, AB'54, SB'55, SM'56, PhD'60.
Stellar cell biologist
Edwin W. Taylor, PhD'57, the Louis Block professor in molecular genetics & cell biology and biochemistry & molecular biology, has been named the E. B. Wilson medalist for 1999 by the American Society for Cell Biology. The society's highest honor, it recognizes Taylor's contributions to the field, including his work in establishing the paradigm for how enzymes use ATP hydrolysis to generate movement.
Bard on the run
Pulitzer Prize-winning poet Mark Strand, a professor in the Committee on Social Thought, was one of two Chicago poets selected by Poetry in Motion. The national program tries to make poetry a part of daily life by posting lines of verse in city buses.
Biographer honored
Historian Friedrich Katz received two book awards at the American Historical Association's annual meeting for The Life and Times of Pancho Villa (Stanford, 1998). The Albert J. Beveridge Award is given annually for the best work in American history from 1492 to the present, and the Herbert Eugene Bolton Memorial Prize is for the best book in English on any significant aspect of Latin American history.
He got to be a millionaire
Wrong show, but right idea. In February, Navy Lt. David Legler, a GSB student, won $1.765 million on Twenty One--NBC's answer to Regis Philbin--making him the highest-grossing contestant in TV game-show history.
Rock-solid service
Alison Boden has been appointed to a second term as dean of Rockefeller Memorial Chapel. Since becoming Rockefeller's fifth dean in 1995, Boden has increased attendance at Sunday services, created more opportunities for local preachers to speak, initiated study groups among different religions, and developed programs to introduce new students to surrounding neighborhoods.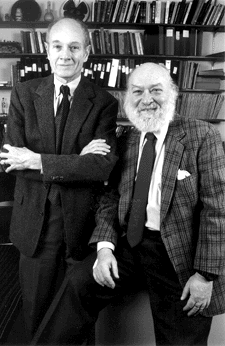 Professors win medal.
James Cronin and Leo Kadanoff.
Three professors win medal…
The White House looked like a Physical Sciences Division faculty meeting on March 14. Among the dozen researchers receiving the National Medal of Science from President Bill Clinton that day were Nobel laureate James W. Cronin, SM'53, PhD'55, University professor emeritus in physics; Leo P. Kadanoff, the John D. and Catherine T. MacArthur distinguished service professor in physics and mathematics; and Stuart A. Rice, the Frank Hixon distinguished service professor in chemistry.
…as do two other U of C people.
Two other researchers who received the 1999 medals have Chicago connections. Mathematician Felix E. Browder, now at Rutgers, is the U of C's Max Mason distinguished service professor emeritus. Lynn Margulis, AB'57, a geoscientist at the University of Massachusetts, is known both for her work on eukaryotic cells and her advocacy of the Gaia theory.
Math and the masses
Paul J. Sally Jr., professor in mathematics, has received the 2000 Award for distinguished public service from the American Mathematics Society. Cited for his research and his service as a society trustee, Sally was also recognized for "his many efforts in improvement of mathematics education for the nation's youth and especially for members of minority and under-represented groups."
Steele's dean span continues
Glenn D. Steele, the Richard T. Crane professor of surgery, has been appointed to a second term as dean of the Division of Biological Sciences and the Pritzker School of Medicine. Steele will also continue as vice president for medical affairs.