U of C group builds new homes worldwide
> > College students traded mental toil for physical labor during winter and spring breaks, working for Habitat for Humanity in the United States and Central America.

Every spring break, students cooped up in dorms and classrooms throughout the Chicago winter head south. While many look forward to simply getting a tan, others have something more constructive in mind. During nine days in March, a group of 30 College students rented vans and drove to Georgia, Alabama, and North Carolina to build affordable homes for needy families.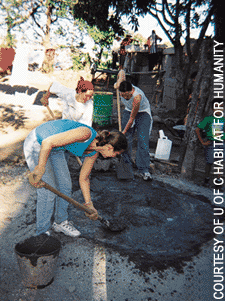 Student volunteers mix concrete to support beams of a Nicaraguan house.
This is the seventh year the University's Habitat for Humanity chapter has arranged for students to help others through Habitat International's Collegiate Challenge program. This year, the "alternative" spring-break trips were filled within a week.
Students who signed up expected to do a range of construction work--from laying foundations to roofing to putting up drywall--at sites in Albany, Georgia; Fairfield, Alabama; or Morehead City, North Carolina. "It's about making a difference that you can tangibly see," says volunteer coordinator Cynthia King, a third-year economics concentrator.
Based in Americus, Georgia, Habitat was founded in 1976 as a nonprofit, ecumenical ministry to provide the working poor with decent and affordable housing. The organization has built some 50,000 houses worldwide, working with more than 1,200 U.S. affiliates and 200 international ones.
One of 600 campus chapters nationwide, the U of C group formed in 1989 as a loose affiliation of students. Now a recognized student organization, it has a ten-student board and more than 130 participants--a number it expects to double next year. David Grainger, a campus minister and the director of the United Protestant Campus Ministry at the U of C, serves as the group's faculty adviser. "The students of the Habitat chapter respond to the problem of affordable housing with efforts to bring some correction to the problem and to learn more about the systemic reasons for the problem," he says. "Their efforts take them into our neighborhoods and allow them to become better neighbors. They dare to take their learning to the streets."
In addition to the spring-break trips, the chapter also organizes Saturday work projects on the South Side. So far this academic year, more than 100 members of the University community--mostly undergraduates--have spent some 600 hours on various improvement efforts, gutting buildings with crowbars and scraping paint from walls.
Because Habitat does not have a city affiliate serving the South Side, the U of C chapter has developed its own relationships with community organizations. The group has been helping the Matthew House social-service center rehab a building that will provide transitional housing for 20 homeless men. This past fall, the chapter began rehabbing the headquarters of the Midwest Workers Association (MWA), which advocates on behalf of low-income workers. U of C students have also worked on St. Luke's Place, a residential-service facility for people with HIV or AIDS, and at projects led by Woodlawn Development Associates.
"It's important for students to see the surrounding neighborhood and try to become a part of that community even in a small way," says MWA project leader Nick Robinson, a second-year concentrating in political science and Law, Letters, & Society.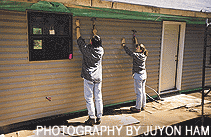 Students hammer siding on a home in Mississippi.
The U of C chapter has also sought to take part in Habitat's global initiatives. Over this past winter break, it organized its first international work trip, traveling to Nicaragua. There, 13 College students and one medical student helped construct ten homes in Diriamba, a small town southwest of Managua that had been devastated by Hurricane Mitch in October 1998.
The students worked through last summer and autumn to raise the $21,000 needed to pay for the trip, holding a silent auction, soliciting grants, and contributing $500 from personal resources. After being briefed in Chicago by a worker for Habitat's Nicaragua chapter, Grainger and the students headed to Managua. They met with local college students and attended orientation seminars on the country's history and on sustainable development at the Augsburg College-affiliated Center for Global Education.
In Diriamba, they mixed concrete, transported 120-pound limestone quarry rocks, wrapped rebar, and smoothed sand floors alongside families whose homes had been destroyed by the hurricane. Four Spanish-speaking U of C students served as translators on the ten-day trip. Away from the construction sites, the students stayed in a local pension and attended community festivals and picnics. One night they loaded up their vans with about 30 locals and drove some 20 kilometers to the Pacific coast for a swim and sing-a-long.
"The trip was more than I hoped it would be," says trip leader and fourth-year geophysical-sciences concentrator Scott Strawn. "We were greeted with such a feeling of friendliness, and we had such a great opportunity to learn firsthand about the history of the country and what the people have gone through." In the future, King says, the chapter hopes to host talks by urban-policy experts, add more local projects, and make the international work trip an annual event.--C.S.