Off-Off Campus hosts
a revolutionary 40th revue
> > The comedy troupe's 13th generation keeps improv tradition alive.

In its 40th quarterly revue, members of the Off-Off Campus comedy troupe chronicled the adventures of a fictional family rock band. Their improv antics in The Amazing Lipnicki Revolution cracked up Blue Gargoyle audiences on Friday nights during the second half of this past winter quarter.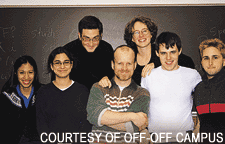 The Off-Off comedy troupe:
Back row, L-R: Avram Klein, Melanie MacBride.
Front row, L-R: Maya Ganguly, Chandrika Rajan, Joachim Riesthuis, Robert Kennedy, Justin Seidner.
The show's seven cast members relied on audience feedback, character development, and pre-plotted story lines as they improvised their way through scenes pitting the Lipnickis against evil villains trying to thwart the band's musical message of peace and love.
One night, for example, the five Lipnickis confronted a thumbless cyborg and his henchman; on another they faced a half-squid, half-human bad guy and his evil sidekick. Not surprisingly, all the shows--except for one where the band temporarily broke up--had the happy endings expected of a sitcom-like performance.
The Revolution featured the "13th generation" of Off-Off Campus: second-years Maya Ganguly, Robert Kennedy, Melanie MacBride, and Chandrika Rajan; third-years Avram Klein and Justin Seidner; and grad student Joachim Riesthuis. Cast at the end of the 1998 autumn quarter, they spent the following quarter in training before performing a different flagship revue in each quarter since. The first generation of Off-Off Campus dates back to 1986, when Second City co-founder Bernard G. Sahlins, AB'43, challenged students in his improv comedy course to revive the tradition on campus.
The Lipnickis were dreamed up over a summer break by fourth-year anthropology concentrator Megan Biddinger, who directed the show with fourth-year biology concentrator Beth Adams. Heavily influenced by Nick at Nite reruns of the Partridge Family and Beatles movies like Yellow Submarine and Help!, the Revolution revue was picked by troupe members to follow autumn quarter's Last Things First, a show about the drama and humor in daily life.
Biddinger points out that Revolution is not a "revue" in the traditional sense of a performance grounded in loosely connected, scripted scenes. Rather, she describes it as an improv piece based on the commedia dell'arte tradition, relying on plot skeletons, or scenarios, presented to actors in outline form only. The scenarios typically revolve around the familiar narrative devices of star-crossed lovers, mistaken identities, or sibling rivalry.
For each performance, Revolution cast members traded off the roles of the same stock characters: a widower, a heartthrob brother, his idealistic sister, their crafty younger brother and innocent younger sister, a bus-driving manager, a villain and his henchman, and a character free to change his or her role based on the action. (Two cast members played double roles.) The troupe worked in rehearsal to develop characters "so rich and like an actual person that you would know what drives them instinctively," says Biddinger.
Audience suggestions made in response to questions like "What's my favorite food?" kept the story moving. And in a new twist added this year, a live band provided accompaniment. Though the band had prepared music, the songs sung by the cast members--like one about yoga--were based on what the audience threw out.
This spring, the torch passes to the 14th generation, who plan to perform a more traditional, scripted revue poking fun at society's manners and mores.--C.S.