Men's hoops finishes No.2 in midwest sectional
On Saturday, March 9, the Maroons men's basketball team were the post-season runners-up in the final game of the NCAA Division III midwest sectional-held at Henry Crown Field House.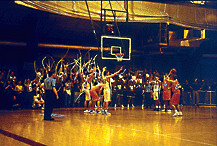 Sellout crowds filled the stands to cheer on the U of C team during the weekend tournament. The 77-68 loss to Illinois Wesleyan came after the Maroons' 62-52 defeat of Lewis & Clark College in the semifinals on Friday night.
It was a fine ending to the 2000-01 season, which saw the 24-and-4 Maroons capture the University Athletic Association conference title for the fourth time in the past five years and marked the first time in history that Chicago men's basketball finished regular-season play ranked No. 1 nationwide in Division III.
In March second-year forward Derek Reich was named to the 2000-01 National Association of Basketball Coaches All-America Team. The UAA Player of the Year for the second straight season, Reich set school records with 565 points and 137 free throws made. He led the Maroons in per-game scoring (20.2) and rebounding (8.6) and in season field goal percentage (.538) and free throws made and attempted (137, 177).
Reich finished his second season with 1,052 career points, placing him tenth on the Chicago all-time list. He is the first player in team history to reach 1,000 career points in just two seasons.
Fourth-year Brad Henderson drew national attention to the team when he was named a Rhodes Scholar in December. "Sure the University of Chicago's basketball team is a brainy bunch," read a February 17 Chicago Tribune article, when the team had tallied 19 victories, "but these scholars can play."
For their part, the players take pride in their scholar-athlete reputations. "Take a look at our players," Henderson told the Tribune. "There are no Shaquille O'Neals on this team." Says Reich, "We are not the nerdy types people would expect. We are all normal guys who like to have fun."-S.A.S.

---