The world is full of research projects Three students find meaningful work in Africa, Antarctica, and their friends' dorm rooms.
All too often students come to college hoping to do original research or collaborate with a professor, but find themselves cleaning glassware or tending lab animals. This year, three U of C undergraduates proved that research is for College students too.
Third-year Wayne Tsuang's idea came while he was recovering from the flu his first year, when he says, "I began to wonder how living in dorms affected how the flu was spread among students." While it's well known that students living in dorms have a higher risk for flu, no research demonstrates why. With funding from the Richter Fund and the Women's Board, Tsuang set out to find the answer.
First, Tsuang-with advice from health-sciences professor John Bailar, pediatric infectious diseases professor Janet Englund, and chair of environmental studies Ted Steck-sent 1,700 surveys to dorm residents at the end of last year's flu season, late winter quarter 2000. With a response rate of 43 percent, the survey's preliminary findings show that factors increasing a student's risk of catching the flu include number of roommates, whether the roommates' beds are in the same room, and if the room has carpeting.
While Tsuang was looking at flu data, fourth-year David Blackburn was wrapping up a three-month leave of absence spent on a paleontological expedition in Niger with Paul Sereno, professor of organismal biology and anatomy. The expedition team collected fossils from newly discovered species as well as missing parts of previously discovered species. He spent his days chiseling, hammering, lifting, and digging in temperatures that often reached 130ºF in a camp with no indoor plumbing and a two-day drive from the nearest town.
One of Blackburn's daily duties was to make breakfast. "I woke every morning at 5:30 and prepared breakfast. This ranged from making hash browns, eggs, or oatmeal to pouring granola into a bowl...and living up to everyone's expectations of what is 'good coffee,' which by the way, is a very difficult thing to do in the middle of the world's largest desert."
Blackburn, who previously worked in Sereno's lab preparing, casting, and molding fossils, was the only U of C undergraduate on the expedition.
He plans to use the experience in his undergraduate work. "I am currently working on preparing a fossil, the description, systematics, and possibly biogeography of which will hopefully serve as my honors thesis in biology." He hopes to do graduate work on vertebrate paleontology, functional morphology, and biomechanics.
While Blackburn was wiping sweat from his brow, physics concentrator Gwynne Crowder was bundled up in Antarctica working as a technician on the TopHat project, an experiment trying to detect small variations within the Cosmic Microwave Background Radiation left over from a short time after the Big Bang.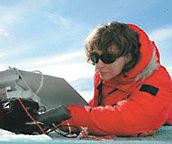 Crowder's duties entailed electrical wiring, computer programming, and repairing vacuum systems. As part of an outreach project with two elementary-school classrooms, she also created a Web site that featured a travel journal with photos, a Q&A section, and an experiments log. "I designed some experiments that I could run down in Antarctica while the classes could simultaneously run the experiments themselves, in order to compare and contrast the different places." Her work is online at topweb.gsfc.nasa. gov/antarctica_chronicles.html.
Crowder says the weather in Antarctica was "actually not that bad-similar to a Chicago winter." Being at the southernmost tip of the planet did mean 24-hour daylight and no fresh food.
But leaving campus isn't necessary. Undergraduates get involved in research at the University in a number of ways. The College Research Opportunities Program publishes a directory of faculty research projects that welcome student participation, and other opportunities are offered through Argonne National Laboratory and the Division of Biological Sciences. Whether for academic credit or just for fun and personal growth, undergraduate researchers all report their experiences were positive. "Until a year or so ago, I was in an entirely different concentration," says aspiring paleontologist David Blackburn, "but I was seduced away by the simple fact that life and animals are too cool not to study."-Q.J.

---