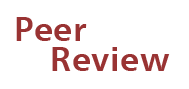 Arts & Letters
Maria goes to White Castle
Alumni screenwriters handle humorous and heavy themes with equal cinematic aplomb, as demonstrated by two summer releases: Hayden Schlossberg's (AB'00) Harold and Kumar Go to White Castle (cowritten by Jon Hurwitz)—a meatier version of the classic stoner flick—and Joshua Marston's (AM'94) Maria Full of Grace—which chronicles a Colombian drug mule smuggling heroin into the United States. The acclaimed films have more in common than critical praise. Here are ten other similarities: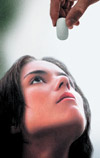 Photo credit: haroldandkumar.com, mariafullofgrace.com
1. Pretty girls named Maria—One, a neighbor, captures Harold's heart; the other, full of grace, wins the audience's affection.
2. Illegal drugs—Twenty-something potheads Harold and Kumar live for them; 17-year-old Maria, a first-time mule, lives despite them.
3. Melting-pot stories—Asian American Harold and Indian American Kumar subvert second-generation stereotypes; Maria explores Jackson Heights, a largely immigrant neighborhood in Queens, and meets Colombian residents.
4. The American Dream—In the face of adversity Kumar reminds Harold that their parents came to the United States so they could have better lives and that scoring those sliders is about the American Dream; a pregnant Maria considers the opportunities she'd gain by staying in Queens.
5. Job frustration—Harold's workload piles up as insensitive colleagues unload assignments on him; Maria feels trapped in a dead-end existence, dethorning roses in a Colombia flower factory.
6. Family pressure—Kumar's father insists he become a doctor; Maria's mother and sister demand her financial support.
7. Dangerous journeys—To curb their Castle cravings Harold and Kumar take a road trip complete with car crashes, animal bites, jail time, and other assorted misadventures; Maria faces a sweaty plane ride from Bogotá to New York, airport interrogation, and violent thugs.
8. Underworld action—Harold and Kumar's New Jersey night takes them through backwoods and 'burbs infested with bullies, sexual predators, and racist cops; Maria navigates the drug-smuggling sphere.
9. Unhealthy ingestion—Harold and Kumar suck back massive amounts of pot, burgers, fries, and sodas; Maria swallows 62 heroin pellets.
10. Coming of age—Harold and Kumar recommit to professional careers; Maria chooses a life better suited to child rearing.—M.L.