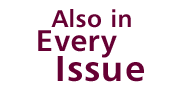 Letters
Enter the debunking article
Old videos for new archive?
As a rising second year in the College, I've been working over the past year on a project that may interest and excite alumni of the University.
The RSO Media Project hopes to consolidate films made by registered student organizations, otherwise known as RSOs, into a single RSO Media Library, where students, alumni, and faculty may explore our shared history. Over the past week, for example, a few members of a student filmmaking group and I sifted through reels of forgotten celluloid, discovering student videos dating to 1956, with titles like One Man Dies and Escape from Hyde Park.
The project needs your support, and I urge you to glance through any videos you've saved from your time at the University. You may be pleasantly surprised at your findings. For example, five campus clubs—the Chinese Undergraduate Students Association, the South Asian Students Association, the Organization of Latin American Students, the Organization of Black Students, and Samahan (the Filipino student association)—produce elaborate and original cultural shows each year. Some of these clubs have been active for decades. How many tapes of these shows are out there, waiting to become part of an archive accessible to the general public and individual RSO members?
The materials you've saved could help a student organization to recruit new members, challenge old contributors, or inspire seasoned leaders. They could also strengthen the links between current student groups and the alumni community.
If you think you have some tapes or film that may be of interest to the media project, please e-mail dclayman@uchicago.edu, or send your contribution to: RSO Media Project, RC 001, 5706 S. University Avenue, Chicago, IL 60637. We will be happy to return originals if requested.
David Clayman, '07
Chicago
---
The University of Chicago Magazine welcomes letters. Letters for publication must be signed and may be edited for space and clarity. In order to provide a range of views, we encourage writers to limit themselves to 300 words or less. Write: Editor, University of Chicago Magazine, 5801 S. Ellis Avenue, Chicago, IL 60637. Or e-mail: uchicago-magazine@uchicago.edu.