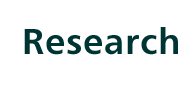 Investigations
The war over free speech
Geoffrey Stone, JD'71, arrived on campus to start his law degree one month after the explosive 1968 Democratic National Convention. He may have missed a firsthand blast of tear gas in Grant Park, but the violent clashes between police and Vietnam War protesters left a career-defining mark on Stone, now the Harry Kalven Jr. distinguished service professor in the Law School.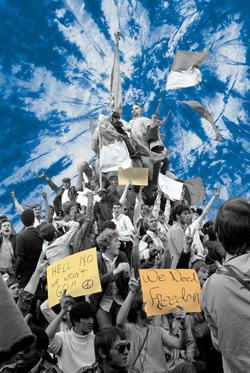 Corbis; photo illustration by J.O.M.
War protests and civic activism were central debate themes at universities nationwide when he entered the Law School. The era's tension and volatility piqued his interest in constitutional law, and since then Stone has become a recognized First Amendment authority. But it wasn't until spring 2002 that he decided to systematically examine dissent and free speech during periods when the United States has been at war.
The result is Perilous Times: Free Speech During Wartime (W. W. Norton), to be published eight days before this year's presidential election. While researching the book, Stone says, he sought answers to two primary questions: What are the appropriate limits on government criticism during wartime? And has the United States made progress in respecting the citizenry's right to such dissent?
"The core of free speech in the history of the United States is tested in wartime," he says, pointing out that only during wars has the U.S. government restricted dissent that was straightforward criticism, not an attempt to incite violence or a coup d'état. Historically, he explains, the justification for restrictions has been that criticism would undermine national security by promoting disorder or disloyalty, or by signaling to the enemy that the United States doesn't have the strength to see the conflict through.
Stone's examination covers the wartime gamut, from the Sedition Act of 1798, when the fledgling democracy was on the verge of war with France, to the Patriot Act, created in response to the September 11, 2001, terrorist attacks. He cautions against theories arguing that any particular wartime crackdown has been harsher than another. Reactions, he says, depend on the degree of perceived threat.
While the United States has moved generally toward fewer restrictions on dissent, he says, "it's more like a graph in which the line goes up and down and up and down," alternating between relaxed and strict.
During the Civil War, for example, Abraham Lincoln "was more tolerant of wartime criticism than any other wartime leader we've had," Stone says. Part of the reason, he notes, is that Lincoln wanted to keep ambivalent border states from joining the Confederacy.
In World War I, however, Woodrow Wilson's administration imposed severe restrictions on war criticism with lengthy prison sentences. Wilson's hard line responded to public opposition over entering a war without being attacked.
The U.S. pattern, Stone emphasizes, has been to overreact by suppressing dissent during wartime and then, months or years later, regret having done so. That collective conscience pushes the country to recognize civil liberties, he says. For example, as Communist blacklisting and the cold war waned, the United States strengthened its resolve that dissent shouldn't be punished.
Under the legacy of past failures, it became impossible to expressly punish government critics during the Vietnam War, Stone says. Instead the methods of protest—public profanity or desecrating the American flag—were punished. "There were no direct prosecutions just for criticizing the government," he notes, "and that was an important step forward." But the government used various other tactics—misinformation campaigns about antiwar groups, for example—to suppress dissent.
After September 11, Stone says, government reaction toward civil liberties was predictable yet excessive. "The Patriot Act was enacted in a way that follows a pattern that is not healthy," he observes. The legislation, which grants the government increased investigative and surveillance powers, was passed hastily, without the customary congressional deliberation. Still, the Bush administration's response to Iraq and to war-on-terror criticism, he says, has been more measured compared to such severe crackdowns as Wilson's during World War I. But if terrorists attacked the United States a second or third time, he adds, government tolerance probably would be even lower than it is today: "There would be a much greater impetus for government officials to say dissent is disloyal."
Protecting First Amendment rights will always require constant vigilance, says Stone, whose book will serve as a springboard for a January free-speech conference at the Rutgers University School of Law–Camden. "Fostering a culture of democracy or civil liberties is a continuing process," he says. "There's no point at which we can say, 'Okay, we're done.'"—Rebecca Voelker
---
For more on free speech during wartime, listen to Stone's video interview posted on Research at Chicago, a University Web site.