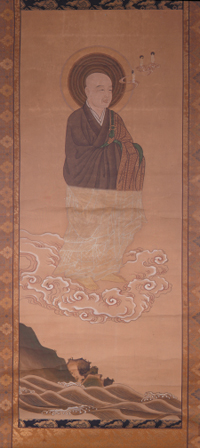 Objects of Inquiry: The Buckley Collection of Japanese Art
Through December 16.
Smart Museum of Art
, 773/702-0200. Preparing for his doctoral dissertation in the late 1880s, Chicago comparative-religion professor Edmund Buckley gathered a wide collection of Japanese art; exhibited at Chicago's 1893 World's Columbian Exposition, it was one of the West's first presentations of Japanese art. The Smart show studies the history of museum collections, religious studies, and late 19th-century popular culture by examining the presentation and aesthetic of the collection's paintings, sculptures, woodcuts, maps, and talismans.
Time and the Sacred: A Photographic Exhibit of Pance Velkov
Through December 24. Rockefeller Memorial Chapel, 773/702-7059. Photographs of sacred sites in Macedonia show an environment where Christianity and Islam have coexisted for more than six centuries. Velkov, who is also a cultural preservationist, has chosen many sites in need of preservation. The exhibit's cosponsors are the Center for East European and Russian/Eurasian Studies, Rockefeller Memorial Chapel, and the Franke Institute for the Humanities.
What the Butler Saw
November 8–December 2. Court Theatre, 773/753-4472. A psychiatrist's farcical attempts to hide his courtship of the office secretary create bedlam in British playwright Joe Orton's comedy. Avant-garde Chicago director Sean Graney makes his Court directorial debut.
Meanwhile in Baghdad...
November 11–December 21. Renaissance Society, 773/702-8670. The Renaissance Society hosts an exhibition of multiple artists' responses to the Iraq War. Works include Daniel Heyman's Abu Ghraib Project engravings, based on prison detainees' accounts that the artist collected, and Walead Beshty's Political Abstract photograph series, which features intensely saturated abstract colors.
Roma Music of the Renaissance and the Baroque
January 18. 7:30 p.m. Mandel Hall, 773/702-8068. The Montreal-based Ensemble Caprice performs classical works of European Roma in this University of Chicago Presents concert. The concert is the 21-year-old ensemble's first Chicago appearance.
Drawn from the Home of Henry Darger
December 22–March16. Smart Museum, 773/ 702-8787. For 40 years the reclusive janitor and self-taught artist Henry Darger lived and worked in a cluttered one-bedroom apartment on Chicago's North Side. This exhibition of art and source materials from the Smart Museum and Intuit—The Center for Intuitive and Outsider Art gives an intimate glimpse into Darger's working process and artistic achievements.