Howard Sulkin says the Spertus Institute's new building reveals the inside action
At night the undulating glass facade of the new Spertus Institute of Jewish Studies on Chicago's Michigan Avenue casts a subdued glow onto neighboring Grant Park. By day any perceptible glow is probably emanating from the visage of Spertus President Howard Sulkin, the tall, determined man who shepherded the project from figment to blueprint to ten shimmering glass-and-steel stories.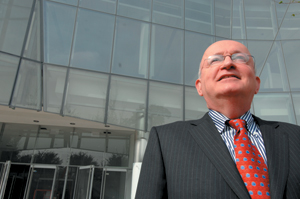 Howard Sulkin had a clear vision for Spertus.
"People are truly stunned," Sulkin, MBA'65, PhD'69, proclaims as he strides through the light-filled structure at 610 South Michigan Avenue. "I don't know what they're expecting, but it's not this building." The $55 million building, which opens to the public November 30, received accolades for its glass front—an anomaly on a street lined with curlicued cornices and buttoned-up brick entrances—while construction crews were still at work. By late September it had already secured a spot on the Chicago Architecture Foundation's tour of important city structures.
An unbroken cascade of 726 glass panels, the facade references yehi or—Hebrew for "let there be light" and the root word for Torah, the basis for all Jewish teaching. A tenth-floor, glass-walled terrace lets visitors take in Grant Park, Millennium Park, and the Chicago River.
The architects are Chicago's Krueck & Sexton, which also engineered the glass-block-towered Crown Fountain in Millennium Park. But Sulkin, president of Spertus—a multifaceted institution that includes a Jewish museum, a graduate college with programs in Jewish studies and nonprofit management, and a research library—had strong feelings about what he wanted ever since going into the project six years ago. A lifelong student of design, as a teen in Detroit he took architecture classes at the Cranbrook Art Museum. By the 1960s when he arrived at the Chicago campus, he could confidently declare which Saarinen building he loved (the Laird Bell Law Quadrangle) and which he didn't (the now-demolished Woodward Court dorm) and remained steadfastly unimpressed with Mies van der Rohe's SSA building.
Mark Sexton calls Sulkin a great client. "He started with the big idea that the building was a gift to everyone who would live in or visit Chicago. That's a profound way of thinking for an institution—usually it's more about the institution and less about the impact."
Sulkin didn't micromanage, says Sexton. He did request that Krueck and Sexton, neither of whom is Jewish, take a class on Jewish culture and heritage to give them some context. And he led the trustees and the architects on excursions to other cities—New York, San Francisco, Seattle, St. Louis, and Cincinnati—to check out layouts of prominent museums, educational centers, and university buildings. "We learned much more about what we didn't want than what we did," says Sulkin. "It was very interesting to learn that way."
One major problem with the old Spertus building, the blocky former IBM headquarters next door at 618 South Michigan, was that it had all the communal charm of an isolation tank. "There could be 700 people in the building doing various things, and the way it's built, you walk in the door, and it looks totally dead," Sulkin says. "People would say, 'Oh, no one's ever here.'" The new design's varying ceiling and wall heights let museum visitors, researchers, partygoers in the reception hall, and students in the Spertus College of Jewish Studies actually see each other.
There were also practical issues: The old building, constructed in 1911, suffered from lack of temperature control for the items in the museum's archives, including a 15,000-piece collection of art and artifacts relating to the Jewish experience and more than 100,000 books, films, music, periodicals, and maps in the library archives. "No matter if we stood on our heads, we could get no constancy," says Sulkin. "That's really, really bad for important pieces." And a much larger percentage of the square footage had to be used for storage because the floors had a weight-bearing load of 110 pounds per square foot; now two storage bays support 250 pounds per square foot, leaving more room for exhibits, such as an upcoming show on contemporary Jewish American art and a multimedia exhibit exploring stereotypes and how they have been challenged and subverted.
Other notable features include an energy-efficient green roof, a children's center designed with the artistic director for Chicago's Redmoon Theater, and a kosher café run by Wolfgang Puck Catering. ("I'm sick and tired of this bad image of kosher food," says Sulkin. "It doesn't have to be that way. We didn't want to invest in this building and have yucky food.")
"You have to have people think in large ways," says Sulkin, who during his 23-year tenure, revised the college's curriculum for the first time in 50 years. "You can't think in terms of OK, we'll build a building and it'll be better than the last building. Daniel Burnham said, 'Make no small plans.' I really believe in that."