Blast from the past
By Ruth E. Kott, AM'07
---
During his fourth year in the College, Harold Laufman, SB'32, MD'37, was named art editor of the Phoenix, a monthly student magazine. His job was to draw cartoons, hand-letter a new title banner, and illustrate the covers.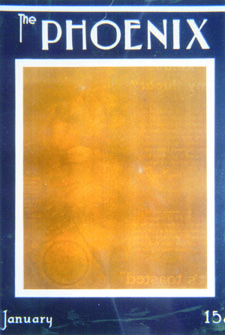 To appease the dean, the Phoenix editors overlaid the January 1932 cover illustration with gold ink.
For the January 1932 cover, he drew inspiration from a head-and-shoulders photograph of a campus coed, Geraldine "Gerry" Mitchell, PhB'32, wearing a sleeveless dress with shoulder straps. "My rendering left off the shoulder straps for artistic reasons," Laufman recalls. The result: scandal.
Now 97, Laufman retired from a 40-year career in surgery in the early 1980s and is professor emeritus at New York City's Albert Einstein College of Medicine. In the essay below, he remembers the January 1932 Phoenix cover that made him famous on—and off—campus.
---
The right to bare shoulders
It was customary every month to submit a make-up copy of the magazine to Dean Brumbaugh, our faculty adviser, for approval before putting it on sale. This time Brumbaugh shouted, "You cannot sell or circulate this issue!" When editor Orin Tovrov, PhB'32, asked why not, the dean, still shouting, replied, "I will not allow a nude picture of a female student on the cover of our publication. Period."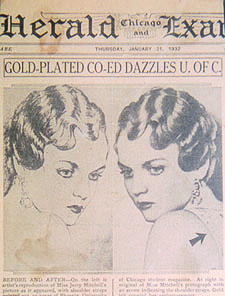 Laufman's illustration of a bare-shouldered co-ed and the subsequent scandal caught the eye of the press.
Orin replied, "In the first place, it isn't a nude picture. And, besides, we have already made the investment, and the magazine is already printed. What shall we do?"
Brumbaugh said, "You either lose your investment, or you cover up the picture somehow."
Tovrov and I consulted with the printer, and the decision was made to cover my drawing of Gerry with an overprint of metallic gold, the most opaque kind of overprint possible.
A few days later, the Phoenix was put on sale with a gold square surrounded by a black frame on its cover. It did not take students long before they discovered that, if they held the cover up to the light, or if they used an art gum eraser on the gold surface, they could see the face and bare shoulder of Gerry Mitchell. The result was a record sellout of the issue and a great deal of newspaper and radio publicity. The Chicago Herald-Examiner actually published the photograph and my drawing side-by-side.
Gerry became known as the "gilt-edged co-ed" and was soon in demand as a fashion model. Orin was forced to step down as editor. I became a celebrity of sorts and began to get calls from advertising agencies with offers for me to illustrate ads for the campus crowd.
Return to top