The University of Chicago Magazine April 1995
---
Return to April 1995 Table of Contents
---
CHICAGO JOURNAL
Also in this deparment: The campaign gets new leaders; Robie House gets a new deal; Crossroads closes its doors; and alumni get reduced-tuition classes. Plus items From our back pages and Chicago newsbriefs For the Record.
---
University trustees add $150 million
to five-year Campaign for Next Century
In an effort to boost the University's long-term fiscal health, Chicago's board of trustees has voted to increase the Campaign for the Next Century's goal by $150 million.
The board approved the goal increase, from $500 million to $650 million, at its February meeting, and also named a new chair to head the campaign: Harvey Plotnick, AB'63, who succeeds B. Kenneth West, MBA'60 (see related story, below).
There are no plans to extend the length of the drive, which was launched during the 1991 Centennial celebration and is scheduled to end June 30, 1996. The new goal--by far the largest in the University's history--is achievable, said President Hugo Sonnenschein, given the success to date of the campaign, which reached $455 million at the end of 1994.
"The larger goal acknowledges needs that are absolutely imperative," Sonnenschein explained in a Magazine interview. (For the full text of his remarks on the campaign and other topics, Go to feature, "A Conversation with Hugo Sonnenschein".)
One major goal of the campaign has been to increase the University's endowment by nearly 25 percent in order to increase support for faculty positions and research, library acquisitions and enhancement, and College scholarships and graduate fellowships. "This is lifeblood," said Sonnenschein, "for a university that defines itself in terms of faculty quality and cares so deeply that the education it offers will remain available to those who would profit most from that education."
The new goal, said Sonnenschein, also acknowledges some critical facilities needs. Despite the completion of the Downtown Center and the Biological Sciences Learning Center/Jules F. Knapp Medical Research Building, "urgent needs remain," said Sonnenschein. "As a first step, we've set a $20-million goal toward a substantial improvement of our athletic facilities."
"Above all," Sonnenschein stated, the campaign increase "recognizes that in order for the University to continue to satisfy its very high level of aspirations, fund-raising needs to be brought to a new level and sustained at that level over the long run. This will be a challenge for us all, and I am heartened that the trustees, collectively and as individuals, have made a strong commitment."
Donations have risen each year of the campaign, with last year's gifts surpassing $100 million for the first time in Chicago's history.
As has traditionally been the case at Chicago, a majority of fund-raising support has come from individual donors. More than $275 million of campaign support has come from individuals--with University trustees providing more than $62 million of that total. Foundations have made gifts or grants of nearly $106 million, and corporations have donated more than $41 million.
---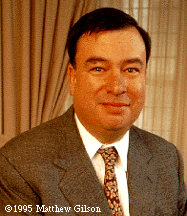 Strong finisher: Campaign chair Plotnick.
As the new chair of the Campaign for the Next Century, "Harvey Plotnick will build on our success in strengthening Chicago for the next century," said President Hugo Sonnenschein, adding, "we owe a great debt of gratitude to Ken West"--who had led the five-year campaign since its October 1991 beginning-"for his leadership of this historic effort."
From 1967 to 1994, Plotnick, AB'63, was president and CEO of Contemporary Books. Under his leadership, the company became one of the nation's largest publishers of adult basic-education instructional materials.
Elected to the board of trustees in 1994, Plotnick heads the board's development committee, chairs the College and student activities visiting committee, and is a member of the Alumni Association's board of governors. He and his wife have also endowed the Elizabeth and Harvey Plotnick Scholarship fund for students who finance their education largely on their own.
"I am very pleased," said Plotnick, "that the trustees have unanimously voted to increase the campaign's goal--and I'm proud that they have personally committed themselves to seeing that we achieve it."
The campaign will now focus on three critical areas, Plotnick said: endowed support both for faculty positions and for student fellowships and scholarships, and funds for the construction of a new athletic complex.
"The campaign so far has brought in wonderful support for Chicago," Plotnick said. "But those of us who care about the work of the University must raise more funds for the fundamental objectives of the campaign.
"These priorities all grow out of the same overriding concern: the University's people," Plotnick added. "This university has always attracted the best faculty and provided for the most promising students. We must provide the resources they need to excel to the limit of their substantial abilities."
Plotnick's predecessor, Harris Bankcorp chair B. Kenneth West, MBA'60, will continue to serve on the University's board of trustees, which he chaired from 1985 to 1988.
---

Click here for larger image.
Home improvement: Plans call for restoring Robie House to its original state.
Plans have been announced to restore Robie House, designed by Frank Lloyd Wright and owned by the University, and to turn the architectural marvel into a museum.
In March, the University agreed to a plan that will lead to its eventual leasing of the 85-year-old house--located just east of the main campus at 58th and Woodlawn--to the Oak Park-based Frank Lloyd Wright Home and Studio Foundation.
Although tours of the exterior and three rooms are currently given daily, most of the interior is closed to the public. Under the plan, the entire Robie House will be opened and the University's Alumni Association offices, which presently occupy much of the building, will be relocated. The Wright Foundation has also established a fund-raising goal of $2.5 million that will be used to restore the house as closely as possible to its original state.
"Robie House is a national treasure on our campus," says President Hugo Sonnenschein, "and we hope that through the Wright Foundation we can restore this architectural masterpiece and make it accessible to more people."
For the foundation, which oversees the architect's Oak Park home and studio, the partnership "represents an opportunity to encourage an expanded understanding of Wright's creativity," says the foundation's head, Natalie Hale. "Just as Wright's home and studio anticipates the Prairie style, Robie House represents its fullest expression."
It is hoped the partnership will also provide a permanent safe harbor in the home's sometimes stormy history. Since its 1910 completion, when it was described by one neighbor as a "battleship" and by another as a "disgrace," the visionary house has survived its share of slings and arrows--culminating in the late 1950s when its then owner, a Hyde Park seminary, announced plans to raze the structure to make room for a dormitory.
At age 87, Wright himself led a national outcry to save his masterpiece. Despite public pressure, University administrators at first were reluctant to take responsibility for the house, in fairly drastic disrepair at the time. After a collective of admirers agreed to raise funds needed for initial restoration, the U of C assumed ownership in 1963--leasing it, in turn, to the Adlai Stevenson Institute for Advanced Studies.
In 1970, the "battleship" endured more salvos when students protesting the Stevenson Institute's alleged connection to the Vietnam War smashed windows and wrecked some furniture. (Currently, most of the Wright-designed furniture is safely stored at the U of C's Smart Museum of Art.) Robie House was the development office headquarters from 1975 to 1980, when the Alumni Association moved in.
The home is now an architectural mecca, attracting visitors from around the world. The start of a typical noon tour finds dozens of tourists packed into the cramped entrance hall (Wright wanted visitors to feel impelled to move to more open areas of the house). Students often sprawl on the grass, intently sketching the floating planes, low terraces, and oversized roof sections that give the structure its distinctive style.
For Wright, Robie House provided the first opportunity to fully explore his "Prairie" style--a term that refers to the Wisconsin-born architect's desire to make homes look natural on their flat Midwestern sites by using clean, horizontal lines to link the structures to the level earth. Wright found a kindred spirit in bicycle manufacturer Frederick Robie, who wanted to build a house with natural light and open interiors--and without the small, high-ceilinged rooms, vertical exteriors, draperies, and other Victorian conventions of the day.
It was a decidedly American-style home that Robie and his wife, Lora-an alumna of the University (PhB'00) who proposed building the house in Hyde Park-moved into in 1910. Although designed to fit Robie's general specifications, every inch of the home bespeaks the architect's influence-including the ceilings, which he insisted be lowered to accommodate "normal height," defined by Wright as his own 5-foot-8-inch frame.
The house also features several architectural innovations: a natural air-conditioning system, self-watering planters, and what is probably the first attached three-car garage in the U.S.--a claim well-known to Magazine staffers, who have made the revamped garage their home office for the past 15 years.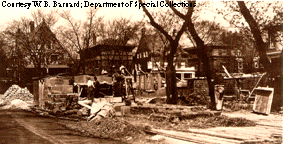 Wright's way: The "battleship" (under construction, above) shocked many in the campus neighborhood.
---
The board of directors of Crossroads International Student Center reluctantly voted to close the center on June 30, due to insufficient funding.

Board president Hildegard Dorrer explained the decision in a letter to friends of Crossroads--an agency of the Inter-Cultural Association that has offered four decades of cultural, educational, and social programs for international students, faculty, and staff.

When longtime volunteer directors Teddy Gerardy and Denyse Snyers retired in 1992, the association's directors decided to hire a paid staff and seek additional funding sources. Despite efforts to improve the financial situation, wrote Dorrer, "it became obvious that sufficient additional funds could not be secured."

Although faced with budget constraints of their own, directors of International House, the Office of International Affairs, and the University Dean of Students office say they will do what they can to make up for the loss.

"It's a sad passing of an institution that has played an important role in the community for 40 years," noted Ralph Nicholas, AM'58, PhD'62, executive director of International House. "It is now even more important to ensure that the programs and services established by Crossroads are not abandoned."

Nicholas said that International House plans to offer more activities for married international students and visitors and their families, as well as for single students. Several cooperative programs with Crossroads--holidays with American families, weekend outings, and national celebrations--will be continued by International House.

The dean of students office also hopes, "through existing organizations on campus, to pick up as many of the programs that were supported by Crossroads as possible," said Edward Cook, University dean of students and associate provost for graduate affairs. Cook added that the Graduate Affairs office also offers resources that can assist current and incoming international students.
---
Alumni are invited to revisit U of C classrooms as the first session of Chicago for Alumni is offered this summer.
The new program gives Chicago alumni and their spouses the chance to sit in on courses taught by some of the U of C's best faculty, mix with students, use the Library's extensive resources, and partake in summer cultural events at a special price of $300 per audited course (no grades, exams, or term papers), or for credit at $1,300 per course.
"We are happy to have this chance to invite alumni back to participate directly in the academic heart of the University," said Dean of the College John Boyer, AM'69, PhD'75. "I know from meeting with alumni how much those of us in the academic community have to learn from our alumni, and I feel strongly that they should have this opportunity to share in the intellectual life that makes Chicago great."
Boyer himself will teach a section of the College's classic Western Civ course. Other instructors and courses include: Herman Sinaiko, AB'47, PhD'61: Readings in World Literature; James Redfield, AB'54, PhD'61: Self, Culture, and Society; and Vera Dragisich, PhD'90: Organic Chemistry.
The program runs June 29- August 26 (individual classes vary in length and frequency). Auditors must register by June 1, or incur a late fee. Early registration is encouraged. International House has accommodations available for alumni during the summer quarter. For more information on Chicago for Alumni, call 312/702-6033.
---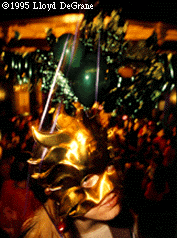 Cajun style: The Student Alumni Association sponsored
Mardi Gras '95 in February, complete with New Orleans cuisine
and zydeco bands.
---
Warning-falling cubes (April/35):
"Lightning struck Mitchell Tower and splattered 200-pound cubes of Indiana limestone through the roofs beneath." No injuries, but one block ripped through an auto's roof....To raise money for their class gift, seniors host a Fieldhouse Fandango, with Ferris wheels, games of chance, and "dare-devil stunts." The top raffle prize: a free trip to Banff and Lake Louise....U of C chemists isolate and prepare "in pure, crystalline form the principle of ergot" that, in small doses, induces "strong, rhythmic contractions" in women giving birth

OK-rations (April/45):
Physiology professor Anton J. Carlson makes a three-day test of the Army's K-ration diet. "If you are hungry," he reports, "it goes down like honey on wafers."...Seventeen magazine runs an article on the College, "written with some of the glib synthetic lunguage of the bobby sox young."...As part of an infantry division in search of snipers, Lt. Harry R. Stevens, PhD '46, reports finding a copy of the University of Chicago Magazine on the library floor of an abandoned, shell-torn house outside of Manila.

Ladies first (March-April/55):
A fashion spoof, performed by faculty wives at the annual trustees' dinner, features a Paris couturiere who reminds the ladies: "Remember...you're a woman, even though you're a professor's wife."...The first annual University Festival of the Arts is held in April, a four-day celebration of art, music, drama, and dance, "culminating with the gaily costumed Beaux Arts Ball" in Hutchinson Commons....A group of Bell Lab scientists, including alumnus Calvin Fuller, SB'26, PhD'29, invent the world's first solar battery

A grand old era (April/65):
The March 17 death of "the Grand Old Man," U of C football coach Amos Alonzo Stagg, at age 102, "symbolizes the passing of an era."...In Mandel Hall, the Chicago Symphony Orchestra gives a world-premiere performance of music professor Easley Blackwood's Symphony No. 3....Despite a "bargain" price of $100,000 that includes "300 tons of concrete shielding as a bonus," the University has no takers in its sale of a 100-million electron-volt betatron--once used by Enrico Fermi but now outdated by more powerful equipment.
---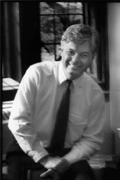 Return engagement: W. Clark Gilpin, AM'72, PhD'74, has been appointed to a second term as dean of the Divinity School. A noted authority on American religion and theological education, Gilpin joined Chicago's faculty in 1984. He is now researching the "letter from prison" as a genre of religious literature, using examples from the Apostle Paul to Martin Luther King.

Law and honors: Cass Sunstein, the Law School's Karl N. Llewellyn professor of jurisprudence, has been named a distinguished service professor. The National Law Journal recently picked Sunstein for its annual list of America's most influential lawyers.

Model citizens: More than 150 U of C students organized and moderated this February's seventh annual Model United Nations of the U of C (MUNUC) conference. Some 1,800 high-school students from across the U.S. attended the gathering, in which participants are assigned different countries and committees in order to simulate the workings of the U.N. assembly.

Approval rating: Most respondents to a pair of graduate-student surveys approved of their Chicago experience, according to the faculty- led Council on Teaching report. In the 1993 survey of degree recipients, 80 percent reported "good," "very good," or "excellent" experiences within their programs. In a 1994 survey, 76 percent reported a good to excellent experience.

I got you, babe: It was a double celebration in February for Erica Kwaza (above) and her newborn son, Luke. Luke was born on Valentine's Day--just in time to partake in ceremonies marking the 100th anniversary of the University's Lying-In Hospital. Luke's mom was born at the hospital, which specializes in obstetrics & gynecology, as were both of his siblings.
Favoring reform: Developer and philanthropist Howard Landau, PhB'24, gave $1 million to the U of C's Center for School Improvement, established in 1989 to help Chicago public schools benefit from changes made possible by school reform. With his partner, the late Herbert Heyman, PhB'31, Landau developed some of Chicago's first shopping centers. The two men also established a program for not-for-profit community organizations interested in building low- and moderate-income housing.
Clear vision: Ophthalmology chair J. Terry Ernest, MD'61, PhD'67, received a $100,000 grant from Research to Prevent Blindness. Supporting general research--including studies on color vision and retinal and visual-cortex organization--the award will also help develop the department's retinal-transplantation program.


Good therapy: Froma Walsh, PhD'77, professor in the School of Social Service Administration, received her field's highest honor: the American Family Therapy Academy's 1995 award for distinguished contribution to family-therapy theory.
Business starter: As ARCH Development Corporation's new president and CEO, Thomas Churchwell will oversee commercial ventures developed from research at the University and Argonne National Laboratory. Founded in 1986, the GSB-based ARCH has launched 16 new companies to date. A former ARCH vice president, Churchwell succeeds Steven Lazarus, who became director of ARCH Fund II--a related venture-capital fund.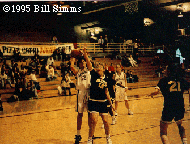 Hoop dream:The women's basketball team, including senior forward Nadine Horning (white jersey, above), advanced to the NCAA Division III championships in March--the first post-season appearance in the team's 95-year history. The women lost in the first round, but finished 9-5 in their regular season.
Swedes select:Math professor William E. Fulton was named Sweden's Erlander Professor for the coming academic year. Named after former Prime Minister Tage Erlander, the award is given by the Swedish natural-sciences research council. A specialist in algebraic geometry, Fulton plans to spend the year at Stockholm's Mittag-Leffler Institute.
---
Go to: Return to April 1995 Table of Contents