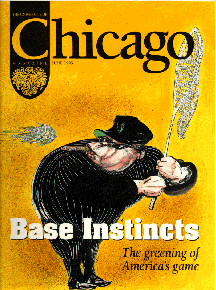 Welcome to the on-line edition of the June/95 issue.
As with our hard-copy format, we welcome readers' comments and reactions. Our Internet address is uchicago-magazine@uchicago.edu.
---
THE UNIVERSITY OF CHICAGO MAGAZINE
JUNE 1995
---
Table of Contents
VOLUME 87, NUMBER 5 JUNE 1995

Cover: Baseball is business as usual; illustration by Steve Brodner.