Virtual Chicago
Amos Alonzo Stagg is to Chicago's athletics what William Rainey Harper is to its academic history. Hired by Harper-his former divinity professor at Yale-to head up the Department of Physical Culture, Stagg was given full tenure and an assistant professorship. He established the football program in 1892-even playing on the team in its first year-and because of his close relationship with Harper, wielded considerable influence over the University's administration.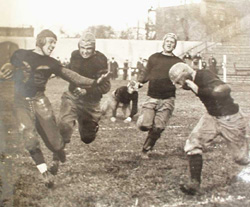 Over the next four decades he would become an institution at Chicago-affectionately dubbed "the old man" by students-and a legend in college athletics, credited with inventing the modern bowl game, numbered jerseys, and the forward pass, and leading the Maroons to almost mythical status among college football teams.
Stagg was also a zealous collector of photos, newspaper clippings, and other memorabilia, filling scrapbooks with ephemera from Chicago's early athletics program, the 1904 Olympic Games (he served on the American Olympic Games Committee from 1906 until 1932), and bits of news from the quads and around the country.
Selected items from Stagg's scrapbooks-about 300 books in all-can be seen on the U of C Library Web site. With a gift from Judson Bradford, AB'51, and his wife, Catherine, the library has hired a graduate student to go through the material one item at a time and catalog its contents, preserving these bits of Chicago history for future scholars. - C.S.

World Wide Web location:
www.lib.uchicago.edu/e/gifts/news/stagg.html