A fast boat from China
It would not be mere institutional ego-stroking to say He Qinglian is lucky to be at Chicago. The well-known Chinese economist and writer barely made it out of her home country in June after months of being followed by security agents who had broken into her home, tapped her phone, and seized documents and personal items.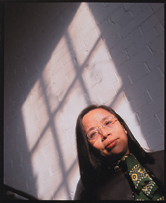 Fearful that the government was trying to build an espionage case against her, she left her apartment in Shenzhen June 14 with no luggage and went to the bank and then straight to the airport, ending up in Princeton, New Jersey, two days later. She had already been invited to spend a year's sabbatical at Chicago through the Scholars at Risk Program ("Chicago Journal," August/00), so she traveled from Princeton to the U of C in late September.
Why is He a wanted woman? Her 1998 book China's Pitfall (Mingjing)-in which she takes on what she considers a corrupt Chinese government-won acclaim from academic corners but raised the hackles of Communist party leaders. Her follow-up book published last year, We Are All Still Gazing at the Stars (Lijiang), in which she specifically targets President Jiang Zemin, got her fired from the Shenzhen Legal Daily, and as of December 2000 her books were officially banned in China.
How do you explain the recent crackdown on scholars and writers in China when the country seemed to become more tolerant through the 1990s?
During mid-1990s the Chinese regime did loosen its control on media and intellectuals tactically for a short period. Soon the regime realized that even limited press and academic freedom might undermine its exclusive rule, so it moved backward to re-tighten the control since 1999.
If one wants to find some "progress" in terms of the strategy the regime uses in its crackdown on scholars and writers, he could identify two small changes. First, in the past two to three years such persecution has become a kind of silent activity, even with features like "secret action." For example, all orders to ban an article or a book or publications of a scholar like me, are no longer written down as official documents. Instead, top officials give the orders only by phone calls, face-to-face instruction, or in confidential meetings, always with a reminder not to make any notes or records about the order, just keep the long list of the names banned in mind and follow the order.
They think this way may prevent foreign media from finding any hard evidence of the persecution. The second change is to charge scholars or independent intellectuals with espionage rather than to accuse them of being anti-revolutionists. Accusing scholars of espionage enables the regime to keep trials in secret and thus to charge scholars with false or no evidence.
How do you think upcoming major events in China-like the Communist Party Congress in 2002 and the Olympic Games in 2008-will affect academic and journalistic freedom?
Whether there is going to be more academic and journalistic freedom in China probably is not simply determined by who wins in top-level power struggles before or after the Communist Party Congress. Any new leaders of the ruling party have to face a series of difficulties such as economic recession, social unrest, widespread corruption, and shaken legitimacy. The worse the economic and social situation in China, the more the regime may rely upon control of media and intellectuals. If the government has lost confidence in solving those problems, it may consider shutting down the independent voice of intellectuals an option to avoid the revelation of policy failures.
An event like the Olympic Games alone could hardly produce motives for the regime to promote academic and journalistic freedom in China. Very likely, the political results of organizing the games in China may be just the opposite.
In the early 1990s the regime held Asian Games in Shanghai. What happened then was more political control rather than political reform. Before the games the regime declared that-to maintain a good image of China to foreign delegations and visitors-all media should be more censored. A frequently heard slogan was "Everything gives way to the games." The regime therefore gained more excuses to tighten its control on society and politics. These measures may be repeated during the 2008 Olympic Games.
Why did you choose Chicago for your sabbatical?
The University of Chicago, of course, is well known in many ways in China and among Chinese scholars. What attracted my attention in China after I found myself under full-time surveillance was a special program established at Chicago: Scholars at Risk under the Human Rights Program of the University. Some friends here sent me the message, and I realized that this program was exactly what I needed and I was indeed a scholar at risk then. Fortunately, my application was accepted by Chicago.
I would like to take this opportunity to thank Robert Quinn, the director of the program, and other faculty members who helped me. I had several research programs going on in China, but they were interrupted by political forces there. It is Scholars at Risk that makes it possible for me to continue my research at the University of Chicago.
What are you doing during your stay?
Currently I mainly work on improving my English and will give some lectures in the upcoming quarters and conduct my research program with faculty members. One of my research programs is the analysis of current social structure and social injustice in China and the relations between the social injustice and China's unbalanced reform path.
What changes would you like to see in China before you return?
I hope China will move toward positive changes like democratization on the foundation of constitutionalism. The myth that China could reach success solely by economic reform has almost reached its end. The unbalanced reform met its bottleneck years ago.
Many problems in China today, such as widespread corruption, maladministration, social injustice, and potential financial crisis, can hardly be solved without political reform. The Chinese regime well knows this but doesn't want to meet the challenge. Many Chinese intellectuals appeal for political reform, and the majority of Chinese people would like to see such a positive change. But voices for political reform are curbed.
Political reform is not going to be an easy or short process. In most socialist countries it is not stability of the system or successes of policies that brings about positive political changes; instead, it is crises the regime can't handle that leads to such changes. Anyway I hope such changes would be peaceful and smooth.
What are your plans after leaving Chicago?
I have no detailed plan for the next years. But one thing is certain for me: I'll continue my research on China's current economic and social problems and publish papers and books. I recently read from Web sites in China that a lot of people were looking for my latest writings even though they knew I fled China. I should keep my independent voice loud.
-C.S.