A MacArthur spark and a juicy Mellon for Social Thought scholars
The Committee on Social Thought doesn't exactly suffer from a dearth of scholars, and those scholars don't exactly suffer from a dearth of awards. It's always nice to get another one, though, and recently two Committee faculty members were surprised to find themselves winners of prizes for which they didn't even know they were being considered.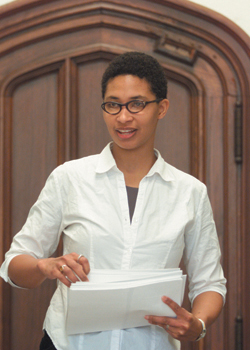 On October 24, one week before her 30th birthday, Danielle Allen found herself the youngest in a group that included a conservationist, an optical physicist, a papyrologist, a concert pianist, and a visual artist. The odd bunch-23 in all-were similar in one respect: they had each just received a MacArthur Fellowship, one of the most secretive-and lucrative-grants in the country. Allen, associate professor in classical languages & literatures, political science, the Committee on Social Thought, and the College, was cited for her ability to combine "the classicist's careful attention to texts and language with the political theorist's sophisticated and informed engagement." This is, in a nutshell, Allen's forte-she holds a B.A. from Princeton in classics, a Ph.D. from Cambridge in classics, and a Ph.D. from Harvard in political science.
Allen came to Chicago in 1997 as an assistant professor in classics after finishing her Cambridge degree and while still working on her Harvard dissertation. She was appointed associate professor in 2000 and received a Quantrell Award for excellence in undergraduate teaching this past May, two months after completing her second Ph.D. She also coordinates Poem Present, a series that brings well-known poets to the University ("Chicago Journal," June/01). In September 2001 she gave the annual Aims of Education Address to the entering College class.
The MacArthur Fellowships-commonly known as "genius grants"-are $500,000 awards paid out over five years with no strings attached; the winners can use the money as they see fit and do not have to provide research reports to the foundation. Candidates are nominated by anonymous "talent scouts," and the recipients are notified by a very unexpected phone call.
Allen hopes the award will help her find more time to write. She is currently at work on the book Being Citizens: Problems of Trust and Sacrifice, which compares the views of Thomas Hobbes, Ralph Ellison, and Aristotle on distrust, rhetoric, and civic friendship. Although she doesn't know who nominated her, Allen's first investment, she says, will be in "many thank you notes."

Robert Pippin isn't sure yet how he'll use his prize. On November 6 he learned that he was one of the first five recipients of the Mellon Distinguished Achievement Award, a new fellowship conferred by the Andrew W. Mellon Foundation. Like the MacArthur and the annual Nobel Prize, the Mellon award is accompanied by an eye-popping figure: $1.5 million-about as much as the other two awards combined.
Unlike the MacArthur and the Nobel, the money is actually awarded to the University, where Pippin, the Raymond W. and Martha Hilpert Gruner distinguished service professor in social thought and philosophy and the chair of the Committee on Social Thought, will oversee how it is spent. Besides paying his salary, the prize is earmarked to support research and intellectual conversation at the University. Pippin is considering plans to support graduate-student research, postdoctoral fellowships, and visiting professorships, and perhaps to reinvigorate a program in which working writers would visit the University to teach literature classes.
Pippin, 53, who earned his B.A. in English from Trinity College in Connecticut and his Ph.D. in philosophy from Pennsylvania State University, came to Chicago in 1992 from the University of California at San Diego. A specialist in 19th- and 20th-century European philosophy, he has produced six books and more than 100 articles and lectures. He is currently engaged in three major projects: studying Hegel's idea of freedom as a form of social life; detailing how Nietzsche's misgivings about modern democratic society relate to the nature of human desire; and analyzing a conceptual shift in aesthetics in late 19th- and early 20th-century art.
The Mellon Foundation cited Pippin for his "profound reinterpretation of the conceptual bases of modern thought," noting his ongoing analysis of the modern condition through the prism of German Idealism. Citing specifically his book Henry James and Modern Moral Life (Cambridge, 2000), the foundation stated that Pippin's work exemplifies "the intellectual breadth of the University of Chicago's famed Committee on Social Thought."
- C.S.