Center stage
University of Chicago Folk Festival, February 1-3. First staged in 1961 to introduce concertgoers to the traditional underpinnings of popular music, this venerable gathering is now entering its 42nd year, making it the longest-running university festival of its kind. The University of Chicago Folk Society; call 773/702-9793.
Copenhagen, February 5-17. Winner of three 2000 Tony awards, including Best Play, Copenhagen is inspired by an actual 1941 visit by German physicist Werner Heisenberg to his Danish colleague Niels Bohr and Bohr's wife Margrethe in Copenhagen-a disastrous meeting that was a defining moment of the modern nuclear age. This production is staged at the Shubert Theatre in collaboration with Broadway in Chicago. Court Theatre; call 773/753-4472.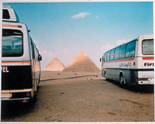 The Angle of Repose: Four American Photographers in Egypt, through January 27. Linda Connor, Lynn Davis, Tom Van Eynde, and Richard Misrach offer different perspectives of both ancient monuments and modern life in contemporary Egypt. The views include sweeping vistas of the Luxor monuments and colorful daily scenes in the shadows of the pyramids. Oriental Institute; call 773/702-1062.
Kafka, Kraus, Masaryk, Lilien: Central European Cultural Migration, through June 14. An exhibition of books and literary journals illustrating the careers of Franz Kafka, Karl Kraus, Tomás Masaryk, and E. M. Lilien, all of whom were born within the Hapsburg Empire in Prague, and all of whom had to negotiate the breakdown of the empire, WW I, and postwar reconstruction and reconciliation. Department of Special Collections; call 773/702-8705.