A rolling Stone
After serving for eight years as University provost-longer than anyone since the position was created in 1962-Geoffrey R. Stone, JD'71, will step down later this academic year to return to research and teaching at the University.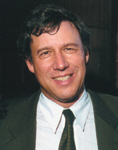 Stone, the Harry Kalven Jr. distinguished service professor in the Law School and the College, was appointed provost by University president Hugo Sonnenschein in 1993 after serving for six years as Law School dean. While provost, he taught one class a year in Constitutional law, coedited eight volumes of the Supreme Court Review, coauthored several casebooks, and coauthored the book Eternal Vigilance: Free Speech in the Modern Era (Chicago, 2001). He has recently begun a new book on freedom of speech during wartime.
Although Stone is credited with strengthening the University's finances early in his tenure, his most lasting legacy as provost may be the Campus Master Plan, a two-year process he oversaw that spawned several major construction projects, including the Max Palevsky Residential Commons, the Bartlett Dining Commons, the Press building, the Ratner Athletics Center, the Interdivisional Research Building, improvements on the Midway Plaisance, and expansion of the Graduate School of Business facilities.
"It is difficult to imagine the administration of the University without him," said President Don M. Randel in a letter to faculty, students, and staff. Randel is seeking nominees to replace Stone and hopes to fill the position with a member of the University community. Stone will continue as provost until a successor is found.
-C.S.