New leadership for University Theater

Heidi Coleman brings new ideas to the U of C's largest student organization.
When longtime University Theater Director Curt Columbus announced last year he was leaving to join the artistic staff of Steppenwolf Theatre, the UT student committee and administrators looked carefully for the right candidate to fill his shoes.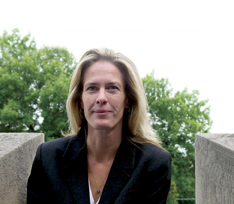 Enter Heidi Coleman, who now oversees the campus's largest student organization, with more than 400 students from all disciplines participating in UT each year. A self-described "hybrid," Coleman brings experience in academics and performance. With a bachelor's degree in theater from Duke University and a master's from Columbia University, she has worked as a director, stage manager, and dramaturg and taught at Columbia University, Barnard College, and TheaterWorks in California.
Coleman was drawn to UT because students run the program. "They have both autonomy and ownership," she says. Since students involved in UT make all artistic and production decisions, they "are faced with the same questions and concerns" facing any professional theater.
"What is exceptional about UT students is that they are fluent in all aspects of theater-able to act, direct, design, and produce," she says. "Students master essential skills of problem solving, conflict resolution, communication, and leadership. This experience will fundamentally serve them in whatever career they choose."
Coleman brings several new ideas to UT. This fall, for example, she launched the Friday afternoon Lab Series, a workshop and discussion series that brings together students, faculty, and guest artists, including members of Steppenwolf Theatre and Court Theatre.
She is also revamping the School Partnership Program (SPP), which hires UT students to teach drama in neighborhood schools. SPP teachers will now start with intensive three-day training with guest artists and educators, and then once a month the Friday Lab Series will bring a guest artist or educator to continue SPP teacher training. "Ultimately," Coleman says, "I hope this will lead to a new course being developed in time for SPP next fall."
In response to student demand, Coleman is also expanding course offerings to include stage combat, active dramaturgy, ensemble analysis, and Meisner method acting. Meanwhile, UT is expanding physically. Scenery construction has moved out of the Reynolds Club, allowing for much-needed design space, and two classroom/rehearsal spaces will open in the new Bartlett Dining Commons this winter.
In addition to teaching an introductory drama course this fall, Coleman advises a group of ten students on an independent-study course, The Antigone Project. Conceived by Saket Soni, AB'01, the student-created dramatic production is based on the real-life stories of asylum seekers assisted by the Kovler Center, a human-rights group.
In the near future Coleman hopes to hold UT-sponsored conferences on the arts in education and on the growth of performance-studies departments.
-Carrie Golus, AB'91, AM'93