:: On the shelf: a selection of alumni books
:: On exhibit: A history of violence
:: Center stage: upcoming cultural events.


:: Deaths
:: From our pages: A look back through the Magazine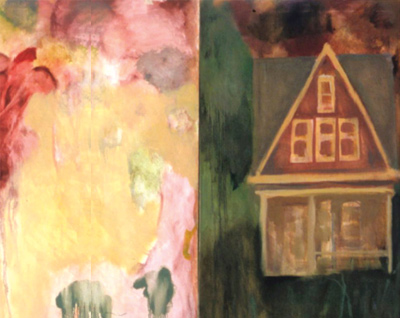 Inspired by childhood memories of her grandmother's Pittsburgh home, Katherine Kadish, AM'66, created
House & Garden
, a 60 x 72-inch diptych painted with oil on canvas. Part of a private collection in Ohio, the painting reflects the current state of the home, "which looks like a large, derelict doll's house," says Kadish, and its accompanying English garden. Kadish's work has appeared at the Philadelphia Museum of Art and New York's Whitney Museum of American Art.

C.Vitae
Approaching 80, Connie Hogarth, PhB'47, SB'48, rallies influential friends to support left-wing
issues. Her latest cause: shutting down a local nuclear plant.
::
Read more

Tut treasure trove

For museum-goers, David Silverman brings Egypt's boy king to life.
::
Read more

Behind the music

Law-student-turned-producer James Ginsburg, AB'87, strikes a chord with local artists.
::
Read more

Caution: words at work

Lexicographer Erin McKean tracks up-and-coming words as they fight their way into the dictionary.
::
Read more

Cultural Studies
As the school year draws to a close, mass exodus begins. Saying so long for the summer, Chicago students—and their possessions—hit the road.
::
Read more