Avery Preesman
Through October 29. Renaissance Society, 773/702-8670. The first Midwest exhibition of work by Dutch abstract artist Avery Preesman includes paintings, photographs, and two works-in-progress. After layering color upon color, Preesman constructs his paintings by chiseling designs into the base coat to produce striated fields. He will be in residence at the Renaissance Society for one month, creating a large floor piece and a plaster relief to extend across eight gallery windows.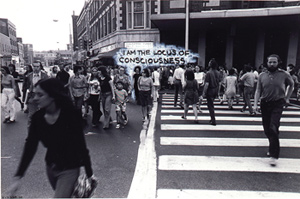 Courtesy the Smart Museum
Adrian Piper: The Mythic Being
Through December 10. Smart Museum, 773/702-0200. In 1973 conceptual artist Adrian Piper, a woman of mixed black-white racial heritage, created an alternate persona called the Mythic Being. Donning an Afro wig, sunglasses, and a mustache, she documented how she and others responded to the character. The exhibition, which includes work from the Adrian Piper Research Archive and Smart Museum holdings, chronicles the project, including never-before-seen footage of the Being.
Without Nature: A New Condition for Theology
October 26–28. The Martin Marty Center, 773/702-7049. This conference explores humans' modern estrangement from nature as a result of the technological revolution, as well as Christian theology's role in understanding that loss. The event is free and open to the public.
The Florestan Trio
October 27. 8 p.m. Mandel Hall. 773/702-8068. In this University of Chicago Presents performance, the Florestan Trio, a chamber-music group consisting of violinist Anthony Marwood, cellist Richard Lester, and pianist Susan Tomes, plays works by Mozart, Saint-Saens, and Shostakovich.
The Graveyard Shift
October 28–29. Graham School of General Studies, 773/702-8821. Visitors tour the graves of Chicago musicians such as Muddy Waters, Earl Hooker, Big Walter Horton, and Dinah Washington on a two-day excursion to famous South Side cemeteries. Led by musicology professor and local musician David Ramey, participants check out the musical souls' old haunts and receive free admission to a Saturday evening jazz and blues concert. The event costs $100 per person; call ahead to register.
Harmonies for the Queen of Heavens
November 10. 8 p.m. Rockefeller Memorial Chapel, 773/702-7059. The Schola Antiqua of Chicago presents Renaissance composer Guillaume Du Fay's last polyphonic mass and his 1463 motet "Ave Regina Celorum." Mass movements will be interspersed with plainchant, traditional liturgical songs.
Poem Present Series: Reading and Lecture by Lisa Robertson
November 16. 5:30 p.m. Rosenwald 405, 773/834-8524. Canadian poet Lisa Robertson, recently featured in literary journal Chicago Review (see "Chicago Journal," page 19), will read from her work. A lecture follows November 17 at 1 p.m. in Classics 101. The Holloway poet-in-residence at the University of California, Berkeley, this fall, Robertson is best known for The Weather, a 2001 poetry collection divided into seven sections ("Sunday" to "Saturday") and based on British weather forecasts.