Law School clinical professor Craig Futterman leads the nation's first clinic devoted to representing police-abuse victims.
On an April afternoon in 2003, four Chicago police officers approached Diane Bond outside her Stateway Gardens public-housing apartment. Without any cause, Bond's lawsuit would later claim, one officer pressed his loaded pistol to her temple and forced the 48-year-old mother of three into her Bronzeville home. Once inside, she alleges, the officer handcuffed her, struck her in the face, and kicked her in the side. The officers searched her apartment and knocked her belongings to the ground. One officer then took Bond to her bathroom, where he threatened to arrest her for drug possession if she did not expose and touch herself. Fearing for her safety, as well as an arrest, which in public housing leads to eviction, Bond submitted as the officer "stared and smirked."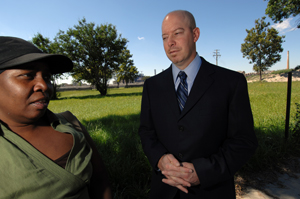 Law school professor Craig Futterman talks with alleged abuse victim Diane Bond.
The next day Bond filed a complaint with the city. She formally complained again later that year after the same officers and one other, together known by public-housing residents as the "Skullcap Crew" for their abusive methods and dark wool caps, returned to brutalize her four more times. In April 2004, with the help of Law School clinical professor Craig Futterman and his students in the Mandel Legal Aid Clinic course Civil Rights Clinic: Police Accountability Project, Bond sued the five officers, three Chicago Police Department administrators including former Superintendent Philip Cline, and the City of Chicago. The case, along with numerous other charges of police brutality, has fueled a police scandal that contributed to Mayor Richard M. Daley's July announcement of institutional reforms and Superintendent Cline's April resignation.
Futterman, whose pit bull–like face belies an amiable demeanor, says he has spent much of his life "fighting for fairness." Since the early 1990s, when he worked under current Mandel director Randolph Stone in the Cook County Public Defender's Office, the two had mulled ideas for a clinic devoted to representing police-abuse victims. The project became the nation's first in 2000, when Futterman, a Chicago native and Northwestern University graduate, left his position as director of Stanford's public-interest law program to join Chicago's faculty. Now the project, guided by Futterman, handles approximately ten civil-rights cases at a time.
The 15 second- and third-year law students in the course handle the project's caseload by doing "everything that lawyers do," Futterman says, "from drafting motions to investigating the scene, talking to witnesses, writing appeals, and arguing appeals in federal and state court." With a laugh, he adds, "I have a reputation of being a bit demanding." Thekla Hansen-Young, JD'05, who helped represent Bond, concurs: "Craig works you really hard, like a dog, but you learn an incredible amount about how to practice and conduct yourself." Hansen-Young, now a Georgetown Environmental Law & Policy Institute Fellow, says the course gave students a lot of responsibility: "If you don't do a good job on the lawsuit, these people lose their freedom." The course, says Futterman, gives students a sense of the law outside the classroom. "Every day, what my students and I experienced was a separate Constitution on the ground," Futterman says. "So there is what other professors and I are teaching in class, and what we saw happening."
In the Bond case, Futterman says, students saw "a picture of institutional denial" that led to recurrent violations of individuals' constitutional rights. Bond's suit alleged that, by ignoring her and other previous complainants, the Chicago Police Department abetted the officers' brutality. To support the argument, the class petitioned for complaint data on the city's 13,600 officers. Although as of early October, the city had continued to resist Futterman's efforts to publicly release the names of officers with complaints, the department did supply data that showed the Skullcap Crew officers received scores of complaints before Bond's incident. Citywide, there was a two in 1,000 chance that a complaint would result in disciplinary action between 1997 and 2003, a rate significantly lower than in other cities, Futterman notes.
The city settled Bond's case in December 2006—she received $150,000, but the city did not admit wrongdoing. Although Bond, who no longer lives in public housing, is beginning to put her life back together, she is "still hurting on the inside," she says. "Every time I see a police car I can't even stand looking at them. I know that most had nothing to do with what they did to me, but every time I see a car I pray that they don't know who I am because I am afraid that they are going to do something to me." As for the Skullcap Crew, at least three made detective following the Bond incidents; all continue to walk the street with badges and guns. "Our work is far from done," Futterman says.
Meanwhile, in July, the Chicago City Council approved Daley's proposal to shift responsibility for police-abuse investigations to the Mayor's office. Futterman is critical of the plan. "[It's] a public-relations solution" that only pretends to address the problem while maintaining the conditions that encourage officers "to torture and abuse with impunity," he says. "Every part of me wants to believe the proclamations, but I think I'd be silly to—and plus at the U of C we are skeptics anyway."