Art in transit
Public-art projects brighten Hyde Park.
By Luke Fiedler, '10
Photography by Dan Dry
---
Class is in session at the intersection of 56th Street and Lake Park Avenue, as muralist Olivia Gude, MFA'82, gives a history lesson. "Chicago has a deep culture of community connection, of high social capital, with people being kind to each other in public spaces—and I think the murals are a part of that."
She's talking about the artwork that adorns the Metra underpasses along Lake Park—"some of the earliest murals in the city." This summer she has been restoring her own piece, Where We Come From…Where We're Going, chipped and faded from 17 years of Chicago weather.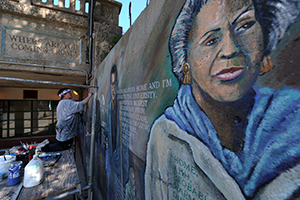 Olivia Gude restores her weathered 1992 mural at 56th Street and Lake Park Avenue as a part of a series of public-art projects in Hyde Park.
Other public-art pieces are being updated or installed in Hyde Park as part of a citywide project. "There is a multitude of ways for artists to promote public space," says Jon Pounds, executive director of the Chicago Public Art Group (CPAG). "Forty years ago the medium for artists was primarily bronze, but today the array of public art is vastly greater."
The organization has tapped a few artists to breathe new life into five Metra underpasses along Lake Park Avenue. At 47th Street, John Pitman Weber and Carolyn Elaine are leading the installation of a mosaic that combines painting and bricolage, the application of tiles, mirrors, and digital images onto the wall. The tiles form long, spiraling patterns representing the families and historical figures of Hyde Park and Kenwood. Local children help with the construction four days a week, and other days community volunteers young and old help tile, grout, and scrape.
The south sides of the 53rd and 55th street underpasses have large steel panels mounted a few inches off the original walls. These grim barriers will host the Art Panels project, a joint effort of the CPAG, Hyde Park Art Center, the South Side Community Art Center, and the Department of Transportation, with funding also contributed by the University and two local aldermen. South Side artists Terry Evans, John Himmelfarb, Calvin Jones, and Margaret Burroughs will each have six or seven works enlarged as 8-foot-by-12-foot digital prints to cover the panels.
On the north side of the 55th Street underpass, the organizations are seeking funds to restore Caryl Yasko's Under City Stone, a mural that community volunteers helped paint in 1972. The piece depicts James Agee's poem "Rapid Transit," about the alienation of public transportation. Yasko's work was "really one of the murals that inspired me to become a muralist when I moved to Hyde Park back in 1975," says Gude, now an art professor at the University of Illinois at Chicago.
In 1991 she stood at the intersection with a tape recorder and a camera, asking passersby two questions: Where are you going? Where are you coming from? Her mural combines portraits of these residents and excerpts of their answers, from annoyed to polite, simple to profound. Now, with help from the National Endowment for the Arts, the South East Chicago Commission, and Alderman Leslie Hairston, U-High'79 she is adding a new dimension, conducting a new series of interviews and extending the piece.
Gude is also restoring William Walker's 1977 mural Childhood is Without Prejudice, located on the same underpass just east of her own painting. In appreciation of the nearby Harte School's efforts to foster a racially diverse and harmonious educational environment, Walker created three separate images, each with interlocking or overlapping faces of people of many races.
Hyde Park resident Mirtes Zwierzynski, meanwhile, leads a collaborative project at the 57th Street and Lake Shore Drive pedestrian underpass. With grants from the Harper Court Arts Council and After School Matters, she has partnered with local schools to produce wall panels based on Midwestern flora and fauna.
Back at the 56th Street underpass, Gude lowers her paintbrush just long enough to examine her handiwork and watch the cars rumble by. "I hope that leak over there gets fixed," she says, pointing across the street to a wet patch on the wall. Then she smiles and says, "But hey, this all looks pretty great, doesn't it?"
Return to top
---
---
---
RELATED LINKS
---
EDITOR'S PICKS