The University of Chicago Magazine June 1995
---
Return to June 1995 Table of Contents
---
CHICAGO JOURNAL
In this deparment: Planning -- and fundraising -- move forward for a new pool and athletics complex; The University announces its tuition bill for 1995-96; Bernard Brown steps down as dean of Rockefeller Chapel; and the College looks at its Core curriculum. Plus items For the Record.
---
Pool should put Chicago
in the swim of things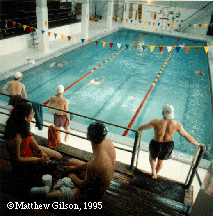 Tight fit: Dedicated swimmers try to squeeze in some exercise at Bartlett pool.
FOR DECADES, IT HAS BEEN little more than idle fantasy in the minds of swimmers crammed into Bartlett Gymnasium's diminutive swimming pool. But this May, a comparatively giant 50-meter-by-25-yard aquatics facility took a long stride toward becoming reality when an anonymous donor gave $5 million to fund the pool's construction.
The need for improved athletics facilities, especially for aquatics, has been acknowledged at least since 1924, when a U of C trustee described Bartlett Gymnasium as "antiquated." With limited funds available, other needs took precedence -- most recently, the Biological Sciences Learning Center and the Downtown Center. But when the University announced plans to increase its Campaign for the Next Century's goal by $150 million ("Chicago Journal," April/95), part of that goal -- $20 million -- was earmarked specifically for a new athletic center, including a new pool.
"This is a giant step in our efforts to make the athletics center a reality," says Steven G. Rothmeier, MBA'72, who chairs the volunteer leadership committee overseeing the campaign's athletic-center component. "We are grateful to the donor, who believes the University community deserves a state-of-the-art pool and who recognizes the central importance of the center in the life of our institution."
Claiming that a sports facility is of "central importance" to a place as cerebral as Chicago may, on the surface, seem like a stretch. Of course, a new athletic complex would be nice -- even sublime, if you've ever sought in vain an empty locker or waited in line a half-hour for an open swimming lane. But urgent?
"Absolutely, it's urgent," says Tom Weingartner, associate professor and chair of physical education and athletics, who presents his case with lawyerly precision and evangelical passion.
"The notion that the best students are not interested in athletics, recreation, and fitness simply no longer holds," says Weingartner, pulling out a sheet of "quick facts" that he reads aloud: "More than 400 men and women participated in varsity sports last year....About 2,000 people -- students, faculty, staff -- use our athletic facilities every day.... Approximately 7,600 students participate in intramural sports each year, and that number keeps growing, almost exponentially."
Points made, Weingartner leans forward for the sell: "To attract and retain the best students, and also the best faculty, you need attractive facilities. Our facilities right now, for many uses, are not even adequate, let alone attractive."
"Nice," though, is a good word to describe what the new pool would look like: 50 meters (the international competitive standard) by 25 yards (the preferred length for American high school and college competition). It's when you look at what that pool would replace that the term "urgent" becomes apropos. The Bartlett pool, built in 1904, measures 20 by 7 yards. Not only has it been decades since 20-yard events were dropped from swimming competition, but the diving board was pulled out some years ago after being ruled a hazard (the pool's bottom is 10 inches shallower than the recommended safety standard).
Swimming coach Kevin Fober will tell you the hardships of running a competitive program with such a facility -- if you can find him. After years of coaching as many as five practices a day in Bartlett ("you have to run them in shifts because the pool's too narrow to hold more than a few swimmers at a time," he ex- plains), Fober's given up on the pool almost entirely, except for optional morning practices. Instead, he and his swimmers travel by vans each night either to a nearby YMCA or to the University of Illinois' Chicago campus. Naturally, the team doesn't get the choicest times for either pool.
Fober predicts that participation on his teams will increase by at least 50 percent in the first year after a new pool is built. But varsity swimming represents only a small fraction of the students who will benefit from the new facilities. According to Tom Weingartner, some 6,000 students requested athletic passes this past academic year. Since swimming is one of America's most popular pastimes, you would expect a large percentage of those students to make use of the pool -- but they don't.
"Right now, you have to be pretty stouthearted to want to try to squeeze your lap-swimming into our tiny pool," says Weingartner. A larger pool would also expand the hours available for recreational swimming, with movable bulkheads dividing pool space so that there could be a diving class in one area and lap-swimming in another.
Even non-swimmers will benefit from the athletic center, says Weingartner. Although the pool is the centerpiece, a new gymnasium and expanded locker and shower space are also planned. Designed to replace Bartlett Gym (tentatively planned to be converted into a student center) the 68,000-square-foot facility would be built on what is now an open area just south of Pierce Hall, and would be physically joined to the Henry Crown Field House, essentially making one giant athletic complex. As such, it would provide relief for what Weingartner terms severe overcrowding at the Field House -- particularly in the locker and shower areas.
The new facility also fits nicely with long-term plans for a north campus, linking the athletic center by quadrangles to surrounding facilities such as the Smart Museum, Court Theatre, and Regenstein Library to create a social focus for the campus.
It hasn't been hard to generate student enthusiasm for the proposed center, even if those students will likely have graduated long before such a facility is built. For example, the graduating College class of 1995 is purchasing the building's main doors as its class gift -- although, with $15 million yet to be raised, the center's completion is still uncertain.
Second-year Margaret Pizer, this year's women's MVP in swimming, is also happy to hear about the plans, even if they won't personally affect her. "When we go to other pools at other schools and see how great they are, it's sort of reassuring to realize that, hey, in a few years, this is going to be us." -- T.A.O.
---
The University's College tuition for 1995-96 will be $19,875. Adding room and board charges of $6,668 and fees totaling $318 for health services and student activities, the total term bill will be $26,861 -- a 4.9-percent increase.
Along with the increase in tuition will be a boost in funds for student financial aid: The University has budgeted $23.5 million for scholarships to undergraduates in 1995-96, up from last year's $23-million aid allotment.
In announcing the 1995-96 fees, President Hugo Sonnenschein emphasized that the University will continue its policy of admitting the most qualified College applicants, regardless of their ability to pay, while meeting those students' full financial needs. In the past academic year, 60 percent of Chicago's undergraduates received such need-based scholarships.
The average scholarship for those students was $12,355, with 81 percent of that support coming directly from the University, Sonnenschein said -- adding that Chicago continues to lead among elite universities in the percentage of its students who receive financial aid.
Tuition increases -- from $19,335 in 1994-95 to $20,310 -- in the four graduate divisions (Biological Sciences, Humanities, Physical Sciences, and Social Sciences) were also announced. Tuition numbers for the professional schools (Law, Medicine, Business, Divinity, Public Policy Studies and Social Service Administration) were unavailable at press time.
---
As a pilot course in 1947, the College's now famous "History of Western Civilization" was the subject of lively, often heated, debate. This April, it was djà-vu all over again, as 75 professors, graduate students, and a smattering of College students and alumni gathered for an all-day discussion of the Common Core's requirement in civilizational studies. The discussion was the third in three retreats (social sciences and humanities came first) held in preparation for an overall review of the College curriculum to take place next year.
Western Civ, along with courses in Judaic, Islamic, African, Latin American, American, Russian, and six other three-quarter sequences in civilizational studies, are all designed, in the College catalog's words, to provide "in-depth examination of the development and accomplishments of one of the world's great civilizations through direct encounters with some of its most significant documents and monuments."
At the retreat, more questions were raised than answered: If you emphasize "coverage," or the conveying of basic history, where do you find time to do close readings of specific documents? Without such coverage, are the close readings really useful? Is geography the best way to set the boundaries for what a particular civilization encompasses? What would happen if all of the civilization sequences were organized around a particular theme, such as issues of gender? Or if civilization courses were organized to emphasize processes of "unsettlement" -- the movement of ideas, people, and goods across cultures?
And -- a question that received a lot of discussion -- what about the changing nature of the College's student body? More and more students, it was noted, seem to take Civ courses as "roots" or "identity" courses. History professor John Woods reported that, in 1987, 5 percent of Islamic Civ students had Islamic surnames, compared to 30 percent in 1993-94. In 1987, 28 percent of South Asian Civ students had South Asian surnames; this year that number was over 60 percent.
Some argued that "roots"-seeking students -- a number of whom have trouble dealing with new ideas about a culture in which they have assumed fluency -- aren't new at all. As political science professor Susanne Hoeber Ru- dolph noted, "Western Civ was a way of carrying somebody from Boise, Idaho, to ancient Greece. Carrying the young Indian woman from Oak Park into Vedic times is also a de-parochializing experience."
By day's end, three things seemed certain: No one disputed the general-education impulse underlying the Civilization Core courses. As in 1947, a certain tension -- created by the need to provide both historical coverage and firsthand readings of a civilization's great texts -- seemed inescapable. And, third, the discussions would continue. -- M.R.Y.
---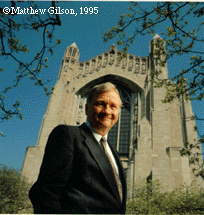 Bernard O. Brown, DB'55, AM'65, PhD'73 -- who retires this June as dean of Rockefeller Memorial Chapel -- first laid eyes on the chapel at age 17. It was during a stopover while hitchhiking from North Dakota to Michigan, where he had a summer job washing dishes at the Interlochen Music Camp. The sight of the chapel left "an indelible mark," and he sought it out again four years later as a student in the Federated Theological Schools of the U of C, when he successfully auditioned for a spot in Rockefeller's nationally acclaimed choir.
Except for seven years as chaplain at the universities of Minnesota and the Philippines, Brown has made Chicago his home ever since, serving as a campus minister, International House's program director, ministry studies director in the Divinity School, associate chapel dean, and -- for the past 16 years -- as dean of the chapel. Brown, who is also an associate professor in the Divinity School and the College, reminisced about his career in a May interview with the Magazine.
What were some of the most memorable moments of your tenure? I remember the visit of Archbishop Desmond Tutu a few years ago. On a weekday morning, people were lined up around the block trying to get in. The South Africans who had come began singing and he began to sing with them.
And then I think of the day in 1988 when the chapel was reopened after being closed for a year for restoration. With all of the grunge gone, it was absolutely shining. And because the acous- tics had been redesigned, we heard the organ and the choir as though for the first time.
One Sunday morning, just out of the blue, the great English tenor Peter Pears called to ask if he could sing in the service. He stood on the front steps of the chapel and sang a cappella. It was one of those special moments that you could never plan for nor hope to reproduce. I've been lucky to have experienced many such moments.
How would you describe your University congregation? Almost every Sunday half of the congregation are faces I don't recognize: visitors to the city, parents of students, groups from other churches. They may have heard some of the chapel's music on the radio. Most often, I think, they've known somebody who said, `You should really check that place out.'
The people who come regularly, are, almost without exception, university-educated, either here or at another university or college. They are mostly graduate students and young professionals living in Hyde Park, and though they are a fairly small group, they share a level of intensity about what we do here that I find remarkable.
I always liken this to a chapel on a military base, where people are away from where they usually are, and look to us to provide a sense of community, a place of reflection, during their time here.
Have you dealt with controversial campus issues in your role as chapel dean? In the '50s and '60s, on this and nearly every campus, there was a very strong partisan quality to everyone's life, culminating with the Vietnam War. My deanship has been through somewhat more quiet times. Nevertheless, there have been important issues that I've addressed, usually in writings I've made available to the congregation. But I generally don't focus on divisive issues in the ceremonies themselves.
Doubtless some would say that's a great loss. And there are others who recognize what I believe: that if you've been pushed to the wall you have to stand up and fight -- but in situations where you're trying to promote reflection and get people talking with one an- other, then a pastoral approach may be more effective than a partisan approach. In general, I believe the chapel should be a place where one doesn't have to endorse a particular kind of partisanship in order to feel welcome here.
Do many undergraduates participate in the life of the chapel? Much of the student involvement in the chapel is through the various musical groups. We don't have many undergraduates come to Sunday services, and I think that's typical of most campuses. However, I would not agree that students today are not interested in religion -- in the classroom, I find that students are keenly interested in religious issues. But I would agree that many students are disinclined to participate in organized religious activity, at least during their college years.
Whether or not they are active participants in its religious life, for many students the chapel has a kind of signature meaning. It becomes a place of milestones: It's the setting when they arrive on the first day of Orientation with their parents; it's the place where they come for graduation. Many want to be married here. When classes come back for reunion, you can tell they're keenly interested in what's happening here at the chapel. I think it's very dear to many of the students.
What aspect of the job will you miss most? I know I'll miss the sense of being intimately connected with a really great university. And I'll miss the many aspects of the institution's life that come into focus through the life of the chapel -- in the religious services, in the music, and in the ceremonies of the University. But, really, that won't disappear. My wife, Carol Jean, and I will continue to live in this community. I'll continue to teach.
After nearly 50 years, I still find myself in awe of this chapel and that wouldn't change if I stayed another 20 years. You know, it isn't as if this is my place. And so when I can come in and hear the choir and the bells, or simply walk by it in the evening and have a sense of its presence, that awe is not going to go away. -- T.A.O.
---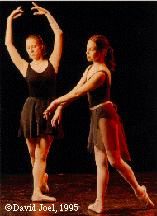 Stepping out: Dance Studio '95, featuring student-choreographed works, was part of this spring's inaugural U of C Dance Celebration.
---
FOR THE RECORD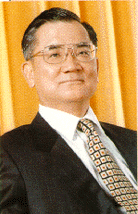 New trustee: Lien Chan, AM'61, PhD'65, is the newest member of the University's board of trustees. Premier of the Republic of China on Taiwan since 1993, Lien is the first foreign national to be named to the board. In 1991, he was awarded the University's highest alumni honor, the Alumni Medal. Instrumental in establishing an endowment for an exchange program between Chicago and National Taiwan University, Lien is also honorary chair of the U of C Club of Taiwan.
Show of shows: National Public Radio has announced plans to rebroadcast select performances of the University's acclaimed Chamber Music, Early Music, and Contemporary Chamber Players series on its show Performance Today.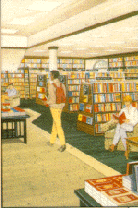 New and improved: This spring, the national bookstore chain Barnes & Noble assumed management of the University Bookstore. While financing $2 million in renovations for the store -- including the addition of a music department and a caf serving Starbucks coffee -- the bookseller also agreed to retain the store's 50 employees at comparable salary and benefits for at least one year. The switch was partly for financial reasons: The U of C-run Bookstore lost more than $1 million over the past five years. Now the University will receive an annual percentage of all store sales.
Name change: In 1994, Roger E. Covey, AM'94, MBA'78, endowed the Centennial distinguished service professorship in Chinese art history. Now he has renamed that chair -- still held by its first recipient, Wu Hung -- the Harrie A. Vanderstappen S.V.D. distinguished service professorship of Chinese art history. Covey met Vanderstappen, AM'51, PhD'55, professor emeritus in Art and East Asian Languages & Civilizations, in 1991, when he took a sabbatical from his Chicago software company to pursue a degree in East Asian art history at the U of C.
Grand gesture: Hand and Mind: What Gestures Reveal about Thought, by linguistics and psychology professor David McNeill, won this year's Gordon J. Laing award, presented to the faculty-written book published during the past three years that adds the greatest distinction to the U of C Press. "The key to my book," McNeill said in a recent Magazine interview, "is that we have to watch to hear."
Rising awareness: This spring, the Pritzker School of Medicine offered a new course on domestic violence. Students in the class, the most in-depth of its kind offered by a U.S. medical school, learned interviewing/intervention techniques and heard domestic-violence victims describe their health-care experiences.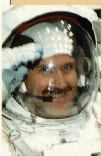 Space happy: After his historic March space-shuttle mission -- the longest shuttle flight to date -- astronaut John Grunsfeld, SM'84, PhD'88, provided tantalizing glimpses of zero-gravity life in an April 18 Chicago Maroon interview. The rehydrated food was "pretty good," he reported, but sleeping can be awkward, since you have to Velcro the pillow to your head. Would he go up again? "Oh, absolutely -- as soon as I can."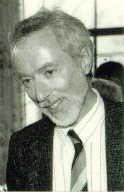 Author, author: Two distinguished novelists, A.B. Yehoshua of Israel and J.M. Coetzee of South Africa (shown above), delivered public lectures in April as the U of C's first Regents Park visiting scholars in the arts and social sciences. The lecture program is made possible by a gift from Martha and Bruce Clinton. Regents Park, a Hyde Park apartment complex, is owned and operated by The Clinton Companies.
Beyond compare: Once a graduate committee, comparative literature is now a department at Chicago. The program's focus -- to promote literature study unfettered by conventional demarcations of subject matter -- won't change, but departmental status should allow for "greater coordination and better use of faculty resources," says chair Michael Murrin.
Well put: First-year shot-putter Shahla Bolbolan finished fourth in the NCAA Division III Championships with a University-record throw of 13.12 meters, making her the U of C's first women's indoor track-and-field All-American.
---
Go to: Return to June 1995 Table of Contents