The University of Chicago Magazine August 1995
---
Return to August 1995 Table of Contents
---
SHOOTING THE
BLUES
At her South Side nightclub, Theresa kept the lid on, Junior tore the roof off-and Marc PoKempner caught it all on film.
Photos
Click on image or caption for larger version of photo.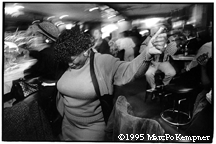 The challenge of shooting in dimly lit clubs encouraged PoKempner to experiment. Fast film and long exposure captured motion and mood .

Fine- grain film and direct flash brought out barroom textures.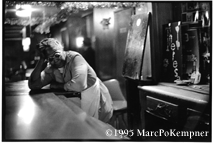 PoKempner caught Theresa dozing after closing time. Though she rarely raised her voice, "Theresa didn't allow horseplay of any kind," he says, "and everybody knew it."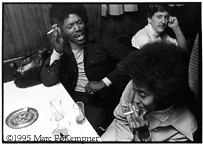 Club regulars Roosevelt and Peaches argue at Theresa's. Patrons treated the basement club "like their living room," says PoKempner, and weren't shy about expressing themselves.

Ernest Johnson's bass provided a rhythmic anchor for the moody, raucous, bittersweet blues played at Theresa's.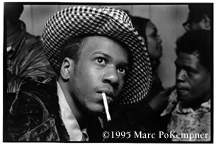 The Seventies' Superfly look is smartly carried off by a young blues fan.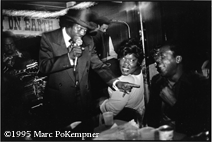 Integral to the blues scene, says PoKempner, was the personal interaction between performers and audience. Above, Junior Wells ribs a front-row couple: "He knows the woman, and he's telling the guy she's with he'd better act right."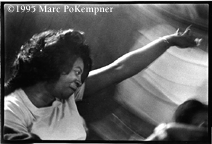 Audience members were often unaware that PoKempner had taken their picture. "When Junior Wells is up there," he explains, "they're not going to watch me!"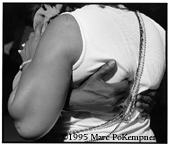 Dancers share an intimate moment. PoKempner admired the "physicality and open sensuality" expressed in the clubs.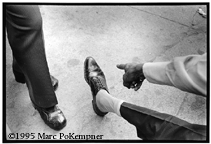 Comparing footwear outside Theresa's, Hound Dog Taylor informs Andrew "Voice" Odam: "These are shoes. I don't know what those things on your feet are."

Blues legend Hound Dog Taylor introduced his infectious "houserocking music" in the South Side clubs. "It was just amazing," says PoKempner. "You couldn't stop dancing."
---
Go to: Return to August 1995 Table of Contents