The University of Chicago Magazine October 1995
---
Return to October 1995 Table of Contents
---
Class News
---
Preserving Camelot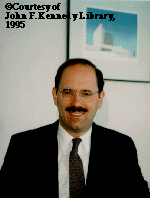 Bradley Gerratt, AM'79, MBA'79
On a Tuesday in October, Bradley Gerratt, AM'79, MBA'79, is wearing his archivist's hat-a shipment of Jacqueline Onassis' personal effects, donated by her children, has just arrived at Boston's John F. Kennedy Library.

"There are a lot of additional papers regarding her time as first lady, some photographs, some paintings, her wedding dress," he lists. "I worked with the Kennedy family on how best to transfer those things to the library. And then we had to make decisions about how we would preserve them and what we would do with them."
As the Kennedy Library's director, Gerratt, is responsible not just for 32 million pages of archival documents but also for numerous educational and outreach programs and a museum overflowing with artifacts. The archival skills he learned on the job, having never worked in a library before coming to the Ken-nedy Library. After receiving his bachelor's degree from Clark University, he honed his organization and leadership skills through a joint-degree public-management program of the GSB and the SSA and through a series of positions in Boston and Massachusetts government.
Taking on the newly created post of Kennedy Library deputy director in 1988 marked his first foray into federal government.
"At the time I was hired, we were about to build an addition to the building, and then we were in the midst of planning a complete renovation of our museum," explains Gerratt, who was promoted to director a year ago this November. "I just sort of jumped into it." The $6-million museum overhaul, which included gutting the building's first floor, required Gerratt to rethink the museum's exhibitions-updating the story of JFK's life for younger generations who didn't live through the era. Items on display include the family Bible on which JFK took the oath of office and a chunk of the Berlin Wall.
Academics and writers spend most of their time in the Kennedy Library ar-chives, which house the personal and official papers of the 35th president, his brother Rob-ert, their fam-ily, and over 200 associates including John Kenneth Galbraith and Arthur Schle-singer, Jr.
Through funds raised by the Ken-nedy Library Foundation, the library supports numerous fellowships and research grants, and also stages conferences and programs on contemporary political issues. For example, in a biennial election series, the library hosts lectures, holds mock debates, and sends speakers to Boston-area schools to discuss elections and politics.
"President Kennedy felt politics was important and made a difference to people's lives," says Gerratt, "and that people should volunteer and participate. In the long term, that's a message we want people to take away, especially in this age, where there's a lot of cynicism about government.
"The excitement is to always be trying to think ahead, to do new and exciting things that people will find interesting, that will bring people here and that will get the message across."-K.S.
---
Smaller, Freer, Better
Deborah Meier, AM'55
Picture a school where students passionately discuss Shakepeare, U.S. immigration policy, the meaning of the American Dream. An elite university? Deborah Meier, AM'55, would say this describes the public high school she co-founded in East Harlem. Located in Manhattan's poorest district, Central Park East Secondary School is a model of urban educational reform. In a city with an average dropout rate of 40 percent, nine in ten CPESS seniors finish high school, and 90 percent of those graduates attend college.
That success story has roots in Chica-go's South Side, where Meier taught elementary school after earning her mas- ter's in history. "It's the most unexpected career I thought I'd find myself in," she says, "and for years I didn't think I'd stick with it." She did-through moves to Philadelphia and then New York-fascinated with why schools weren't working and what it would take to fix them.
In 1974, East Harlem superintendent Anthony Alvarado asked Meier-then working in a City College program for public-school teachers-to try her theories in a new elementary school. His larger goal: to transform District 4, with the city's lowest test scores, into a group of small, independent schools that parents would choose for their children.
Meier and colleagues began with a three-pronged philosophy: Teachers should have autonomy, students should receive personalized attention, and everyone should respect one another. The final tenet came from Meier's first days substitute teaching in Chicago, where she was "struck by an environment of disrespect-even for the adults."
The school opened with fewer than 100 students, many of whom had had trouble adjusting, academically or behaviorally, to "normal" school settings. As applications rose, a second school opened in 1980, and a third four years later. Today, each enrolls 250 students.
During Central Park East Elementary's tenth anniversary celebration, Theodore Sizer of Brown University suggested that Meier start a secondary school, with some funding from his reform-minded Coalition of Essential Schools. From 70 seventh-graders, CPESS has grown to 450 students in grades 7 through 12. Meier was the school's first principal, a job she held until last fall.
A product of private education (Fieldston School and Antioch College before the U of C), Meier says the schools' formula for success echoes that of many private schools. Classes are small, and the curriculum is traditional liberal-arts fare.
What's special is that "adults and children are part of the same culture." Students have the same teacher for at least two years, and teachers are also guidance counselors, each advising 15 students. Knowing students' school and home backgrounds, they provide a support network lacking in many larger schools. In the end, she says, what determines a school's success is true for any organization: "People should want to be there, to feel that their work is respected by their colleagues, and to know they have some power to affect the place."
In The Power of Their Ideas (Beacon Press, 1995), Meier argues that East Harlem's lessons can be applied nationwide. The aim, she says, is to make public schools "exciting, stimulating places" where students are taught to think, not "factory-like" settings where students learn to accept information. "Filling your head with 'knowledge,'" she says of the factory approach, "is actually something for which we don't need expert adults." Teachers, she makes clear, have a much larger role.
Her own role got larger last December, when she was named educational director of a city-wide effort, funded by a grant of up to $50 million from Brown's Annenberg National Institute for School Reform, to start at least 50 more innovative schools. Deborah Meier will spend this school year, as she's spent so many others, building smaller, and better, schools.-Julehka Dash, AB'93
---
Within Class News:
---
Go to: