Perhaps the two most distinctive physical features of the Regenstein Library are the façade reminiscent of a storm-trooper bunker in The Empire Strikes Back and the blue, green, and retina-burning orange carpet that has tickled many a bare foot since 1970 when the building first opened.
The façade will remain for the life of the building, but this summer the carpeting that has survived more than three decades of late-night cram sessions, with only a minor patch job in the mid-1980s, is being replaced throughout the library (except the faculty wing, which is undergoing other work at the moment). And of course it's all documented on the Internet.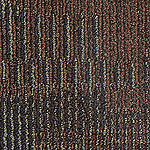 Since the effort began June 11, the University of Chicago Library Web site (www.lib.uchicago.edu) has maintained a page devoted to the $1 million recarpeting project, which is scheduled for completion in late August. On the Web site you can see the day-to-day carpet installation schedule, check out how the Library will reorganize the newly covered floor space, and even see carpet samples.
For those who just have to come to campus, take off their shoes, and try it themselves, there is a 90-square-yard mock-up of the new carpet in the northeast corner of the A-level reading room. Tactile representations, of course, are not available on the Web site. -C.S.
World Wide Web location:
www.lib.uchicago.edu/e/reg/using/floorplans