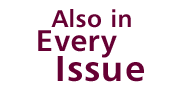 Letters
Enter the debunking article
Chapel of philanthropy
The reply made by Rockefeller Chapel Dean Alison Boden to the letter written by Denis Cowan, AM'42, PhD'60, both published in the August/04 issue, was most restrained and polite, as befits her position.
However, as a volunteer fund-raiser for the College for the past 39 years, as well as a modest donor to the College and the Biological Sciences Division, I would like to comment further on Mr. Cowan's remarks.
I certainly don't consider myself or any of the people I have had the pleasure of soliciting donations from through all these years as "money-grubbers." Every donor I've ever contacted has simply been a generous and loyal alum seeking to enable the University to provide to others the same quality education we were fortunate enough to receive.
In my opinion, the extremely generous donors who gave more than $1 million each to the University truly deserved to be honored at the festive dinner set in Rockefeller Chapel. I feel immensely grateful that the University permitted me to attend even though I don't have the financial resources to be one of the "big donors." I regard that lovely evening as a marvelous reward for anything my fund-raising efforts ever accomplished. The sight of Rockefeller filled with flowers and gorgeously decorated tables was totally unmatched by any of my experiences in the chapel, including four separate convocations receiving my various academic degrees, and even the great moment when I received the Alumni Service Award a few years ago.
To call us "money-grubbers" is to traduce the entire concept of community and of charitable giving. I sincerely hope Mr. Cowan will soon develop a less misanthropic attitude—or at least not hide it behind a pretense of concern for the religious purposes of Rockefeller Chapel, purposes that were in no way harmed by using its premises to celebrate the goodness of some of the University's patrons.
Eve Jones, PhB'46, SB'48, SM'48, PhD'53
Los Angeles
---
The University of Chicago Magazine welcomes letters. Letters for publication must be signed and may be edited for space and clarity. In order to provide a range of views, we encourage writers to limit themselves to 300 words or less. Write: Editor, University of Chicago Magazine, 5801 S. Ellis Avenue, Chicago, IL 60637. Or e-mail: uchicago-magazine@uchicago.edu.