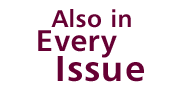 Letters
Enter the debunking article
Say it is so, Joe
When I worked at a museum, curatorial staff members were always telling stories. They particularly liked to tell the one about the "lost office." Over the main entrance there was an office occupied by the director, but at some point the museum decided to brick it up. I'm pretty sure the director was allowed to leave first, but, museum politics being what they are, you never know.
In telling this story, curators are giving the visitor "insider knowledge" and a membership badge in the charmed circle of museum life. We can be quite sure that the visitor then passes the story along to other visitors, claiming the social capital that results.
Every institution has such stories, and they are charming even when they are wrong. They are quirky, imaginative, and captivating. ("Really, he's still locked in there?") But what they really do is to let us divide the world into insiders and outsiders, those who know the oral culture and those who don't, the ones who belong and the drudges looking in. Little stories are the stuff of membership.
So what in God's name did the University of Chicago Magazine think it was doing in "Myth Information" (August/04), in which writer Joseph N. Liss systematically reviews and debunks the stories that circulate on campus?
As students, we loved these stories. We embraced the idea that Fermi's "gift" allowed us to glow in the dark and find our way home after a tough night of study. Glasses raised, we would toast poor Ida at Jimmy's bar. We liked these stories not least because they made us part of an institution that was, truth be told, pretty hard to belong to.
Like every great university, the U of C is a difficult place. Most of us felt we were there on sufferance. One bad paper, a stupid remark in seminar, and they would send us packing. Chicago gave membership stintingly, and these little stories were a way we made our own connection. We might be an error away from ejection, but, hey, we knew the story about Ida Noyes.
Enter Joseph Liss and his debunking article. Most oral tradition at Chicago turns out to be false. No doubt, it was satisfying to bring the light of reason to our Pope-ish superstition, but, really, Mr. Liss, what have you accomplished? You have stripped the institution of an essential resource and the very stuff of membership. You have denied students the small points of purchase that secured them in a vertiginous world. Well done, Mr. Liss. Perhaps the University can make amends by walling you into an office somewhere…that the oral tradition might once again begin to flourish.
Grant McCracken, AM'76, PhD'81
Montreal, Quebec
---
The University of Chicago Magazine welcomes letters. Letters for publication must be signed and may be edited for space and clarity. In order to provide a range of views, we encourage writers to limit themselves to 300 words or less. Write: Editor, University of Chicago Magazine, 5801 S. Ellis Avenue, Chicago, IL 60637. Or e-mail: uchicago-magazine@uchicago.edu.