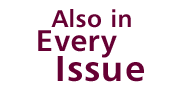 Letters
Enter the debunking article
Sailing into the mythic
I greatly enjoyed the article on campus myths, especially the discussion of Ida Noyes Hall. I must confess to having done my part in spreading the story about the poor girl's suicide (or murder) and the absence of sorority houses, although to my slight credit I believe that I usually said that the tale might be apocryphal.
As to a swimming requirement, there was none in force when I dropped out of the University in 1952 to enter the Navy's aviation flight training at Pensacola, Florida. The best that I could do was a few yards of dog-paddling, and thus, during the 16 weeks of rigorous preflight indoctrination, I was sent to the "sub-swim" class for two hours every day. After I learned to relax and to take advantage of one's natural ability to float I emerged with a Triple A qualification card, not at Olympic level, but able to save my life if necessary.
The program involved a lot of physical conditioning and, although a rather unimpressive athlete, I was able to perform at a level sufficient to remain inconspicuous, or so I thought. One event was a three-mile run. Long-distance running was something at which I was average, and, although it was a typical Florida summer day with the temperature in the high 90s, I was able to trot along over the rolling terrain without much difficulty. At one point, however, as I came up over a grassy knoll I saw a group of fellow cadets standing under a tree and encircling the supine form of my totally exhausted friend from the South Side of Chicago, Jack. I arrived just in time to hear our tough-as-nails, cigar-chewing coach, Commander Weed, ask Jack, "What college did you go to, son?"
"Roosevelt College, Sir," Jack replied in a barely audible voice.
Weed then turned to the assembled group and said, "Men, you just heard this cadet say that he attended Roosevelt College. That is a school that is under the influence of Robert Maynard Hutchins. You know, he is the man who said, 'When I get the urge to exercise I lie down until the urge passes.' [This, too, is a myth; sorry.—Ed.] I am surprised that we have no one here who is from the University of Chicago. Then you would really see a puny specimen of manhood."
Needless to say, I spent the rest of training in mortal fear that the commander, in reviewing our personnel folders, would somehow learn I was from the U of C. Fortunately, my dark secret never became known and I survived without further incident.
Benjamin King, AB'58, MBA'60, PhD'64
Delray Beach, Florida
---
The University of Chicago Magazine welcomes letters. Letters for publication must be signed and may be edited for space and clarity. In order to provide a range of views, we encourage writers to limit themselves to 300 words or less. Write: Editor, University of Chicago Magazine, 5801 S. Ellis Avenue, Chicago, IL 60637. Or e-mail: uchicago-magazine@uchicago.edu.