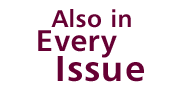 Letters
Enter the debunking article
Wrong on three counts
Legends delight those associated with institutions old enough to have begotten them, but getting the stories straight is, as Mr. Liss allows in "Myth Information," a challenge. For instance, he refers to the 1915 Ida Noyes pool as the University's first. Actually, it was preceded by the pool in Bartlett, a building dedicated in 1904. It is reported that Bartlett was built in anticipation of being a venue for the 1904 Olympics, but it lost out when St. Louis snatched the games from the city of Chicago.
Likewise, as much as Hyde Park cherishes its monk parakeets, the police car parked beneath their nest was more likely there to protect Mayor Washington, who lived across the street, than to protect the birds. It was (and may still be) routine for the Chicago police to post a watch in front of the mayors' homes; if I remember correctly, Mayor Richard J. Daley's house on South Lowe was protected front and back.
And finally, the correct rendering of the memorial inscription in Rockefeller Chapel is "HIC IACENT [not IACET] PRAESIDUM SUORUMQUE CINERES." This translates to read, "Here lie the ashes of the presidents and their wives." Suorumque, literally "and theirs," is an example of a rather dismissive economy of Latin expression which would not pass muster today for political correctness.
Along with legends, we are blessed to have also the eye-witnessed true stories that Professor Emeritus Edward W. Rosenheim, AB'39, AM'46, PhD'53, regaled us with at the celebration of the University's centennial. Perhaps the Magazine will retell some of those too.
Wayne T. Johnson
Chicago
---
The University of Chicago Magazine welcomes letters. Letters for publication must be signed and may be edited for space and clarity. In order to provide a range of views, we encourage writers to limit themselves to 300 words or less. Write: Editor, University of Chicago Magazine, 5801 S. Ellis Avenue, Chicago, IL 60637. Or e-mail: uchicago-magazine@uchicago.edu.