From its U of C roots, Kartemquin Films documents the human condition.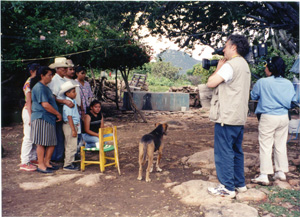 Gordon Quinn captures a Flores family gathering while shooting The New Americans, 2004.
If you let documentary filmmaker Gordon Quinn, AB'65, into your life, he'll likely be around for years. He'll want to burrow in, get to know what you see. "You get a very different story if you only spend a week or two," he says. "We spend years. We really see people come to terms."
Quinn is the man behind the last four letters of Kartemquin, the Chicago-based film company he founded in the Sixties with two fellow alumni: Stan Karter, X'66, and Jerry Temaner, AB'57, left during the company's infant years. Their first film, Home for Life (1966), offered an 80-minute glimpse of a man and woman's initial month in a home for the elderly, as they realized their dwindling abilities. Its unflinching, personal portrayal set the tone for the company's future films.
Kartemquin's offices have since moved from Hyde Park to an old building in the North Side's Roscoe Village neighborhood, but it still reflects a strong U of C influence. Alumni make up at least a third, Quinn estimates, of Kartemquin's roughly 20 staff members, interns, or filmmakers. From its Chicago home, he says, Kartemquin "brings Midwest stories and values to the rest of the country."
The rest of the world knows the company from its Academy Award–nominated film Hoop Dreams. The 1994 documentary follows two inner-city teenagers as their dreams of NBA splendor battle life's realities. Perhaps the film's dreariest moment occurs when ComEd cuts off one family's electricity. Upset, the Agees wanted Quinn to exclude that part from the final version. But Quinn kept it in. "We have to share the darkest moments," he says, "because that gives meaning when things get better."
Things did improve for the Agees. As executive producer, Quinn stuck with them for about five years—long enough to see their electricity returned—and when the family watched a rough cut of the film with the electricity scene included, they understood its impact. "That's what makes Hoop Dreams such a success," Quinn says. "It's inspiring. It captured America's heart because something good happened to those families. They didn't have to be reduced to social problems."
Although Hoop Dreams achieved monumental popular and critical acclaim, documentary films in general rarely achieve such commercial success. Through grants from arts foundations—such as a $500,000 grant this past March for "creative and effective institutions" from the MacArthur Foundation—Kartemquin filmmakers continue making movies that reflect American culture and society. In the past decade they've tackled subjects including stem-cell researchers, a painter, mothers of autistic children, and immigrants.
All of Quinn's subjects discover his tenacity. "These are complicated human beings," he says. Finding participants for a 2004 PBS miniseries on immigration, The New Americans, Quinn met a Palestinian man in Chicago's Edison Park whose girlfriend remained in the West Bank to finish school. She added a new dimension to the man's painful yet exciting transition into American life, and Quinn and his coproducer flew to the West Bank to see if she would agree to let these "couple of Jewish guys" into her life.
"We showed up, after an e-mail, on her doorstep in the West Bank," Quinn says. The airfare proved worth the trip; she conceded. The filmmakers wove her story into the film, following along as she completed her formal education, prepared to move to America, and married her boyfriend. Flying halfway around the world is just one risk Quinn has taken to tell the blunt, honest tales to which Kartemquin traces its roots.