:: On the shelf
:: a selection of alumni books
:: Center stage
:: upcoming cultural events.
:: Deaths
:: From our pages
A look back through the Magazine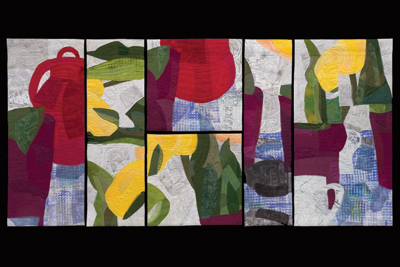 Dominie Nash, AM'63, based her machine-appliqued and hand-dyed quilt Stills From a Life 29 on a photograph she took and subtitled Inge's Table. Inspired by the vivid reds and yellows of the table setting, plus the interesting shapes of the various objects, the 60 x 138–inch quilt was displayed through May 26 in a solo exhibition at Virginia's Arlington Arts Center. This fall and winter it moves to Europe for a traveling exhibition with Quilt Art, an international group of 20 artists with whom Nash has exhibited for 22 years.

In the groove

Two WHPK alumni carve out a record-shop niche.
Rifling through the bins of obscure funk, soul, and international releases at Chicago's Dusty Groove record store is a sweet thrill for crate diggers.
::
Read more

True tales on film

From its U of C roots, Kartemquin Films documents the human condition.
If you let documentary filmmaker Gordon Quinn, AB'65, into your life, he'll likely be around for years.
::
Read more