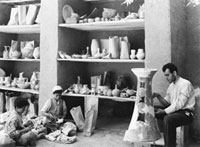 Daily Life Ornamented: The Persian City of Rayy
Through October 14. Oriental Institute, 773/702-9507. The OI presents a collection from Rayy, today's Tehran, which earned renown for its glazed ceramics. The objects, dating from the 12th to the 14th centuries, were discovered in the 1930s during Chicago-led excavations. Many of the intricately carved and painted works are on display for the first time.
Thyestes
Through October 21. Court Theatre, 773/753-4472. British translator Carly Churchill and American director JoAnne Akalaitis, AB'60, team up to present Roman playwright-cum-philosopher Seneca's tragedy of feuding brothers doomed by arrogance and an unbridled desire for revenge. Akalaitis returns to direct her seventh show at Court.
Gravesend
September 18–October 28. Renaissance Society, 773/702-8670. The Renaissance Society welcomes British video artist Steve McQueen for the American premiere of Gravesend, first shown at this summer's 52nd Venice Biennale. McQueen's film retraces the navigation of the Congo River described in Joseph Conrad's Heart of Darkness, commenting on arms manufacture, imperial exploitation, and racism (see "Harper's Index").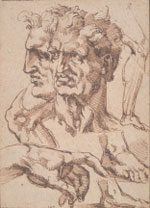 Master Drawings from the Yale University Art Gallery
October 4–January 6. Smart Museum of Art, 773/702-0200. The museum exhibits the draftsmanship of European masters Gian Lorenzo Bernini, Edgar Degas, Jacob Jordaens, and Jean-Antoine Watteau. From the Yale University Art Gallery's European-drawings collection, the selections include examples of nearly every artistic movement and drawing technique used by European artists from the Renaissance to the mid-19th century.
Academy of St. Martin-in-the-Fields Chamber Ensemble
October 5. 7:30 p.m. Mandel Hall, 773/702-8068. In this University of Chicago Presents performance, the chamber ensemble, eight principals from London's Academy of St. Martin-in-the-Fields Chamber Orchestra, performs works by Dvorák, Shostakovich, and Mendelssohn.
Humanities Day
October 27. 9:30 a.m.–4 p.m. Hyde Park Campus, 773/702-7423. The U of C's humanities division hosts its annual day of lectures, readings, exhibitions and performances in a celebration of Chicago scholarship. Art-history professor and Critical Inquiry coeditor Richard Neer explores the relation of early modern science and French Baroque art in his keynote address. Other faculty speakers include musicologist Philip Gossett and philosopher-biologist William Wimsatt.
Conservation Colloquium
October 10, October 25, and November 6. 5 p.m. Gleacher Center, 312/580-2167. To celebrate the Nature Conservancy in Illinois's 50th year, the University's Graham School of General Studies and the conservancy present a series of three panels on environmental issues. The topics include "Our Future on a Warming Planet," "Making Economic Growth Sustainable," and "The Future of Conservation."