The Chicago Botanic Garden's new president already has a green thumb.
As director of exhibitions and education at the Field Museum of Natural History, Sophia Siskel, AM'04, organized blockbuster exhibits on evolution, chocolate, pearls, and Jacqueline Kennedy's wardrobe—a far cry from the typical natural-history fare of dinosaur bones and shark teeth. But one of her proudest endeavors has been viewed by almost no one. Since childhood she's been working with her architect father, Patrick Shaw, to restore a native fen, or oak woodland, on her family's 80-acre retreat in West Dundee, Illinois. She also tends a small kitchen garden there, with herbs, clematis, peonies, Echinacea, and daylilies.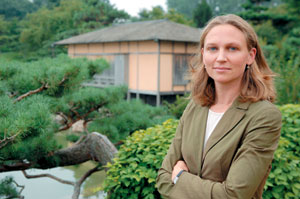 "On an evocative gray day," Siskel enjoys the Japanese garden.
Now Siskel, 38, has married her museum-administration background with her affinity for plants. This past April she was named president and chief executive officer of the Chicago Botanic Garden in suburban Glencoe. Joining the garden in February 2006 as vice president of visitor operations, managing a staff of more than 100, she was picked for the garden's top job "because of her extensive expertise in museum management," said William J. Hagereh, chair of the garden's board of directors, at a press conference announcing her appointment.
That expertise spans a range of Chicago institutions. Along with her five-year tenure at the Field, Siskel has worked as a curator at the Art Institute of Chicago and the Museum of Contemporary Art. Museum work wasn't a random career choice for Siskel, who graduated from Wellesley College with degrees in art history and economics before earning a master's in art history from Chicago and an MBA from Northwestern's Kellogg School of Business. Between her architect father and her anthropologist mother, Joanne Connolly, she says, "I really grew up in an art-museum and natural-history-museum world." Besides spending summers on the family's grounds clearing buckthorn, garlic mustard, and honeysuckle and nurturing native prairie plants such as gentian and indigo (baptisa), she also traveled with her mother, who studies Nigerian architecture's introduction to Brazil as Africans migrated to South America.
"Very early on I felt the important role museums can play in people's lives," says Siskel, who lives in Evanston with husband Jon and sons Nathan, 4, and Jonah, 3. "I could also pretty easily understand what scientists were saying and the barriers to the general public," she adds, "and could break down scientific information in clear steps."
Siskel officially took the garden's helm August 15, after four months of working directly with her predecessor, Barbara Whitney Carr. She inherits a vigorous institution: the 385-acre, 35-year-old garden is the most visited public garden in the United States with 800,000 visitors a year. It also boasts more members—46,000—than any other U.S. garden. In a six-year capital campaign that ended in June 2006, the garden raised $148 million, and this past July officials announced an $8 million grant from the Daniel F. and Ada L. Rice Foundation for expanding plant-conservation operations.
In her new role Siskel doesn't do much curating, leaving that to "the people who work with the plants," but rather focuses on fund-raising, strategic planning, assembling a strong management team, and making sure operations run smoothly. She also inherits plans for the Rice Plant Conservation Science Center and a PhD program in plant science and conservation, intended to boost the garden's international profile. Rough blueprints for the 35,000-square-foot center, slated for completion in 2009, include a public corridor for visitors to watch scientists doing genetic analysis of seeds from Midwestern prairie plants.
"Science often seems far removed from everyday life," says Siskel, "but it becomes more part of a normal life when people see the scientists in the lab look just like them. They're 20 years old, they're 40 years, they're in clothes like everyone else wears. They're not just 65-year-old men in white lab coats."
Siskel also hopes, by 2009, to increase pedestrian access to the garden's 100-acre McDonald Woods, much of which is overrun by invasive buckthorn and garlic mustard. A garden team is at work clearing the woods—cutting down the brush and putting poison on its stems, and the following year cutting down the seedlings and doing a burn. "It's an intensive process," says Siskel, "but it's worth it when it opens up a whole area, not only for the public but also for the native plants that live there."
The 11 acres currently open to visitors were part of the garden's original property, while the other 89 were added more recently. "I hope that by opening the woods to the public," Siskel says, "we will give people a natural experience that is full of unstructured experiences and the joys of discovery." Thanks to her father, as a child Siskel had "a great deal of freedom in the woods," and she hopes that these acres provide children without a backyard, let alone a fen, similar opportunities to explore.
She walks the garden's grounds almost daily, preferring to take guests around on foot rather than by golf cart. "Every day a different place is in a different type of bloom," she says. "On an evocative gray day I very much like the Japanese garden, and the early spring bulb garden shows the early blooming tulips and daffodils." In mid-summer, she adds, "the Circle Garden is quite beautiful—it showcases all of our annuals. And of course the rose gardens smell terrific."