A Louisville artist reincarnates cultural heroes.
The leather mask on John F. Kennedy's face is made of old shoes. Artist Robert Mitchell, MFA'91, bought the shoes at second-hand stores, took them apart, and sewed the pieces back together. He then tacked the patchwork mask onto a 6 x 6–foot canvas containing a black-and-white photo of the 35th president, whose eyes and shirt Mitchell had whitened and suit he'd darkened, "just to make [the image] pop".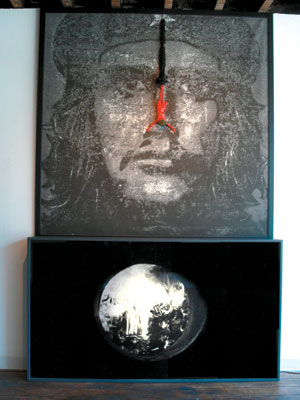 Untitled (Che) conveys the iconís fiery beliefs.
Shoes, to Mitchell, symbolize affluence. Growing up in Louisville, he earned a BFA at the Atlanta College of Art in 1987. Afterward he interviewed as an assistant to an Atlanta architectural photographer. Mitchell's portfolio "was fine," he says, but Gabriel Benzur, the photographer, later confided that "the reason he gave me the job was because I had shined my shoes before the interview. You can tell the wealth of someone by the quality of their shoes or suit. To me that mask represents wealth."
To both Mitchell and viewers—who could see Untitled (Kennedy) at Louisville's Zephyr Gallery this past May and June—the mask also prompts questions about prominent cultural heroes. Displayed with the other pieces in Mitchell's exhibit, Iconic Males, Kennedy is one of several billboard-sized historical figures whose faces are so ubiquitous that Mitchell wonders if they've been rendered banal and impotent. Che Guevera, for instance, is "one of the most overused political images of the 20th century." For Untitled (Che), he says, "I wanted to know if I could give it new life, new meaning."
He photographed the Che rendering from a mural in Chicago's Pilsen neighborhood, where Mitchell lived for 12 years during and after his University work at Midway Studios. The portrait, he says, "was decaying, somewhat unrecognizable. Some people interpreted it as Jesus Christ instead of Che." In Mitchell's piece, a lock of braided hair and a crucified man dangle from Che's beret. Below him is a backlit transparency of a furnace opening, symbolizing the revolutionary's "voice and anger and ideology," Mitchell says: "his fiery, communist beliefs."
Pilsen is also the neighborhood where Mitchell suffered a violent attack in 2002. Gang members assaulted him, he says, beating him so badly in one eye that after three surgeries it was removed. Since then he's been on disability, and his art "goes a lot slower now," he says. "I can't drive, and I require magnifying glasses to read. I have a difficult time in dark places at night." Still, he continues, "it's amazing how you adapt." He's moved back to Louisville near his family—one of eight children, he has a twin brother—and become artist-at-large at the Zephyr Gallery, an artist-run cooperative founded in 1987.
For the Iconic Males exhibit there, he drew on the propaganda nature of commercial-lab work he'd done to pay the bills after graduate school. At these Chicago labs Mitchell became a Photoshop expert, touching up billboard and poster advertisements for companies such as Sears, Bath & Body Works, and Victoria's Secret.
Earlier he'd been a studio photographer, including the architecture work in Atlanta, and showed his weekend photos—black-and-white prints from small Georgia towns—at local group shows. At Chicago he combined photography with sculpture, his undergraduate minor. "I had always kept the two mediums separate," he says, but he found that "with the straight image the narrative was too limited. I wanted to both expand and limit the narrative, and I could only do that by bringing objects in, painting the photograph, manipulating it in some manner."
In his first such piece, he started with a black-and-white photograph of a covered car in front of a mobile home. The car "looked almost casket-like, covered with a black tarp." About a quarter down the image he mounted deer hoofs, then laid a baseball bat, wrapped in gray tweed, across the hoofs. "It was obviously a gun rack," Mitchell says. "It talked about deforming nature, turning nature into objects of domestitude. The bat is something of violence, and the cloth would muffle the sound."
For Zephyr's 20th-anniversary exhibit August 17–September 29, Mitchell helped round up "all the artists who've been members over the years" for a salon-style show and catalog. His own contribution is a black-and-white, 48-inch-square night shot of an abandoned drive-in, where the screen shows a cartoonish reproduction of Maytag washing machines. Again, he's given new life and meaning to well-worn images.