Katherine Isbister gives video-game characters a dose of psychology
Katherine Isbister, AB'90, found the sci-fi, shoot-em-up arcade games of her youth—Galaga, Tempest—dry and impersonal. As a high schooler in North Carolina, Isbister, now a video-game researcher, watched with disinterest as her male friends played round after round.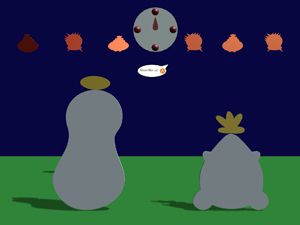 To lure critters to their avatars, Wriggle! players must move like the critters do.
But in 1990 an interactive exhibit at the Brookfield Zoo, called Be a Red Wing Blackbird, drew Isbister, then fresh out of the U of C with a degree in English literature, into the virtual world. Working at the zoo as an editorial assistant, she observed that caged animals "leave you with a subtle feeling that the animals are there for your convenience and pleasure." The blackbird exhibit, on the other hand, "allowed players to try out being a bird for a season, choosing where to build a nest, who to attract as a mate, and where to look for food," she says, creating empathy for the virtual blackbirds.
Moved by "this kind of new media," Isbister enrolled in Stanford University's interactive-media PhD program, where her dissertation focused on how people read personality cues from onscreen characters' physical appearance and speaking style.
While designing productivity software for businesses at Stanford, she noticed a psychological disconnect between characters and customers. "People would hear what I did and say things like, 'Oh, you make things like that awful Microsoft paperclip—I hate that stuff," because it was impersonal and unintuitive, Isbister says. "I started to feel like researchers and developers were making some big mistakes in designing characters, and I thought we could learn what was being done right in games." Now an associate professor of computer-games research at Copenhagen's IT University, a position she began in January, Isbister continues to apply human social-behavior principles to the design of video-game characters.
In 2004, while teaching at Rensselaer Polytechnic Institute in Troy, New York, she founded RPI's Games Research Lab. There she and her research team developed a set of short, simple games, or mini-games, intended to connect movement and emotion.
Called Wriggle!, the all-ages collection of mini-games features two cuddly-looking avatars—one tall and curvy with a flat hat, the other short and portly with a spiky hat. Players wear hats that look like their avatars' hats (the prototypes were hand-knit by a student), and tucked into each hat is a "wii­mote," or wireless remote control. In the first stage of the game, players lure critters to their avatars by moving the way the critters move—the spiky critters, which have a stress-driven personality, jump around, while the lumpy ones are calmer and nod slowly. During the second stage, players keep their avatars' hats on by swaying back and forth as the wind shifts and by keeping in mind which critters they've collected on their bodies to determine whether their avatar is twitchy or calm.
"You have to learn to pilot these characters based on their emotional state," she says. The game incorporates the psychological concept of the physical feedback loop, "that you can get some of your cues about how you feel from what's happening in your body. So if you change how you move, you can actually change how you feel."
It's an argument Isbister also makes in her 2006 book, Better Game Characters by Design: A Psychological Approach. Published by the Morgan Kaufmann Series in Interactive 3D Technology, the book proposes that the future of game design lies in creating characters who not only appear hyper-realistic but also forge an emotional connection with players—for example, video games that might appeal to the relatively untapped female market or characters who appeal to audiences of particular cultural and ethnic backgrounds. The brooding adolescent male avatars in the Squaresoft game Final Fantasy, for example, appeal more to Japanese gamers, who find the avatars "compelling and empathetic," says Isbister. "A lot of American males complain that these characters are pouty and whiny."
Still in the process of moving her family (husband Rene Netter, a homeopath, and 15-month-old daughter Nona Lily) from upstate New York to Copenhagen, Isbister is preparing to teach a game-development course this spring. She is also working on further incarnations of Wriggle!—including a version that would help people with a history of violent behavior recognize the signs of fear and anger in their bodies and learn to calm down before they act.
Her consulting work on character development, meanwhile, has grown steadily, as video-game companies recognize the power of reaching new audiences by creating characters that both look good and have well-rounded personalities.
When she first began working on Better Game Characters, some people in the video-game industry "thought I was kind of nutty," Isbister admits. "It just took some time for them to decide they wanted to have a broader audience."