At Words Without Borders, Dedi Felman aims to make non-English literature more accessible
American bookstores abound with Dostoevsky, Borges, and García Márquez, but try finding a young, up-and-coming Portuguese writer in translation in a Borders or Barnes & Noble. Less than three percent of the approximately 200,000 books published in the United States annually are foreign works translated into English, says Dedi Felman, AM'88, a senior editor at Simon & Schuster: "Mainstream publishers wait until [foreign] authors are either 80 years old, win the Nobel Prize, or are dead."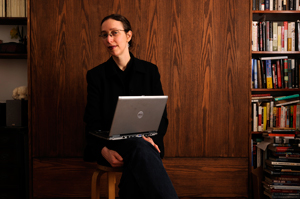 "We need to be more culturally literate and in dialogue," says Felman.
In the United States, Felman explains, there's little incentive to print literature in translation. When a publisher receives a manuscript in English, she can read it and decide whether or not she likes it, but with a foreign manuscript, "you really need another layer." A qualified translator costs the publisher both money and time. "It is difficult," Felman says, "to sign up literature in translation and publish it well."
Also the acting executive director of Words Without Borders (WWB), an online magazine that showcases contemporary foreign writing in translation, Felman is part of the American publishing world's push toward putting out a more global body of literature. In 2001, while working for Oxford University Press, she met Alane Salierno Mason, a senior editor at W. W. Norton. Mason had just received a National Endowment for the Arts grant to start Words Without Borders, and she was looking for volunteers to help launch the project. "I was very interested in international literature," especially in its facilitation of global conversation, Felman recalls, "and the idea that we could…let people know about things they otherwise would have trouble finding." The Internet offered WWB the opportunity, she says, "to give people a taste of what the rest of the world is writing about, what they're thinking, the stories they're telling."
Felman was no stranger to online publishing. While in graduate school—she began a political-science PhD program after earning her BA from Bryn Mawr in 1985—she worked for ten years at the Seminary Co-op Bookstore. She and longtime store manager Jack Cella, X'73, established a monthly newsletter, the Front Table, modeled on the store's front table, where new books in fiction, anthropology, philosophy, and other genres are displayed. Originally a pamphlet, the Front Table quickly grew into a Web newsletter with book synopses and top-ten lists.
Those were the early days, Felman says, of using the Web for marketing. She particularly liked "the idea that you could talk about books and about literature and communicate way beyond the boundaries of the local community." Even before the idea for WWB came about, she says, "the concept was there in my brain."
Words Without Borders went live in July 2003, a year after George W. Bush coined "Axis of Evil" in a State of the Union address, and the first three issues were dedicated to literature from Iran, Iraq, and North Korea. At a time when few people were publishing translated pieces from the Muslim world, Felman says, WWB was working with translators, publishers, and authors in the Middle East. Introducing writing from this region "brought us the attention of a lot of people," she says. Almost-instant publicity, like a 2004 spread in the New York Times "Arts" section and a mention on Time magazine's "50 Coolest Web sites" list, attracted volunteers, readers, and members of the publishing world. "Every small organization," Felman says, "would want that early lift."
Words Without Borders has since covered a range of themes, selected by a group including the founding editors—Felman, Mason, and Samantha Schnee, the former senior editor of the literary journal Zoetrope: All-Story. The editorial board chooses topics based on its interests and on literary trends: for example, the editors spotlighted international graphic novels for the February 2007 and 2008 issues, a growing trend that, Felman says, few publishers have latched onto. The September 2007 issue, "The Lusophone World," highlighted Portuguese-speaking writers. "It's such a fascinating language," Felman reflects, "because it stretches over all these different continents: South America, Europe, Africa." The featured region at the annual Frankfurt Book Fair also inspires themes: last year's guest of honor, Catalonia, brought about the October 2007 issue, "Rambles through Catalunya," and a 2008 issue will highlight this year's country, Turkey.
Once a theme is chosen, the staff surveys WWB's extensive database, filled with hundreds of translators, authors, and publishers, to find experts in the appropriate languages. The advisory board—which includes both academics and writers such as Nigerian author Chinua Achebe and essayist Eliot Weinberger—offers additional assistance by recommending other potential contributors.
To supplement the monthly issues, WWB leads an educational initiative aimed at developing high-school world-literature curricula. "High-school teachers are so enthusiastic," Felman notes, "saying things like, 'Oh, I have kids in Guatemala from my class, and it would be so great to use stories from that country.'" The plan is to work with teachers to create units around particular themes—conflict, justice, exile—that can suit a classroom's particular interests.
Felman's WWB work is in addition to her full-time job at Simon & Schuster, where she finds new manuscripts in current events, politics, and fiction—some in translation, some not. She spends free hours planning WWB's issues; attending events such as Tales from the Global Village, a WWB–organized annual reading series in New York City; and contacting translators and writers. "I wouldn't do it if I didn't feel like people really wanted it," she says. "And I do think we're tapping into a need that everyone recognizes." The site has more than 6,000 subscribers and receives 55,000 page views per month, with readers checking in from a wide range of countries, from Indonesia to Oman. WWB's success has supported two anthologies—Literature From the Axis of Evil: Writing from Iran, Iraq, North Korea, and Other Enemy Nations (New Press, 2006) and Words Without Borders: The World Through the Eyes of Writers (Anchor, 2007)—with two more in progress: one is a collection of worldwide poetry, and the second, a collection of literature from the Muslim world.
Cross-cultural knowledge, she stresses, benefits not only the arts and education but also business, economics, and the environment: "We need to know what's going on in other places. We need to be more culturally literate, culturally aware, and in dialogue." And dialogue, Felman says, starts with disseminating people's stories. "One of WWB's initial goals—and it's still a goal—was to connect the publishing community to what's going on. If the publishing I do in my regular job is connected to WWB, it's a success story for the project."