Open Book
The End of Overeating: Taking Control of the Insatiable American Appetite
(Rodale Books, 2009)
By David A. Kessler, JD'78
---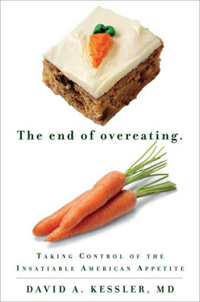 Analyzing America's cycle of desire and consumption, former FDA commissioner Kessler examines the national attitude toward eating. Foods rich in sugar, fat, and salt trick the mind into wanting to indulge again and again, leading to overeating and obesity—the country's most pressing public-health problem, says Kessler, a self-proclaimed overeater.
He describes meetings with scientists, food-industry insiders, physicians, and everyday overeaters to examine how minds and bodies react to gustatorily rewarding foods—the pleasing layers of texture in candy bars, for example. He shows how food manufacturers manipulate their products, like mixing sugar, salt, and fat in calculated amounts, to create eating patterns that are difficult to break.
In this excerpt, Kessler interviews a high-level food consultant, "a Henry Ford of mass-produced food," who explains the science behind Chili's Southwestern Eggrolls.
---
Excerpted from The End of Overeating:
"He believed the chicken had been chopped and formed much like a meat loaf, which makes those calories easy to swallow. Ingredients that hold moisture, including analyzed yeast extract, sodium phosphate, and soy protein concentrate, further soften the food. I noticed that salt appeared eight times on the label and that sweeteners were there five times, in the form of corn-syrup solids, molasses, honey, brown sugar, and sugar.
'This is highly processed?' I asked.
'Absolutely, yes. All of this has been processed such that you can wolf it down fast…chopped up and made ultrapalatable. …Very appealing looking, very high pleasure in the food, very high calorie density. Rules out all that stuff you have to chew.'
By eliminating the need to chew, modern food-processing techniques allow us to eat faster. 'When you're eating these things, you've had 500, 600, 800, 900 calories before you know it,' said the consultant. 'Literally before you know it.' Refined food simply melts in the mouth."
Reprinted from: The End of Overeating © 2009 by David A. Kessler. Permission granted by Rodale, Inc.