C. Vitae
Brand marshal
Jay Rasulo, AM'82, MBA'84, helped Disney's overseas parks take off.
By Tom Nugent
Illustration by Richard Thompson
---
In his spare time Jay A. Rasulo, chair of the Walt Disney Company's $12 billion-a-year Parks and Resorts division, fly-fishes in the wilds of Alaska or Montana. "What I like most is the way it forces you to focus intently on the present moment and deal with what's right there in front of you," he says. "There's nothing more present than standing in 40-degree water in a pair of waders and trying to coax a trout to jump up and eat that fly."
Rasulo, AM'82, MBA'84, who revitalized 11 Disney parks and resorts after taking the helm of the playground division in 2002, focuses intently on "how to tell our wonderful stories even better"—the tales of Disney icons such as Mickey Mouse, Donald Duck, and Dumbo. Doing so has helped bring millions of new visitors to his fantasy-fueled properties in the United States and abroad; more than 2 billion visitors have walked through the company's turnstiles since the first Disney theme park opened in Anaheim back in 1955.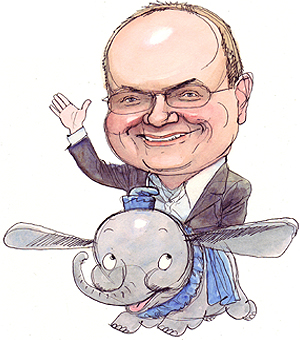 Since 2005 Rasulo has managed Walt Disney's family-vacation resort business, which employs 100,000 people and stretches from the landmark destinations in California and Florida to its theme parks in Europe, Japan, and Hong Kong. Described by the Los Angeles Times as "a passionate leader who understands the cultural nuances of foreign markets," Rasulo manages day-to-day operations at Disney's parks and resorts. He's been especially effective at boosting attendance overseas in places—Paris, Tokyo, Hong Kong—where one might not expect the citizenry to get excited about Mickey Mouse and Donald Duck.
First joining Disney 23 years ago, Rasulo established himself as a world-class pitchman during the late 1990s, when he took over the then-struggling Disneyland Resort Paris. He proved that the supposedly cynical French would show up in droves to shake hands with Mickey and Minnie—"provided you created a breakthrough marketing message that would put a European face on a very American product."
Before Rasulo's arrival, Disneyland Paris "had been trying to use the same marketing tools we were using to invite people to visit Disney parks in the U.S.," he says. "We'd developed a bit of a tin ear, and we weren't really listening to our market." Rasulo, who learned about the "nimbleness and creativity required for foreign marketing" during late-night team study sessions at the University's business school and from economics professor B. Peter Pashigian, got to work on the marketing analytics.
"The first thing we did after I got there," he says, "was to segment the European market in a scientific way. For starters, we identified the 'core Disney families' with kids in the right age group, and especially families that had bought Disney products in the past. Then we put together a message that didn't try to pretend Mickey Mouse was a European icon but instead let [potential visitors] know right up front that they'd be enjoying an American cultural phenomenon."
Europeans, Rasulo says, "wanted the authentic Mickey Mouse from America, but they also wanted to be treated like Europeans when they got there, with language-appropriate signage and their own foods and wines and all the rest." Those elements combined, he says, "turned out to be the missing link," and in a few years attendance at the Paris theme park doubled.
His Parisian success came not only from his marketing expertise but also from learning to talk the talk—literally. "I didn't speak a word of French when I arrived," he says, "and it soon became clear to me that although it wouldn't be easy to do at age 45, I'd have to adapt myself to the language of the market I wanted to reach." He struggled for a while. On one occasion he met with a government administrator who didn't speak much English. "I was determined to conduct our meeting in French," Rasulo says, "but he stopped me after just a few minutes, right in the middle of my presentation, and he said in extremely tortured English, 'If you will speak very slowly, I can understand English.'" Rasulo "politely declined," he says. "I knew many people in France do speak English, but I refused to use that as a crutch." Soon afterward, he more ably led his first annual shareholder meeting in French.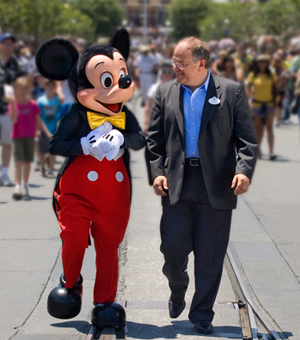 A native New Yorker, Rasulo spent several years in marketing at Chase Manhattan Bank and the Marriott Corporation before joining Disney as director of corporate strategic planning. Now based in Southern California, he and wife Barbara have three college-age kids. Rasulo is an active travel-industry leader, testifying in May before a Senate committee to urge support of the Travel Promotion Act, a public-private partnership between the government and the travel industry to attract international tourists to the United States.
Meanwhile Rasulo is grappling with another marketing challenge: how to bring visitors to the parks during a recession. Although Disney's traffic declined by only 4 percent in the last quarter of 2008, Rasulo readily admits that it won't be easy to keep customers. Despite broad nostalgia for Disney, "in difficult economic times we know we have to deliver good value," he says. So Rasulo came up with a new offer: free admission to any Disney park on a visitor's birthday during 2009.
The Rasulo birthday special is an astute marketing move, says Cornell University consumer-behavior professor Mike Lynn. "Admitting an extra [non-paying] customer doesn't cost them anything, and those people are still a benefit because they buy food and drinks, and their friends and family members are with them."
Whether Disney can sustain the success in the current market is unknown, but Rasulo remains optimistic. Determined to keep the crowds coming, he's bringing the same intense focus he applies to his fly-fishing hobby to marketing. "I'm convinced that if we can continue to tell our great stories in a unique and powerful way," he says, "we'll keep bringing lots of people to all the parks in the Magic Kingdom.
---
---
---
---
RELATED LINK
---
RELATED READING
---
EDITOR'S PICKS