Open Book
The Education of an American Dreamer: How a Son of Greek Immigrants Learned His Way from a Nebraska Diner to Washington, Wall Street, and Beyond
(Twelve, 2009) by Peter G. Peterson, MBA'51
By Ruth E. Kott, AM'07
---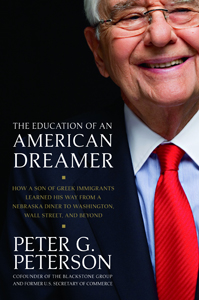 Peter Peterson, MBA'51, was brought up on his father's mantra of "economia"—avoiding wasteful expenses—tempered by a deep generosity. Even though his family had little expendable income, his parents sent whatever money they could to their hometowns in Greece. This combined sense of thrift and philanthropy stuck with Peterson when he entered the corporate world.
In his memoir Peterson describes his time as an advertising man and CEO in Chicago; life in Nixon's White House, where he helped integrate global economic policy and foreign relations; his 11 years at Lehman Brothers; and the creation of his private-equity fund, the Blackstone Group, which made Peterson a billionaire. In 2008 he formed a foundation to influence public policy in areas such as education and health care.
On his way to the Forbes 400 Richest Americans list, he studied at the Graduate School of Business, now Chicago Booth, under Chicago School giants such as George Stigler, PhD'38, and Milton Friedman, AM'33, whom he recalls in this excerpt.
---
Excerpted from The Education of an American Dreamer:
"Friedman was physically diminutive in contrast with his huge intellect. He was all of five feet four inches, and his eyes behind his glasses sparkled with rare insights and zest for life. He could be intimidating, because his self-assurance was formidable, and he always said exactly what was on his mind. He liked to say, in looking at the markets, 'I may sometimes be wrong on timing but never on direction.' Free markets were his mantra. He spoke of their immense power, of how they work best when kept open and unhampered by interference and Keynesian manipulations. Later in Washington, I was to experience firsthand the political economy, or what some would call the real economy. More recently, I have observed the devastation unfettered capital markets have inflicted on all of us. If Milton were alive today, I would be inclined to say, 'Milton, I must say to you that today's real economies may be more complicated than you would seem to suggest.' Still, at the head of a class, Milton treated ideas like a cat with a toy, swatting them this way and that to see what they would do, seemingly for the pure joy of it."
---
---
---
RELATED READING
---
EDITOR'S PICKS