College Report
Harper awaits a reincarnation
Upgrades aim to restore the library's attraction for undergraduates.
By Jason Kelly
Photography by Dan Dry
---
Two long, wooden tables—one upright, the other on its side—sit at the far end of Harper Memorial Library's main reading room. Across an otherwise empty expanse, the tables look no bigger than dorm-room desks. Only bare bookshelves lining the walls remain. Everything else has been removed to transform the space in Harper Memorial Library Commons. It's not a renovation so much as a reinvention.
Harper Library had fallen out of favor with undergraduates, prompting College leaders to consider updates that would recapture its attraction. "When I was a student, I always studied there," says Bill Michel, AB'92, MBA'08, associate dean of the College and assistant vice president for student life. "It was my favorite place."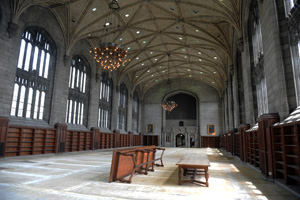 Harper Library's main reading room undergoes a summer transformation.
Although political-science and English-literature major Suzanne Adatto, '10, appreciates the majestic architecture, the room has offered her little beyond that brick-and-mortar representation of the life of the mind. She has studied at Harper "probably twice" since she came to Chicago. "It's exactly what I think a library should look like," says Adatto, the Harper Library project-development intern. "But students don't use it that often. They see it as this big, imposing space."
To encourage undergraduates to use it more—and to take advantage of its proximity to the new residence hall at 61st and Ellis—planners hope to accommodate modern needs while maintaining Harper's historic appeal. With a 39-foot ceiling, stone carvings, and soaring windows, the majesty speaks for itself. Meeting modern needs, however, takes more planning.
"A set of programmatic improvements and a set of physical-renovation improvements" were discussed, Michel says, to achieve those ends. Many of the physical renovations—like removing 1960s-era lights from the ceiling—have been delayed in the wake of the economic downturn. But when the refurbished space opens in September, the programmatic changes will be in place.
Inside the reading room will be seating for 280 at tables replacing the bookcases once spread throughout. The books previously shelved there have been moved to the Regenstein. Over time, a noncirculating collection focusing on reference material for core courses will be added. Until then the shelves along the walls will display artwork from around campus. Although the books will be gone, librarians will be present to guide students through the material available in other campus collections. And a "soft seating" area with student publications and other periodicals will offer a diversion during study breaks. "We want it to feel like a neighborhood library," Adatto says, albeit with extended hours. Harper will be open continuously from 10 a.m. Sundays until 5:30 p.m. Fridays, and from 10 a.m to 10 p.m. on Saturdays.
Just outside the Harper reading room, a student-run café, open until 1 a.m. Sunday through Thursday, will replace the circulation desk. It's all part of a transformation, Michel says, "from a library to a collaborative, 24-hour learning space."
Most of the collaborative learning will take place in the adjacent Stuart reading room. Harper will have a quieter ambience, Adatto says, while Stuart's study carrels will cater to groups with a capacity of 225. "Our goal," Michel says, "is to bring both kinds of study spaces into one facility."
Adatto expects to be a regular during her final year, predicting the improvements will entice students like her "to use the space everyone loves so much in ways that are more relevant to them." Michel envisions it becoming the thriving hub he remembers from his undergraduate days, as students once again see Harper as "a connecting point, sort of the heart of the College."