On the shelf
---
The Magazine publishes a selection of general-interest books by alumni authors. For additional alumni books, see "In Their Own Words" at magazine.uchicago.edu/books.
Deformed and Destructive Beings: The Purpose of Horror Films, by George Ochoa, AM'82, McFarland, 2011. A common explanation for the perennial success of horror films is the need for audiences to feel fear, often at the hands of deformed creatures. In Deformed and Destructive Beings, Ochoa argues that these creatures are not incidental but essential to the purpose of the genre. People watch horror movies to get to know these monsters that are so unreal, dangerous, and removed from their everyday lives. Ochoa supplements his theory with a history and taxonomy of film monsters and audiences' receptions of the creatures.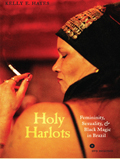 Holy Harlots: Femininity, Sexuality, and Black Magic in Brazil, by Kelly E. Hayes, AM'96, PhD'04, University of California Press, 2011. The demon Pomba Gira holds a controversial place in Afro-Brazilian spirituality. Reputed to be a harlot's spirit, some see her as possessing great knowledge of and power over human affairs, while others doubt her powers. Hayes, an Indiana University associate professor of religion, uses Pomba Gira's divisive nature to discuss the intersection of morality and magic in Brazil while exploring the life of Nazaré da Silva, a devotee of the spirit.
The Sri Lanka Reader: History, Culture, Politics, edited by John Clifford Holt, PhD'77, Duke University Press, 2011. Compiling more than 90 texts written by Sri Lankans and visitors, The Sri Lanka Reader gives an introduction to more than 2,500 years of the island's recorded history. From the indigenous Veddha people to the decades-long civil war between the Tamil Tigers and the Sri Lankan government that ended in 2009, Holt curates a social and political anthology that includes journalism, poetry, and 54 images of paintings, sculptures, and architecture.
Accented America: The Cultural Politics of Multilingual Modernism, by Joshua L. Miller, AB'93, Oxford University Press, 2011. American language politics between 1890 and 1950 focused on a fundamental question: what is American English? Miller describes a literary landscape in which the pressure for a distinct form of English pressed authors to experiment and invent literary dialects, such as Gertrude Stein's "generically immigrant-inflected speech" in The Making of Americans. Miller puts the literary language struggle in the context of extreme demographic changes due to immigration, political rhetoric, and the social dilemma of multilingualism.
Sound Business: Newspapers, Radio, and the Politics of New Media, by Michael Stamm, AM'00, PhD'06, University of Pennsylvania Press, 2011. New media is not a new issue: in the 1920s broadcast radio threatened to cut into the dominance of American newspapers. Instead of giving up, newspaper owners created their own stations: the Chicago Tribune's WGN, for instance. Stamm explores the development of the multimedia corporation in mid-20th-century America and the critics who feared corporate control over the news, arguing that there are also lessons to be learned for the current incarnation of the new media threat.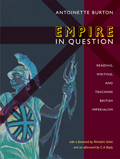 Empire in Question: Reading, Writing, and Teaching British Imperialism, by Antoinette Burton, AM'84, PhD'90, Duke University Press, 2011. Collecting essays written since the mid-1990s, Empire in Question explores Britain's "new imperial history" through the work of a scholar who helped define the field. The "accumulated reflections" include 2010 Guggenheim Fellow and historian Burton's critiques of British historiography and her arguments that race, gender, and sexuality are critical elements of imperial history.
Africa: A Practical Guide for Global Health Workers, edited by Laurel A. Spielberg, AM'71, and Lisa V. Adams, Dartmouth College Press, 2011. After years spent working on health projects in Africa, Spielberg, an epidemiologist and social worker, offers an overview of the problems affecting its countries from historical, political, economic, and medical perspectives. The book also provides practical tips to help health and humanitarian workers to be successful in African cultures.
What So Proudly We Hail: The American Soul in Story, Speech, and Song, edited by Amy A. Kass, AB'62; Leon R. Kass, SB'58, MD'62; and Diana Schaub, AM'83, PhD'92; ISI Books, 2011. Political apathy, an increasingly diverse population, and globalization have altered the American identity. This anthology collects songs, speeches, and stories about the nation's civic character from writers and leaders such as George Washington, Herman Melville, Willa Cather, Irving Berlin, and Martin Luther King Jr. to illuminate what it means to be an American.