Center stage
Campus events
---
Aron Gent: Not Quite As Good Because of You
Through October 9. Hyde Park Art Center. 773.324.5520. A former grocery-store bagger in the Milwaukee suburbs, photographer Gent is inspired by Americans' consumption habits. His photographs feature consumer products and outtakes from commercial shoots (Gent is also a commercial photography assistant). Along with the photos, he presents a large-scale installation of his entire bedroom using custom-made paper and plastic bags.
61st Street Farmers Market
Through October 29, 9 a.m.–2 p.m. Experimental Station. 773.241.6044. The Experimental Station, at 61st Street between Dorchester and Blackstone Avenues, heads outdoors every Saturday with local produce, fresh fruit and flowers, and organic cheeses and meats.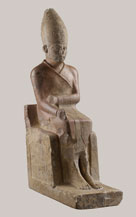 Before the Pyramids: The Origins of Egyptian Civilization
Through December 31. Oriental Institute. 773.702.9520. Featuring 130 artifacts from roughly 4,000 to 2,650 BC, this exhibit explores Egypt's Predynastic and Early Dynastic eras, more than 1,000 years before the pyramids were built. One highlight, on loan from Oxford University's Ashmolean Museum, is a two-foot-high limestone statue of King Khasekhem (ruled around 2,685 BC) that has never before been exhibited in the United States.
OI & Robie House: Saturday Evening Sampler
July 16, 4 p.m. Robie House and Oriental Institute. 773.702.9507. Wine and hor d'oeuvres are served in the Frank Lloyd Wright building, with informal tours of the house and a presentation by OI Egyptologist Emily Teeter, PhD'90, on the institute's Before the Pyramids exhibit (see above). After the presentation, Teeter leads a private tour of the show.
Smart Sounds: Curtis Robinson Trio
July 17, 2 p.m. Smart Museum of Art. 773.702.0200. Chicago pianist Curtis Robinson plays the music of mid-20th-century jazz guitarist Wes Montgomery in this free concert.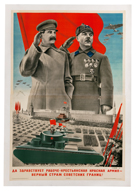 Process and Artistry in the Soviet Vanguard
August 30–December 11. Smart Museum of Art. 773.702.0200. This exhibit explores the creative minds, such as married collaborators Valentina Kulagina and Gustav Klutsis, behind iconic 1920s-30s Soviet propaganda. Including sketches, collages, and mass-produced finished posters and print materials, this show is part of the citywide Soviet Arts Experience. For another exhibit featured in the Chicago-wide program, see "Illustrated Ideology."
Hyde Park Jazz Fest
September 24–25. Multiple locations. 773.324.8614. Returning for its fifth year, the Hyde Park Jazz Festival has been extended to two days. The full weekend of free performances by more than 100 local and visiting performers includes saxophonist and U of C ethnomusicologist Melvin Butler, as well as jazz pianists Stephanie Trick, AB'09, and Ben Paterson, AB'04. The main stage is on the Midway Plaisance, and a free trolley service takes listeners to other Hyde Park venues.
---
---
---
ALSO IN CHICAGO JOURNAL
---
EDITOR'S PICKS