The University of Chicago Magazine Feb 1995
---
Return to February 1995 Table of Contents
---
COURSE WORK
Art like the Egyptians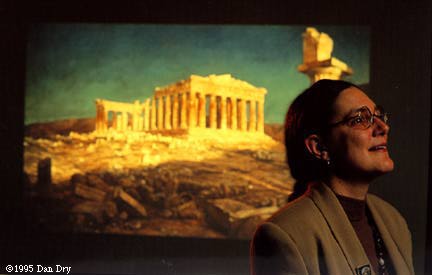 Ingrid Rowland leads a whirlwind tour of the art, architecture-and breakfast cereals-that the land of the pharaohs has inspired
Dual slides of the Villa Farnese's entrance hall projected on the wall behind her, Ingrid Rowland tells a story. Sandwiched between her account of a Renaissance architect who created his own hieroglyphics and an explication of Egyptian and classical references found in a famous fresco, this story is about a 16th-century Roman banker named Agostino Chigi, and the villa that he had built for himself on the bank of the Tiber. When Agostino was adopted in 1509 by Pope Julian II, the banker ordered that an image of the papal seal be placed "smack in the middle of the ceiling."
At this point, Rowland-a tall woman wearing a black-and-white tweed suit and flat-heeled shoes-jumps lightly up on a nearby chair, the better to point out the seal to the students gathered in a dim Cochrane-Woods classroom for Art History 101, "Introduction to Art." Intent on the slides and the story, the dozen or so listeners take her acrobatics for granted.
"Agostino built this villa at a time when wealthy Romans were very concerned about security," Rowland says, hopping back to terra firma. Many upperclass homes had barred windows and a single exit, and often were patrolled by "a hired goon squad, dressed in colors appropriate to the family."
In contrast, she says, gesturing again toward the magnificent entrance room, "Agostino seems to be saying `Come on down'-but you're not to be fooled by his welcoming court. The coat of arms of the pope is there to remind you that he has a very good friend."
Agostino entertained in the style one might expect from a man proud of his wealth, Rowland goes on, using lavish settings of silver and gold. Once he had 11 cardinals over to dinner, and-like hotel guests making souvenirs of the bath towels-they discreetly hid some of the elegant vessels in their robes to take home. Agostino had his revenge by inviting them back and serving them on plates embossed with each guest's own coat of arms. When they were finished eating-and before they could stuff their robes-Chigi's servants removed the plates and "tossed them in the river. What the guests didn't know was that Agostino had nets stretched under the river," to collect his tableware.
Rowland laughs, "He makes Martha Stewart not look anywhere near as swanky."
The next set of slides displays the Villa Farnese's famed frescoes, painted for Agostino by Raphael and his students: A ceiling fresco shows the story of Cupid and Psyche, "which comes from an ancient novel, The Golden Ass, by Apuleius." Rowland gives a brief summary of the romance, then stretches up to point out "an Egyptian sphinx sitting right next to Hercules.…you see a lot of sphinxes in Renaissance Rome."
After quickly explaining the scene's imagery and its origins in classical theology, she underscores the meaning of the artistic metaphor: The idea behind the fresco painted for the city's most powerful banker is that "the gods come down and have dinner with Agostino Chigi."
Trained as a classicist, Ingrid Rowland graduated from Pomona College in 1974 and received her Ph.D. from Bryn Mawr College in 1980. She taught at St. Mary's College, UCLA, and Columbia before joining the U of C in 1990 as an assistant professor in art and the College. A 1994 winner of the University's Quantrell award for excellence in undergraduate teaching, Rowland describes her teaching style as "putting things in a human context."
"Ultimately, art or literature is made by people," she says with her usual enthusiasm, "and I want to connect texts and works of art to human events, both now and in the past. I often joke that students have to learn how to talk to dead people, but that's what it's all about-becoming engaged with a work in its fullest sense."
Although Art 101, which can be used to fulfill the Common Core requirement in the musical or visual arts, is not a survey course (what Rowland laughingly describes as "35,000 years of human art in ten weeks!"), the introduction to aesthetics ranges broadly in time and space. Designed to teach the basics of appreciating, understanding, analyzing, and writing about art, Rowland's section of the course has an Egyptian theme, intended to give students "a general chronological and geographical framework, as well as some awareness of how art changes through the ages."
In ten weeks, the class has to consider Egyptian art of the Old Kingdom through late antiquity. Analyze Egypt's interactions with the Greeks, Romans, and Islam. Look at Egyptian influence in the Renaissance and the Napoleonic era. Discuss Egypt's role in the Afrocentrism movement. And chart two 20th-century waves of Tut-mania. The syllabus includes five textbooks, a field trip to the University's Oriental Institute and a paper "describing an object" in that collection, reserve readings from Herodotus to Stephen Greenblatt, required listening-Giuseppe Verdi's Aïda-and more papers.
Rowland wants her students to make specific and expansive connections, and she sets a good example, with a lecture style that easily links a discussion of obelisks looted from Egypt by Roman conquerors to ancient Rome's great circuses (when "every good racetrack had to have an obelisk in the middle of it"), St. Peter's architecture, and Bernini's fountains for the Piazza Navona.
The task of making connections continues on the last class day of the quarter. Rowland begins by introducing the day's guest lecturer, then settles back in her seat to enjoy the show. Emily Teeter, assistant curator of the Oriental Institute, has brought along slides and objects from her personal collection of "Egyptotrash," which she defines as "the use of ancient Egyptian motifs in incongruous settings or ways."
Some uses are on a large scale. A bronze coffin that "can be customized with a symbol of your religion, as well as with your personal death mask," goes for $60,000. A couple near Libertyville, Illinois, built a pyramid-shaped dream house. At Luxor, the new Las Vegas theme resort, the motif extends to the shampoo containers shaped like papyrus columns.
Bourbon in a Tutankhamen canister, Yummy Mummy cereal, Gummy Mummies, and Pyramints have all been on the market. Advertising campaigns also tout Egyptian motifs: A cartouche and the NBA's Charles Barkley combine to hawk a deodorant. A "hierogylph" of an Egyptian with a bellyache draws the reader's eye to a medicine billed as "tomorrow's solution to age-old digestive problems."
It may seem a long way from the obelisks carried home by Roman soliders or a sphinx's appearance in a 16th-century fresco to "Egyptotrash," but Teeter, like Rowland, sees an underlying link. Changing very little over the course of the different dynasties, Egyptian art is instantly recognizable: Both artists and advertisers "want something you can look at and immediately identify," Teeter says. Yet an Egyptian motif also has a timeless "sense of mystery to it-it's something you can identify right away but you don't know much about."
After leading a round of applause for Teeter, Rowland dashes through some end-of-the-quarter business: papers to be picked up, dates for rewrites to be turned in, and teacher-evaluation forms to be filled out and returned to a student volunteer.
She concludes with a reminder that the class is invited to an Egyptian evening at her apartment that Friday, featuring "mummy-meat" hors d'oeuvres, "pseudo-Egyptian" chili, and kitschy films with jewel-of-the-Nile motifs. It's not dinner on gold plates at the Villa Farnese, but, as in the Renaissance, there's sure to be a sphinx or two in the background.-M.R.Y.
---
Go to INVESTIGATIONS
---
Go to CHICAGO JOURNAL
---
Go to feature, "Into the Music"
---
Go to feature, "The Houses that Gautreaux Built"
---
Go to feature, "Upstaging Authority"
---
Go to feature, "The Unbearable Lightness of Being Bibfeldt"
---
Return to February 1995 Table of Contents