The University of Chicago Magazine April 1995
---
Return to April 1995 Table of Contents
---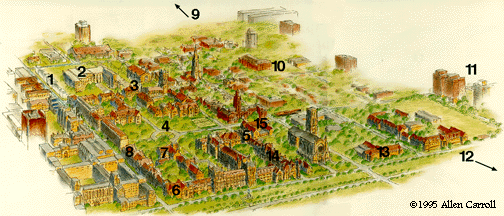 Writers by the Numbers
Click here to see the west half of campus (left side of map) in a large-scale format.
Click here to see the east half of campus (right side of map) in a large-scale format.
Scenes identified on the left half of map:
1. West Stands, old Stagg Field
Command the Morning, by Pearl Buck
The price of progress: Fictional scientists Stephen Coast and Jane Earl work alongside the legendary Enrico Fermi to achieve the world's first self-sustaining nuclear reaction. Fermi calls for a toast, but Coast and Earl, sickened by knowledge of what they've unleashed, cannot touch their Chianti.
2. Regenstein Library
Goodbye Without Leaving, by Laurie Colwin
Dissertation blues: Grad student Geraldine Coleshares can't cope with the task of writing the definitive work on Jane Austen. Instead, she joins a Chicago soul band and tours as the only white Shakette.
3. Zoology Building
Herzog, by Saul Bellow
Through the grapevine: Talking with a colleague in zoology, U of C professor of intellectual history Moses Herzog learns that his wife is having an affair with his best friend. The tubercular monkey listening in offers little consolation.
4. The Quads
"The Philosopher," An Omnibus of Short Stories, by James T. Farrell
Great Books are the least of it: An aging professor and chair of the philosophy department struggles against the sweeping changes being instituted by the University's new boy president.
5. Pick Hall
Lord of the Dance, by Andrew Greeley
Moral turpitude: Bored and superior U of C political-science professor Roger Farrell risks the power of his office--and the office itself--to seduce young grad students and untenured professors. But when he considers a run for the governorship just as his daughter starts hunting for skeletons in the family closet, his tenure and his table at the Quad Club start looking better.
6. Philosophy Department
(Classics Building)
Zen and the Art of Motorcycle Maintenance, by Robert Pirsig
Platonic casualty: "Phaedrus," a U of C grad student, triumphs over "the Chairman" (philosopher Richard McKeon), but suffers a breakdown when he attempts to slay "the ghost of rationality."
7. Swift Coffee Shop
Indemnity Only, by Sara Paretsky
Hardboiled: When detective V. I. Warshawski finds the body of a U of C student in his Harper Avenue apartment, she goes snooping around campus. After being tossed out of the Poli Sci building and resting a moment on the `C' Bench, she heads to Swift for a cup of coffee and some eaves-dropping.
8. Cobb Hall
Letting Go, by Philip Roth
The gripes of Roth: An English teacher whose good opinion of himself rarely wavers despite his not-so-noble actions, Gabe Wallach searches for himself amid the Gothic towers.
Scenes identified on right half of map:
9. Kimbark Avenue
Gospel, by Wilton Barnhardt
On the road: Theology grad student Lucy Dantan and her housemate, Judy, live with two cats and a lot of Catholic guilt. When Lucy starts roaming the world with U of C professor and erstwhile Jesuit priest Patrick O'Hanrahan, she never wants to go back.
10. 57th Street
"Ins and Outs," Noble Rot, by Richard Stern
Do the right thing: An older white man, assaulted by a black youth in his home on 57th Street--just steps from a market, a dry cleaner's, and a bookstore--wrestles with his own notions of justice and fairness.
11. 58th Street & Blackstone Avenue
Endless Love, by Scott Spencer
Mad about you: Banished from the presence of his teenage girlfriend by her hippie parents, 17-year-old David Axelrod burns down their house.
12. Orthogenic School
Family Pictures, by Sue Miller
Oedipal twist: David Eberhardt, U of C psychology professor and unemotional patriarch of a large Hyde Park family, brings his autistic son Randall to be treated by the revered Dr. Bettelheim; he concurs with the doctor's opinion that his child's autism is the mother's fault.
13. Ida Noyes Hall
The Girls, by Edna Ferber
Roaring Twenties feminist: U of C coed Charley Kemp shocks her family by falling in love with a self-described poet, taking business courses, selling blouses at "Shield's," and learning to dance.
14. Kelly, Green, & Beecher Halls
Falling, by Susan Fromberg Schaeffer
Necessity's invention: Elizabeth Kamen follows a lover to the U of C, where she eventually earns her Ph.D. At one point, she dramatically locks herself into her room, vowing to stay put until an assignment is finished--only to discover she has no paper. Rather than go back on her word, she recycles.
15. Oriental Institute
Search the Shadows, by Barbara Michaels
Criminal attribution: Heroine Haskell Maloney (named for Haskell Hall, the University's original Egyptian museum) arrives searching for clues both to the suspicious death of her mother, an Egyptology graduate student in the '60s, and to the identity of her father. In an academic twist, the murder motive includes an attempt to conceal plagiarism.
---
Return to the main text of "Writers' Blocks"
---
Go to: Return to April 1995 Table of Contents