The University of Chicago Magazine June 1995
---
Return to June 1995 Table of Contents
---
EVENTS
Center stage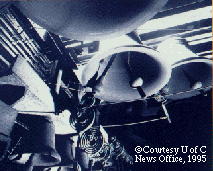 The Bells of Rockefeller:
With 100 tons of bronze, the Laura Spelman Rockefeller Memorial Carillon is one of the largest carillons in the world, its 72 bells spanning a range of six octaves. Members of the public are invited to hear its music at the Summer Carillon Festival, June 18-August 20. The free, ten-concert series features guest carillonneurs from the United States and Belgium, including University carillonneur Wylie Crawford, MAT'70. The recitals of classical, folk, and contemporary selections begin at 6 p.m. Sundays and last for one hour. Listeners can sit on the lawn of Rockefeller Memorial Chapel, where picnicking is encouraged. Those who want to see the carillonneurs in action should meet at the northeast corner of the chapel half an hour before the recital-and be prepared for the 220-step climb to the chapel's tower.
Exhibitions
Stan Douglas: Hors-Champs, through June 30. A period piece that recreates the jazz movement of the 1960s, Hors-Champs uses a two-camera video format from the '60s to record a quartet performing Albert Ayler's Spirits Rejoice. Douglas, who completed the piece in 1992, dedicated it to the residents of South Central Los Angeles. The Renaissance Society; call 702-8670.
Planes, Trains, and Automobiles: The Transportation Revolution in Children's Books, through July 10. This exhibit examines how illustration reflected the great changes in travel and transportation that followed the advent of the railroad, highlighting books that appeared between the two world wars. Special Collections; call 702-8705. (See "Moving Pictures," page 26.)
A Walk with an Expedition, through July 31. A chronicle of U of C dinosaur expert Paul Sereno's African fossil hunt. John Crerar Library; call 702-7720.
Banks and Bubbles: The Earl J. Hamilton Collection on the History of Economics, June 19-October 2. Books, prints, and other materials from the collection of Earl J. Hamilton, an economist at Chicago from 1947 to 1967, chiefly feature the development of commerce and trade in England, France, and Spain in the 17th and 18th centuries. The collection focuses on Scottish financier John Law and his "Mississippi Bubble" scheme that ruined many prominent investors in London and Paris in the early 1700s. Special Collections; call 702-8705.
Paul Coffey: My Days with Peter in the Weed Garden, June 20-August 20. In this one-man show, the third in a series of alumni-artist exhibitions, Coffey, MFA'92, will create an interior, walled, non-organic garden installation evoking a narrative based on "the experiences of Saint Peter, and the ivy that grows on campus called Boston Ivy." Smart Museum; call 702-0200.
20/20: Twenty Master Drawings for Twenty Years, June 27-September 3. Exploring works on paper-the most extensive group in the Smart Museum's permanent collection-the 20 still lifes, landscapes, allegories, historical scenes, and life drawings in this exhibition range from a sketch by French impressionist Camille Pissarro to a drawing by 16th-century Dutch painter Abraham Bloemaert, in addition to works by Christian Rohlfs, George Romney, and Maryan. Smart Museum; call 702-0200.
MFA 1995, July 13-August 27. Paintings, drawings, and photography by seven recent MFA graduates of the University's Midway Studios. Smart Museum; call 702-0200.
Music
The Pirates of Penzance, July 14-15 at 8 p.m. An open-air performance by the Gilbert and Sullivan Opera Company with full orchestral accompaniment. Hutchinson Courtyard; call 702-8674.
A Gershwin Gala, July 21-22 at 8 p.m. Barbara Schubert, X'79, conducts the University Symphony Orchestra in Three Preludes and An American in Paris, followed by a semi-staged presentation of major excerpts from Porgy and Bess with professional soloists and the Summer Opera Chorus. Hutchinson Courtyard; call 702-8674.
Trouble in Tahiti and Gianni Schicchi, August 4-5 at 8 p.m. The Lyric Opera Center for American Artists, the Lyric Opera of Chicago, and the University Symphony Orchestra present fully staged productions of Bernstein's and Puccini's work. Hutchinson Courtyard; call 702-8674.
Theater
Off-Off Campus, Fridays at 7 p.m., June 23-July 28. Off-Off Campus presents new improvisational comedy games and previews scenes in preparation for its international tour. Reynolds Club first-floor theater; call 702-3414.
Guys and Dolls, July 26-29 at 8 p.m. University Theater presents this musical about the racy side of 1930s Broadway and its gamblers, promoters, fight managers, race-track bookies, and other habitués. F. X. Kinahan Theater; call 702-3414.
Chunnelvission, August 3-6 at 8 p.m. In the world premiere of its international touring show, Off-Off Campus presents original scenes, wacky musicals, and raucous improv. F. X. Kinahan Theater; call 702-3414.
Twelfth Night, August 11-12 at 8 p.m.; August 13 at 3 p.m. "If music be the food of love, play on." So begins Shakespeare's comedy of romance and madness. Twelfth Night celebrates the enjoyment of life and the irresistibility of love and passion-complete with mistaken identities, unrequited desire, lords, ladies, and fools. Hutchinson Courtyard; call 702-3414.
On the Quads
Summer Carillon Festival, Sundays at 6 p.m., June 18-August 20. Rockefeller Chapel presents free outdoor concerts of carillon music performed by carillonneurs from the United States and Belgium. Picnicking on the surrounding lawns is encouraged; people may view the carillon before recitals. Rockefeller Chapel; call 753-1191. (See "Center Stage.")
Go to:
---
Return to June 1995 Table of Contents