The University of Chicago Magazine June 1995
---
Return to June 1995 Table of Contents
---
What's the news? We are always eager to receive your news at the Magazine, care of the Class News Editor, University of Chicago Magazine, 5757 Woodlawn Ave., Chicago, IL 60637, or by E-mail: uchicago-magazine@uchicago.edu. No engagements, please. Items may be edited for space. As news is published in the order in which it arrives, it may not appear immediately.
Please specify the year under which you would like your news to appear. Otherwise, we will list: (1) all former undergraduates (including those who later received graduate degrees) by the year of their undergraduate degree, and (2) all former students who received only graduate degrees by the year of their final degree.
Alumni Profiles
---
A Swingin' Affair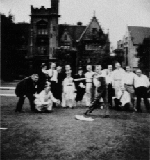 Rivals from the classes of 1916 and 1917 partake in their annual baseball duel at the 1935 U of C reunion.
---
Margaret D. C. Martin, SB'21, AM'38, celebrated her 100th birthday in April 1994. Family and friends gathered in Natchez, MS, where Martin taught mathematics and Latin in the public schools and was the high-school principal for many years.
25
Katherine Barrett Allen, PhB'25, is in good health at age 92, doing volunteer work at a hospital and at Home Health Care Auxiliaries. Her apartment looks out over the Rockport (ME) harbor.

Hal Baird, PhB'25, AM'28, age 91, asks, "Am I one of the oldest graduates of the University of Chicago?" Baird was the assistant director of the University's Bureau of Vocational Guidance and Placement in the early 1930s.
27
Mary Nixon Andress, PhB'27, is 87 and "still going strong in various activities."

Anton B. Burg, SB'27, SM'28, PhD'31, celebrated his 90th birthday in October. The chemistry department at the University of Southern California, where Burg is a professor emeritus, published a collection of his poetry and prose and arranged a day of scientific presentations and a party in his honor.
28
Ralph M. Buchsbaum, SB'28, PhD'32, and his wife,

Mildred Shaffer Buchsbaum, SB'32, SM'33, celebrated their 60th anniversary.

Allan A. Filek, SB'28, MD'33, age 87, works two days a week at a plasma-donor center in Phoenix. He is president of the Early Bird Lions Club in Fun City, the fourth Lions Club that he has led.

John A. Moretti, SB'28, see 1966, Joseph M. Moretti.

Helen Grage Schrader, SB'28, lives at The Carrington in De Forest, WI.
29
Sophia Malenski Hill, PhB'29, CLA'29, and her husband, Uno, celebrated their 57th anniversary in 1994. They enjoy living in Palm Springs, FL, and are becoming more involved in the lives of their three children and six grandchildren. Daughter

Beatrice Hill Cameron, AM'60, is with the U.S. State Department; son

John W. Hill, AB'63, is a music professor at the University of Illinois; and son Thomas is an associate professor at Harvard Medical School.

Irene Tipler McCurry, PhB'29, has three married children: Margaret, Marian, and Alan. Alan lives in Fairbanks, AK, where he is media coordinator for ten schools.

Esther Fisher Buchanan, PhB'30, lives at Quaker Gardens in Stanton, CA. Her son John is an American history professor; last year he spoke in Brazil on the Internet's applications in higher education and research.

Edward J. Lawler, Jr., PhB'30, see 1933, Frank Harding.

Robert S. Shane, SB'30, PhD'33, and

Jeanne Lazarus Shane, SB'41, live happily in Florida, where she does volunteer teaching in public schools.

Bertha Heimerdinger Wadt, PhB'30, celebrated her 85th birthday in November with family and friends.
31
S. Eloise Webster Baker, SB'31, SM'32, moved to Chouteau, OK, after 25 years in Lamar, AR, to live with her brother- and sister-in-law.

Charles M. Fish, SB'31, and his wife celebrated their 57th anniversary.
32
Mildred Shaffer Buchsbaum, SB'32, SM'33, see 1928, Ralph M. Buchsbaum.

Josephine Mirabella Elliott, PhB'32, AM'35, received the Indiana Humanities Council's scholarship award for her 40-plus years as an archivist, historian, editor, and author.

Eileen Fitzpatrick Ronan, PhB'32, writes that her 13 grandchildren are well. Son Paul is a colonel in the Air Force Reserve, and grandson Paul is an ensign in the Navy's flight school.

Leon Werch, PhB'32, was grand marshal of the tenth annual Woodridge (IL) Jubilee parade last summer. Werch was Woodridge's first mayor.
33
In October, Beulah Wright Berghult-Lynes, SB'33, and husband Jack visited

Jean Stillman Duffield, SB'33, at her home in Chieveley, Berkshire, England.

George F. Dale, SB'33, is healthy and busy. Last fall, he spent a week sailing on Chesapeake Bay with his son.

Frank Harding, PhB'33, writes that the death of best friend

Charles Newton, PhB'33, "was hard to take," but

Edward J. Lawler, Jr., PhB'30, "gives me heart." Harding lives in North Palm Beach, FL, but spent six months in Maine last year.

Ruth Willard Iams, PhB'33, retired for 17 years, writes, "I am still wondering what I should do when I grow up. At least I have a splendid part of the world (Honolulu) to enjoy as I ponder. Let me know if you get this way."

Ida ("Adelle") Matlocha Lampos, PhB'33, took "an exciting but strenuous" trip to the "Hidden Italy" in September. She adds, "The towns we visited were all perched up on hills requiring lots of climbing!"

Estelle Hill Scott, AM'33, spent five weeks in Kenya this past summer with one of her sons and his family. "Traveling in old age can be a rewarding experience," she writes.

Esther Feuchtwanger Tamm, PhB'33, still plays tennis at age 81. Daughter Marti wrote a book called Emotional Abuse, published last summer.
34
Paul M. Cliver Jr., SB'34, and
Mary Ellison Cliver, PhB'34, AM'75, of Daytona Beach, FL, enjoy visiting Sarasota friends
Edward W. S. Nicholson, SB'34, and
Elisabeth Cason Nicholson, PhB'34. The couples attend opera, theater, and symphony productions in both cities, while "a little golf works its way into the program every now and then."
Earl A. Dennis, PhD'34, was sorry to miss his 60th reunion.
Edward J. Novak, PhB'34, who has been retired for 17 years, recently celebrated his 57th wedding anniversary. He had his first great-grandchild in September.
Allan E. Sachs, SB'34, MD'37, is still a U.S. Masters champion in swimming. He swam five events in 1993 and was on three world-record-setting relays in 1993 and 1994. Sachs is on the champions' wall of the International Swimming Hall of Fame.
Donald M. Typer, AM'34, chair of the Iowa UNA finance committee, reports that the committee's 1993-94 program, "The Environment," received honors from the Iowa Humanities Board and the state's natural-resources division. The 1994-95 program is "Futures for the United Nations."
35
Evelyn G. Endriz, SB'35, plays bridge, golfs, and line-dances. For more than 20 years, she has been on the boards of a local family-services and mental-health organization and a group that helps needy high-school students.

Isabelle Kennedy Rice, PhB'35, writes that daughter Laura is a Fulbright professor at the university in Tunis, Tunisia. After retiring,

Sydelle E. Rovnick, PhB'35, AM'52, worked part time for many years for community and social-work agencies and now enjoys volunteer activities, particularly at a paleontology museum.
36
After 30 years in Hawaii, Virginia New Falsing, SB'36, and her husband moved to a retirement facility in San Diego.

Stow E. Symon, AB'36, AM'38, is retired from the Illinois Department of Corrections. He spends time traveling and went to Europe for the 50th anniversary of D-Day.
37
Mark Ashin, AB'37, AM'38, PhD'50, writes that "retirement is loverly." He is "a fixture at the Quad Club's 'cowboy pool' table" and also plays handball and reads.

Ruth Shapiro Kadish, AB'37, is "still alive and kicking."

Felix H. Ocko, MD'37, is retired from practice and busy with community volunteer activities.

Olive Walker Swinney, AM'37, volunteers at Common Cause, Washington Connection, and lives at The Virginian retirement community in Fairfax, VA. She would like to hear from SSA classmates in the area.
38
Ivan M. Niven, PhD'38, writes that the first annual Ivan Niven lectures in mathematics were given October 20-21 at the University of Oregon.

C. H. Patterson, AB'38, earned the Leona Tyler award from the American Psychological Association's counseling psychology division.

Richard A. Rasmussen, MD'38, remains active in retirement as an advocate against governmental health care, welfare, and food stamps. He was remarried in February 1992 to Leona Allaben.
39
Erwin F. ("Bud") Beyer, AB'39, age 79, sails a 28-foot sloop on Lake Champlain, gardens, canoes, and travels. In 1994 he traveled to Malta. Beyer also serves on an advisory committee for the Office of the Aging.

Frances P. Coulter, AM'39, remembers her two years at the U of C "fondly and gratefully": "The School of Social Service Administration was, and is, a great school with a famous faculty. International House broadened my horizons. What a combination!"

Phyllis Silvertrust Sandock, AB'39, and husband Louis are the great-grandparents of Sarah, 4, and triplets Hannah, Aaron, and Leah, 2-all four are the children of grandson David.

Sarah Kleiger Schenck, PhD'39, retired to Florida, where she raises orchids and tropical and subtropical plants.

Sidney G. Stern, SB'39, is enjoying his 12th year of retirement, traveling and staying in Elderhostels as well as doing oil painting and stained-glass work. He is a trustee of the International Society of Clinical Hypnosis. His secret of longevity: "Keep breathing!" In January 1994,

John R. Van de Water, AB'39, JD'41, completed his last appointment from Ronald Reagan. He had been chair of the National Labor Relations Board, special assistant to one secretary of labor and counselor to another, and mediator and arbitrator of labor disputes between federal labor unions and management at federal military and civilian agencies.

Joseph A. Whitlow, AB'39, reports that the Seattle Great Books group has been meeting continuously for 47 years.

Morris B. Abram, JD'40, formerly the U.S. representative to the United Nation's European headquarters, now chairs the U.N. Watch, the body that measures the U.N.'s performance against its charter. After graduation,

Harry M. Hess, Jr., AB'40, took several U of C graduate courses in economics before beginning a peripatetic career that included stints with the United Press, CBS, ABC, and Esquire before he began to act professionally in 1946. While working in television and theater, he lived throughout the East Coast and Europe. An amateur photographer, in 1959 he turned professional. Publicity shots of actors and musicians eventually led to his current career of nearly 30 years, art photography.

Ruth Young Lebow, SB'40, SM'41, teaches part time at UCLA, where her courses focus on the geology of Southern California mountains. She is also a master teacher at new-teacher orientations and teaches geology to docents at the L.A. Natural History Museum and Page Museum. In 1994 Lebow revised her study guide for a college course in geology offered on public TV.

Russell O. Saxvik, MD'40, lives in the Missouri Slope Lutheran Care Center.
41
Marjorie Berg Long Burmeister, AB'41, moved to Sebring, FL, to be near her sister,

Geraldine Berg Sjostrom, AB'44. Burmeister has served as organist in three Sebring churches, acted in several local plays, and modeled in a fashion show. She teaches piano and organ, is building a house on a small lake, and studies watercolor painting and needlepoint.

Lawrence S. Myers, Jr., SB'41, PhD'49, works at the National Cancer Institute, where he studies the relationships between DNA, topoisomerases, and certain anticancer drugs. This spring, he presented some of his work on free radicals in brain tissue at the annual meeting of the Radiation Research Society.

Morton L. Pearce, SB'41, MD'44, attended his 50th class reunion and notes, "The west side of the campus has changed so much in 50 years that I almost needed a guide."

David M. Pletcher, AB'41, AM'41, PhD'46, retired from Indiana University in 1990.

Fenton Schaffner, SB'41, MD'43, is the George Baehr professor emeritus of medicine at the Mount Sinai School of Medicine, CUNY, and a medical consultant at Mount Sinai Hospital. Schaffner sees patients on a limited basis. The fifth edition of a gastroenterology text that he co-edited was published in September.

Jeanne Lazarus Shane, SB'41, see 1930, Robert S. Shane. Retiree

John E. Wilson, SB'41, plays plenty of tennis and is on the editorial board of the Journal of Neurochemistry.
42
David L. Fisher, SB'42, retired from the Garden City (NY) Planning Commission after 12 years, the last five as chair.
John M. Gandy, AM'42, is a professor emeritus of social work at the University of Toronto. In May 1994 he was awarded an honorary LL.D. from St. Thomas University in New Brunswick, Canada.
Lawrence M. Litz, SB'42, retired from Union Carbide Corp. after 39 years. He does part-time consulting in chemical processing, hydrometallurgy, and gas/liquid mixing and processes.
43
Richard S. Hochman, AB'43, see 1944, Otto H. Trippel. In November,

Sonia Weiner Katz, AB'43, AM'46, had a show of her collages at Artemisia Gallery in Chicago.

Efrem H. Ostrow, SB'43, PhD'60, see 1944, Otto H. Trippel.
44
Rosemarie Riedel Joosten, AM'44, attended her 50th reunion and comments, "It was a special time to see/meet with old friends and to wander around the beautiful campus, marveling at the impressive additions of buildings and sculpture."

Elizabeth ("Betty") Headland Oostenbrug, AB'44, writes that "a recent wonderful trip through middle Europe-Vienna, Budapest, Prague, and Berlin-recalled our humanities course in the '40s."

Gordon H. Roper, AM'38, PhD'44, reports that he is now visually impaired.

Geraldine Berg Sjostrom, AB'44, see 1941, Marjorie Berg Long Burmeister.

Otto H. Trippel, SB'44, MD'46, enjoyed his "magnificent" 50-year reunion and seeing

Carol Dragstedt Stauffer, SB'48;

Lester R. Dragstedt II, CLA'61;

Richard S. Hochman, AB'43;

Efrem H. Ostrow, SB'43, PhD'60; and others.
45
Margaret ("Peggy") O'Neil Matthiesen, AB'45, and husband Bill celebrated their 50th anniversary. She sends best wishes to all her classmates.

Marion Smith McManus, PhB'45, retired as associate registrar at San Francisco City College. In late fall,

Idabel Bowles Waddy, AM'45, wrote, "The chief excitement here (Aurora, CO) is that we had a full-fledged snow that covered everything and made driving difficult but lasted only one day."
46
Last August, Catherine Elmes Kalbacher, AB'46, chaired a session on Carl Jung at the fourth conference of the International Society for the Study of European Ideas, held at the University of Graz (Austria).

Blaise Levai, AM'46, was inducted into the International Who's Who organization. He and wife Marian are returning to India, where he taught at Voorhees College and she was a child psychiatrist.

Jack D. McCarthy, PhB'46, MD'51, is three-quarters retired and spending time in Mexico and France.

Janice Trimble, AM'46, reports that her high-school Latin teacher,

Margaret D. C. Martin, SB'21, AM'38, celebrated her 100th birthday in April 1994. See 1921, Margaret D. C. Martin.

Leslie Waller, X'46, has written his 52nd book, Manhattan Transfer, published last October.
47
Robert E. Bell, AM'43, PhD'47, was inducted into the Oklahoma Historical Society's Historians Hall of Fame in April 1994. He also was cited by the Oklahoma Anthropological Society as a "founding father and guiding spirit."
Frances Eldredge, PhD'47, of Cobb, CA, reports that with failing health, she can no longer travel to Europe or make frequent trips to San Francisco. "But even with dependence on a walker, I get to local concerts, theater," she writes. "And there are always Great Books."
Christine E. Haycock, PhB'47, SB'48, received a Photographic Society of America fellowship for her service to the Society and its educational programs, and for her award-winning work.
Sheldon J. Shalett, PhB'47, is still traveling and still in the shipping business; he tries "to squeeze in the occasional vacation" but is too busy to retire. Wife Betty is president of the Florida region of Hadassah and daughter Rachel is a freshman at Emory University's Oxford College.
Arnold L. ("Bud") Tanis, PhB'47, SB'49, MD'51, see 1948, Maxine Kroman Tanis.
48
Beulah Eddy Anderson, SM'48, writes, "Gratitude fills my heart that it was possible to attend the University.…My advanced degree continues to pay dividends!"

Minna Rodnon Buck, AB'48, X'50, retired as a family-court judge at the end of 1994. She had already completed her term as president of the New York State Association of Family Court Judges.

Frank Costin, AM'41, PhD'48, is a professor emeritus of psychology at the University of Illinois, where he continues to do research on rape.

Janet Vanderwalker Myers, SB'48, teaches painting in the Institute for Learning in Retirement at American University. She does printmaking in the Old Torpedo Factory in Alexandria, VA, and shows her work there and in the Washington (DC) Printmakers Gallery.

James L. Philon, PhB'48, X'52, retired in August as senior vice president, real estate, for the Hilton Hotels Corp. After five years in his position,

Frank G. Rothman, AB'48, SM'51, will retire as provost of Brown University at the end of June.

Carol Drag-stedt Stauffer, SB'48, see 1944, Otto H. Trippel.

Maxine Kroman Tanis, PhB'48, gave her husband,

Arnold L. ("Bud") Tanis, PhB'47, SB'49, MD'51, a 1994 birthday gift of a six-week visit to Turkey, Italy, and Paris. "The highlight was a handshake and blessing from Pope John Paul II on Ash Wednesday," she writes.

George P. Werner, AM'46, AM'48, and wife Grace have spent the last five years as mission volunteers to Wesley Methodist Church in Medan, North Sumatra, Indonesia. Their work was featured in the September 1994 New World Outlook, the mission periodical of the United Methodist Church.
49
William J. Edmonston, X'49, is looking for a Babylonian scholar with whom to collaborate on a translation and reconstruction of Gilgamesh poetry. On September 1,

Robert W. Parsons, PhB'49, retired from practicing surgery and assumed emeritus status at the U of C, where he has been for the last 15 years of his 40-year career. Parsons plans to continue doing volunteer surgery for children with deformities in southern Mexico, teaching on a part-time basis, and participating in community activities in Hinsdale and Chicago.

Lincoln Y. Reed, DB'49, who retired after 43 years of congregational ministry, now volunteers on four boards for homelessness help.

Nathaniel E. Reed, AB'49, retired in 1989 as academic vice president of Livingston University and remains active in university, civic, and church activities. He enjoys gardening and has traveled to Britain, Greece, Israel, Egypt, and Canada and throughout the U.S.

Burton H. Robin, SM'49, retired after 14 years of industrial research and 30 years of teaching chemistry and physical science at Kennedy-King College, one of the City Colleges of Chicago. He was the 1991-92 distinguished professor at Kennedy-King.

Raymond T. Batina, MBA'50, continues to work in his environmental-consulting business, Batina & Associates. After 38 years of federal service,

José A. Filós Diaz, MD'50, retired in February 1993 as chief of the pulmonary-disease and allergy service with the Gordas Army, Community Hospital, us meddac, Panama.

Alyce Kahn Frank, AB'50, had a show of Southwestern landscape paintings at Mann-Price Galleries in Maryland in November.

Gerald L. Garden, AB'50, and his tenth-grade honors English class at Blair High School in Pasadena, CA, were featured in a June 1994 column of the Outlook, a Santa Monica newspaper.

Wolf Kahn, AB'50, reports that a book about his landscape painting will be published in 1996.

Lynn H. Nelson, AB'50, has been a professor of medieval history at the University of Kansas for 31 years. He has established several Internet discus-sion lists and designed the servers History, Carrie, and Heritage-all accessible via telnet at ukanaix.cc.ukans.edu.

Anne Garvey Phillips, AM'50, is a textbook author and freelance writer and editor in San Luis Obispo, CA.

Miriam Wagenschein, AM'50, is a sociology professor at Texas A&M University in Corpus Christi.
51
Donald S. Frank, AM'51, is a professor emeritus of sociology at Towson State University. He taught two courses last fall and occasionally serves as an expert witness. Frank is spending this year in Holetown, Barbados, West Indies; and Baltimore and Chesapeake Beach, Maryland.

Ruby Dordek Kaufman, BSS'51, writes that her husband's retirement allows more time to visit their children and six grandchildren (ages 1 to 17) in Washington, Illinois, and Massachusetts. She runs an out-of-print book-search service from her home and works as a docent at Arizona State University Art Museum.

Morris W. Leighton, SM'48, PhD'51, chief emeritus of the Illinois State Geological Survey, received a Gaylord Donnelley-Nature of Illinois Foundation award in October for his science and conservation efforts.

Susan Levin Miller, AB'51, presented "Instructional Applications of Technology in Elementary Schools" to the New York State Association for Computer and Technology Educators. Paul S. Mostert, SM'51, became a professor emeritus at the University of Kansas in 1992. He is now president of EQUIX Biomechanics, a Lexington, KY, company that models Thoroughbred horses' biomechanics, performance, and breeding. After 30 years as a Unitarian minister,

Christopher Raible, X'51, became a historian and writer of Canadian history. He sells books and writes in Creamore, Ontario.

Charles L. Stermer, AB'51, is a consultant for the Executive Service Corps after retiring as executive director of International House in 1993. Prior to 1981, he had a 26-year career in the Department of State. His wife,

Colette Benveniste Stermer, AB'41, is manager of the International House gift shop. The Stermers have three married sons and one grandson.

Charlotte Toll Thurschwell, AB'51, AM'54, retired from her family-law practice and enjoys studying ancient Greek and other non-law-related activities.

Hubert Thurschwell, AB'51, JD'54, a retired labor lawyer, has served as a volunteer lawyer for Montgomery County (PA) Legal Aid for the past three years.

Robert L. Vosburg, MD'51, and wife Etsuko Satoh do some writing for Japanese journals. Vosburg also golfs.
52
M. Peggy Hammond, AB'52, AM'73, still shuttles between northern Wisconsin and central London. She writes: "The Meridian Planetarium at Greenwich has come to the attention of the Millennium Commission-perhaps we'll get some funds from the new National Lottery."

Daniel Mann, AB'52, X'53, a Jewish communal worker and educator, is president of the Labor Zionist Alliance. He is a Ph.D. student in government at Georgetown University and an adjunct profesor at Baltimore Hebrew University.

John H. Rau, AB'52, JD'55, see 1960, John Cashman.
53
Herbert Lederer, AM'49, PhD'53, reports that a Festschrift, Playing for Stakes: German-Language Drama in Social Context, was formally presented to him in October. Friends, colleagues, and former students contributed essays to the published volume.

Marjorie Montague Wilson, MD'53, hikes, camps, travels, and volunteers.

Allen T. Yarowsky, AB'53, JD'56, "has been teaching English in Portugal for the past four years and may be ready to move on."
54
Oliver H. Bown, AM'48, PhD'54, is proud that grandson Colin Bown is pursuing a doctorate in physics at Chicago.

Maurice Glicksman, SM'52, PhD'54, became provost emeritus of Brown University in July 1990, retiring as a professor of engineering and physics four years later. After five years as chair of Fermilab's board of overseers, Glicksman is now vice chair.
55
Frank M. Byers, Jr., PhD'55, and wife Virginia took the Alumni Association's Mediterranean cruise in October. In October,

Donald M. Ephraim, JD'55, of the law firm Ephraim & Associates, received the Governor's award of the Chicago chapter of the National Academy of Television Arts & Sciences. His firm represents clients in the media and entertainment industries.

Frank E. Richards, AB'55, SB'61, SM'62, PhD'73, and wife Sally moved to Madison, WI. He writes, "But upon retirement (at age 62) we hope in live in Latin America part of the year."

Click here for a profile, "The Logic King," of Raymond Smullyan, SB '55
56
Leslie W. Werwicki, MBA'56, retired from Abbott Laboratories' international division.

Matthew A. Zuckerbraun, AB'56, AB'57, officiated as cantor at the August wedding of his stepdaughter Abby. Also in 1994, he became the grandfather of Victoria and appeared in a forum in the Wall Street Transcript.
58
Peter S. Amenta, PhD'58, is a professor emeritus of anatomy at Hahnemann University School of Medicine, where he was a professor and department chair for 21 of his 36 years there. He is the associate editor of the 31st American edition of Gray's Anatomy.

William R. Harmon, AB'58, AM'68, is the James Gordon Hanes professor of English at UNC-Chapel Hill. In September 1994, he delivered the memorial lecture at the annual meeting of the T. S. Eliot Society in St. Louis.

Robert L. Herrick, AM'58, retired after 32 years of teaching sociology at Teikyo Westmar University in LeMars, IA, where he also served terms as academic dean and division director.

Herman E. Kattlove, SB'58, MD'62, left private practice in oncology and hematology after 19 years to join Salick Health Care. He helps manage Salick Net, a managed-care risk contract for cancer care.

Robert R. Malone, MFA'58, an art professor at Southern Illinois University at Edwardsville, was commissioned by the Illinois Art and Architecture Board to create two sculptures for Northern Illinois University's new physics and chemistry building.

Richard I. McClow, MBA'58, left Chicago five years ago and sailed halfway around the world, making it to Singapore on his 40-foot sailboat. He writes, "I have returned to Chicago to marry my loyal, faithful, and long-suffering first mate, Penny. We expect to sail to the Mediterranean in 1995 and back to the U.S. by the year 2000."

John B. ("Jack") Urner, PhD'58, lives in Maseru, Lesotho, in Africa, where for two years he has coordinated a primary-education assistance program for the U.S. Agency for International Development. Earlier, he had a similar job in Bhutan.
59 Kathryn Engelhard Allen, AB'59, was quoted and pictured in a Chicago Tribune article about a celebration of the 75th year of women's enfranchisement. She writes, "It was great fun and is providing energy for all of us to carry on into the future working for women's (human) rights."

Milton E. Nelson, AB'59, AM'61, and

Geraldine M. Holub, AB'60, report that

Birgitta K. Nilson, AB'60, Holub's former roommate, is territorial commander for all Salvation Army operations in Sweden and Latvia and holds the rank of commissioner.

---

Go to: Return to June 1995 Table of Contents