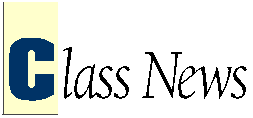 1940s
---
42 Neill Emmons, AB'42, MBA'46, see 1937. Jacob L. ("Jay") Fox, AB'42, JD'47, see 1937.
43 The 55th class reunion will be held June 5­7, 1998. George T. Drake, X'43, will chair the reunion planning committee.
46 Rafael Yalkovsky, SB'46, SM'55, PhD'56, a member of the National Association of Science Writers and the International Science Writer's Association, was awarded the New Rosette pin by the New York Academy of Sciences. He will be listed in both the 1998 edition of American Men and Women of Science and the third edition of Who's Who in Entertainment. Yalkovsky enjoys writing poems and traveling. He will soon return to Hong Kong for his sixth visit.
47 College alumni-welcome to the first column by Norman L. Macht, PhB'47, who writes: Frances Jacobson Kiem, AB'47, reports that as a result of seeing former classmates at the 50th reunion, she and other erstwhile Beecher denizens are planning more get-togethers in the near future. She enjoys selling North Shore lakefront real estate in Chicago and solving Sunday Times crossword puzzles, a 40-year pastime.
Do you remember Arch Ward's column, "In the Wake of the News," in the Chicago Tribune? This couplet and entreaty appeared in every column: "The Wake depends/Upon its friends/Help! Help!" As the class correspondent, I depend on you to let me know what's new with you, so I can pass it on to the rest of the caring world. Otherwise I'll have to write about myself all the time or make things up about you, and the truth, as we were taught, will not only make you free, it is stranger than fiction and a thousand times more exciting.
I'm a member of the Lead Pencil Club, so I do not have an e-mail address. My only Web site is in my basement. The EPA having outlawed smoke signals, I must rely on snail-mail postal service or telephone or fax to hear from you.
College alumni, please send your news to: Norman L. Macht, PhB'47, 5910 Smith Avenue, Baltimore, MD 21209-3614. Phone: 410/664-2542 (h). Fax: 410/664-2542.
48 The 50th class reunion will be held June 5­7, 1998. Muzaffer Ahmad, PhD'48, a professor emeritus of zoology at the University of the Punjab in Lahore, Pakistan, serves as editor-in-chief of the Pakistan Journal of Zoology and coeditor of Proceedings of the Pakistan Congress of Zoology. Also a senior fellow of the Pakistan Academy of Sciences and a founding fellow of the Zoological Society of Pakistan, Ahmad has two sons and five grandchildren. He would be glad to hear from his classmates. Howard R. Barron, PhB'48, has joined the law firm of Schiff Hardin & Waite in Chicago. Frank D. Dunkel, PhB'48, writes that in memory of his late brother, John, he has established a Dunkel family scholarship fund for first-year College students (see John F. Dunkel, SB'40, MD'50, "Deaths," p. 36). Since retiring from government work in Los Angeles County, Henry J. Goldfield, AB'48, AM'52, has been leading study groups in music appreciation and beginning Yiddish for members of Brandeis University's national women's committee.
49 Richard L. Garwin, SM'48, PhD'49, an IBM fellow emeritus, received the Enrico Fermi award from the White House and the Department of Energy in July for his contributions to national security and arms control, and for his achievements in nuclear and particle physics. Horacio J. A. Rimoldi, PhD'49, was awarded the government of Argentina's prize for scientific merit, as well as the dean's medal of Jefferson Medical College in Philadelphia, for his contributions to research in medical education. He was also recognized as a plenary professor at the University of Belgrano and a doctor honoris causa at the University of El Salvador (both in Argentina). Rimoldi is a fellow of England's Royal Society of Health and a member of the New York Academy of Sciences.

---
Back to Class News - Table of Contents - Top of Page - Email Us