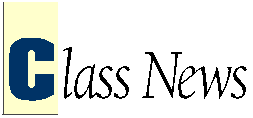 1950s
---
51 Robert G. Bartle, SM'48, PhD'51, received the Lester R. Ford award from the Mathematical Association of America in August for his article "Return to the Riemann Integral," which appeared in The American Mathematical Monthly in October 1996. The work of Ellen D. Jacobs, AB'51, a visual arts professor at Florida International University, was on display in FIU's art museum during a faculty exhibition from June 13 to August 9. Kenneth W. Thompson, AM'48, PhD'51, edits the Miller Center Journal, which published its fourth volume this past spring at the University of Virginia's Miller Center.
53 The 45th class reunion will be held June 5­7, 1998. Walter Pozen, AB'53, JD'56, will be the reunion planning committee chair.
55 For his contributions to sociology, Leo Driedger, AM'55, was elected to the Royal Society of Canada. In August, Adalbert U. Scharpf, AM'55, the spiritual director of the Kerschlach cloisters in Pahl, Germany, wrote: "After the death of two more sisters here last summer, the authorities of the nuns decided to sell the whole complex here at Kerschlach." After a months-long search, the nuns found a buyer, "a millionaire from the region of Augsburg." Of the cloister dwellers' future plans, Scharpf wrote, "The ten remaining nuns will retire to their motherhouse in Tutzing and two of their smaller convents not far from here." He added, "My job as spiritual director will expire, too." Scharpf-a member of the worldwide Benedictine mission of St. Ottilien-has since returned to his "home abbey," some 30 miles west of Munich in Bavaria. "That's where I started as a young seminarian, six months after Hitler came to power in 1933," recalled Scharpf, who took advanced degrees in England and the U.S., then worked as a teacher and administrator at a Benedictine high school in Tanzania before returning to Germany in 1962. The monk celebrated his 79th birthday in May.
58 The 40th class reunion will be held June 5­7, 1998. Herman E. Kattlove, SB'58, MD'62, has volunteered to chair the reunion planning committee.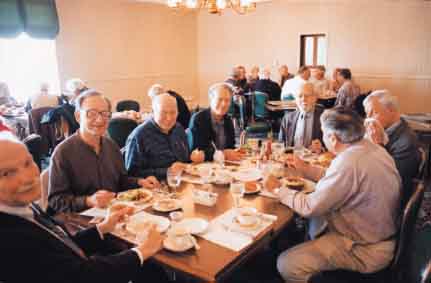 Counselors at rest. Clockwise from left: Edward A. Friend, AB'43; Arthur H. Bernstein, JD'50; James A. Blumberg, PhB'43, JD'52; Jack E. Frankel, AB'47, JD'50; Philip R. Lawrence, AB'40, JD'42; Allen M. Singer, JD'48; and Maxwell P. Keith, JD'50.

In San Francisco, a group of alumni has been meeting every week since 1950 in what one member of the party, Arthur H. Bernstein, JD'50, dubs "the oldest established permanent floating alumni group in the U.S.A." It all started when Jack E. Frankel, AB'47, JD'50, moved to San Francisco as "a newly minted lawyer," Bernstein reports. The new kid in town did what any Marooned kid would do: called up some fellow U of C grads and suggested lunch.
The group-which included Philip R. Lawrence, AB'40, JD'42; Allen M. Singer, JD'48; Robert M. Raymer, MBA'43; Edward A. Friend, AB'43; Maxwell P. Keith, JD'50; James A. Blumberg, PhB'43, JD'52; Robert V. R. Dalenberg, JD'53; and Sergius M. Boikan, AB'54, SM'56-was soon meeting weekly at Delmonico's Restaurant. Over the years, lunch moved from eatery to eatery, and members came and went, but a core group, including Frankel and Bernstein, still meets at 12:25 p.m. each Wednesday at the Fort Mason Officers' Club.
Discussions include politics, international affairs, ethics, and University developments, notes Bernstein, and "the conversation often returns to the influence the University has had on the attitudes and lives of the members." While Bernstein insists that the group is not a "last man club," he does say it intends to continue meeting as long as possible. "Who knows?" adds the counselor. "Maybe the Guiness Book of World Records will take notice some day."
---
Back to Class News - Table of Contents - Top of Page - Email Us